Life during the age of COVID-19 has changed drastically, and that includes fun social activities that are no longer possible. However, with some restrictions slowly lifting, people are cautiously making their way out again. This includes going out to restaurants, which not only gets you great food, but helps support the staff working in the restaurant and kitchen.
If you want to get back out there and take yourself, your friends, or family members to your favorite restaurant, it may be possible. Here are some of our tips on how to either order take-out from a restaurant or dine-in while keeping a physical distance.
Please keep in mind to follow your local government's protocols and rules regarding physical distancing and other COVID-related laws.
Order Curbside Pickup in Advance to Save Time & Money
Not everyone is interested in going out for a restaurant dine-in experience, at least not until the dust has cleared and pandemic restrictions have eased up. But a lot of people still miss quality restaurant food. This is where pickup or delivery is a great option if you want some great take-out food.
For anyone unable to go to the restaurant and physically pick up the item, there's the option of using a delivery app like Uber Eats to deliver the food to your home. If you're able to however, curbside pickup is a great way to save money on the delivery fee.
If you're ordering for curbside pickup through either the restaurant itself or through a third-party service, order in advance before you start driving over. You can even order a few hours before and indicate when you want the order. This gives the restaurant time to prepare and saves you time later so you're not scrambling for a meal.
"When you offer curbside pickup at your business, you're allowing customers to buy from you online and then drive to your location (or 'curb') to pick it up, without having to leave their car. It's a modification of the 'order online, pick up in-store' policy many stores, like Best Buy and Target, have had in the past. Customers used to choose this option because it was more convenient for them, and businesses liked it because it reduced shipping costs and packaging usage. With today's heightened public-health concerns, it's just safer for everyone to do curbside pickup."
Check the Restaurant's Website for Physical Distancing Rules
Despite everyone's best efforts, there may be some restaurants and people who won't adhere to physical distancing rules. There are many reasons behind this, but a big reason for some restaurants comes down to financial struggles.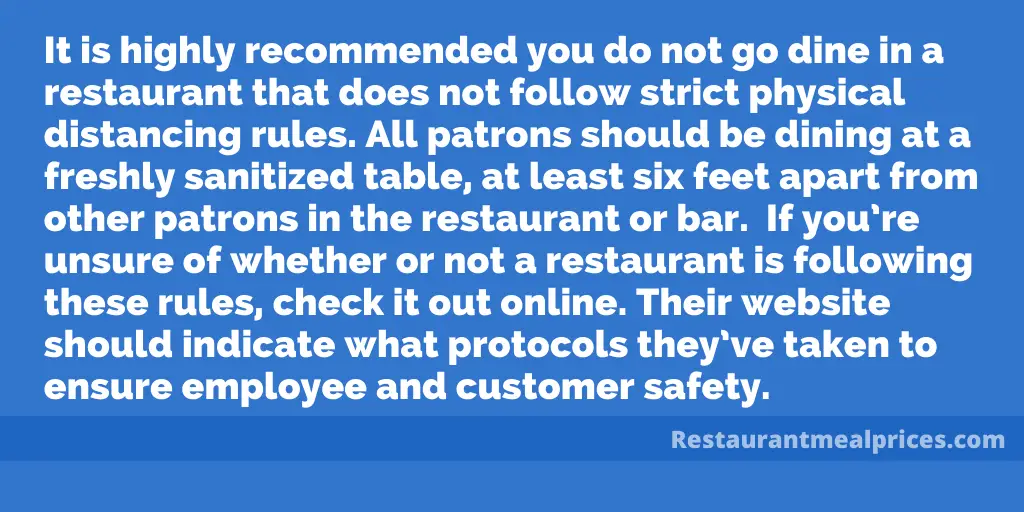 However hard a restaurant's financial struggles may be, human lives are ultimately more important. It is highly recommended you do not go dine in a restaurant that does not follow strict physical distancing rules. All patrons should be dining at a freshly sanitized table, at least six feet apart from other patrons in the restaurant or bar.
If you're unsure of whether or not a restaurant is following these rules, check it out online. Their website should indicate what protocols they've taken to ensure employee and customer safety.
Pranav Baskar at NPR explains more on being cautious while dining out in restaurants:
"If someone in your family is immunocompromised or has symptoms of COVID-19, even if the family member hasn't been diagnosed, that would argue for avoiding restaurants altogether, says Harvard Medical School physician Abraar Karan.But if you don't have such concerns and want a relaxing meal at a restaurant, here are some other points to consider.First, outdoors is definitely less risky, says Karan. When you're outside, the risk of contracting the virus is lower."
Remember if you're going to visit your favorite restaurant, avoid anyone who isn't in your social circle or living in your household. You can do this by physical distancing, staying six feet apart from people, and wearing a face mask to protect yourself and others. Check your local area or state's guidelines to make sure you're following the right protocol to keep everyone safe.
Check to see if restaurant menu pricing has changed, like Nandos, Marie Callender's, and Pickle Barrel, all here on our site. Check out our list of all restaurants to compare more food menus.