You have landed on the page with the latest Texas Roadhouse menu prices. Texas Roadhouse is a Western-themed restaurant best known for serving its legendary USDA prime steaks and other American classics such as ribs, chicken, burgers & sandwiches, fish, and country favorites. All dishes are made from scratch using the finest ingredients.
You will never leave Texas Roadhouse feeling hungry as they offer large portions. Be sure to try their award-winning Texas Roadhouse ribs and chili. Don't forget a cold beverage with your meal. Texas Roadhouse has an extensive list of ice-cold beverages, including beers, margaritas, and specialty cocktails.
Below are the latest Texas Roadhouse prices.
Food
Price

Just For Starters

Cactus Blossom
$5.99
Fried Pickles
$4.99
Rattlesnake Bites
$5.99
Tater Skins
$6.99
Grilled Shrimp
$5.99
Boneless Buffalo Wings
$8.99
Cheese Fries
$6.99
Killer Ribs
$8.99
Texas Red Chilli (Cup)
$2.99
Texas Red Chilli (Bowl)
$3.99
Combo Appetizer
$9.99

Salads

Grilled Chicken Salad
$9.99
Chicken Caesar Salad
$9.99
Chicken Critter Salad
$9.99
Steakhouse Filet Salad
$13.99
House Salad
$3.99
Caesar Salad
$3.99

Hand-Cut Steaks

Smother Your Steak
$1.99
USDA Choice Sirloin (6 oz.)
$10.49
USDA Choice Sirloin (8 oz.)
$12.49
USDA Choice Sirloin (11 oz.)
$15.99
USDA Choice Sirloin (16 oz.)
$19.99
New York Strip (12 oz.)
$18.99
Ft. Worth Ribeye (10 oz.)
$15.99
Ft. Worth Ribeye (12 oz.)
$17.99
Ft. Worth Ribeye (16 oz.)
$20.99
Bone-In Ribeye (20 oz.)
$24.99
Porterhouse T-Bone (23 oz.)
$26.99
Dallas Filet (6 oz.)
$17.99
Dallas Filet (8 oz.)
$19.99
Filet Medallions (9 oz.)
$19.99
Road Kill (10 oz.)
$9.99
Steak Kabob
$11.99
Prime Rib (10 oz.)
$16.99
Prime Rib (12 oz.)
$18.99
Prime Rib (16 oz.)
$21.99

Add a sidekick to any meal

Shrimp
$5.99
Ribs
$6.99

Fall-Off-The-Bone Ribs

Half Slab
$13.99
Full Slab
$19.99

Texas Size Combos

BBQ Roasted Half Chicken with 6 oz. Sirloin
$18.99
BBQ Roasted Half Chicken with Ribs
$17.49
Sirloin (6 oz.) with Grilled Shrimp
$15.99
Sirloin (6 oz.) with Ribs
$16.99
Sirloin (8 oz.) with Grilled Shrimp
$17.99
Sirloin (8 oz.) with Ribs
$18.99
Grilled BBQ Chicken with Sirloin (6 oz.)
$18.99
Grilled BBQ Chicken with Ribs
$16.99
Grilled BBQ Chicken with Sirloin Steak
$16.99
Ribeye (10 oz.) with Grilled Shrimp
$20.99
Ribeye (10 oz.) with Ribs
$21.99
Filet (6 oz.) with Grilled Shrimp
$22.99
Filet (6 oz.) with Ribs
$23.99

Chicken Specialties

Country Fried Chicken
$10.99
Grilled BBQ Chicken
$9.99
Chicken Critters
$9.99
Oven Roasted Half Chicken
$10.99
BBQ Roasted Half Chicken
$10.99
Smothered Chicken
$11.99
Portobello Mushroom Chicken
$11.99

Country Dinners

Grilled Pork Chops (Single)
$9.99
Grilled Pork Chops (Double)
$13.99
Pulled Pork Dinner
$9.99
Country Fried Sirloin
$10.99
Beef Tips
$11.99
Country Veg Plate
$9.49

Dockside Favorites

Grilled Salmon - 5 oz.
$11.99
Grilled Salmon - 8 oz.
$14.99
Fried Catfish (3-piece)
$11.99
Fried Catfish (4-piece)
$14.99
Grilled Shrimp
$14.99

Burgers & Sandwiches

1/2 Lb. Angus Burgers

All-American Cheeseburger
$8.99
Bacon Cheeseburger
$9.49
Smokehouse Burger
$9.99

Sandwiches

Pulled Pork
$8.99
BBQ Chicken
$9.49
Mushroom Jack Chicken
$9.99

Kids & Ranger Meals (12 and under)

Kids Meals

All-Beef Hot Dog
$3.99
Macaroni and Cheese
$3.99
Mini-Cheeseburgers
$4.99
Jr. Chicken Tenders
$4.99
Grilled Chicken
$4.99
Lil' Dillo Steak Bites
$4.99

Ranger Meals

Chicken Critters Basket
$6.99
Andy's Steak
$8.99
Ranger Rib Basket
$8.99

Sides & Extras

Buttered Corn
$2.49
Seasoned Rice
$2.49
Green Beans
$2.49
Apple Sauce
$2.49
Fresh Vegetables
$2.49
Sautéed Onions
$2.49
Sautéed Mushrooms
$2.49
Steak Fries
$2.49
Loaded Steak Fries
$0.99
Mashed Potatoes
$2.49
Loaded Mashed Potatoes
$0.99
Baked Potato
$2.49
Loaded Baked Potato
$0.99
Sweet Potato
$2.49
Loaded Sweet Potato
$0.99
Cup of Texas Red Chili
$2.99

Desserts

Granny's Apple Classic
$5.99
Strawberry Cheesecake
$5.99
Big Ol' Brownie
$5.99

Early Dine

Monday thru Thursday until 6:00 P.M. Saturday until 3:00 PM
$8.99

Beverages

Soft Drinks
$1.99
Slow-Brewed Iced Tea
$1.99
Flavored Lemonades
$1.99
What's New at Texas Roadhouse?
The best way to know about the latest news, new menu items, or Artist of the Month is to read the Texas Roadhouse blog or Press Releases. You get a wealth of information from DIY suggestions to cooking tips.
Texas Roadhouse Catering
Texas Roadhouse is definitely known for itshand-cut ribs, baked bread, and fresh side menu items. You also get good portion sizes for the money you spend. If you find yourself in need of catering for a special event, Texas Roadhouse will provide you with great food alongside their stellar customer service.
You can choose Texas Roadhouse Catering for their dinner selection of steaks, chicken, and side dishes that are all guaranteed to be fresh for your event. Each steak is cut by hand by the resident butcher, and the bread is baked fresh, by hand, every single day.
Food
Price

Texas Roadhouse Catering Menu

Oven Roasted Sirloin – 6 ounce
$10 per person
Oven Roasted Sirloin - 8 ounce
$12 per person
Prime Rib and Chicken Combo
$15 per person
Chicken Breast with choice of BBQ Sauce or Cream Gravy
$10 per person
Pulled Pork Dinner and Chicken Combo - 6 ounce
$10 per person
Pulled Pork Dinner and Chicken Combo - 8 ounce
$12 per person
Rib and Chicken Combo - 6 ounce
$12 per person
Rib and Chicken Combo - 8 ounce
$14 per person
Ribeye Steak - 12 ounce
$13 per person
Ribeye Steak - 14 ounce
$16 per person
Kids Catering Menu Items
The following items are offered on the kids' catering menu as well. The prices and available selection, however, may vary. The kids' menu includes hot dogs, corn dogs, mac and cheese, and pulled pork sliders.
Menu Nutrition Guide
Texas Roadhouse offers a 'gluten-friendly' menu alternative for those with gluten sensitivities. Check the menu online or at the restaurant to ensure that you will not have any issues. For guests counting calories, each menu item includes a total calorie amount.
Hours of Operation
Texas Roadhouse locations are open for dinner only 7 days a week. On weekends, some locations may be open for lunch. Texas Roadhouse hours of operation vary by location. Please be sure to check with your local restaurant.
Community & Charity Involvement
Texas Roadhouse restaurants support local charitable organizations, schools, and fundraisers. Team members are encouraged to help out and volunteer in their communities. Texas Roadhouse is a supporter of Habitat for Humanity.
Email Club
Everybody loves free food! Join the Texas Roadhouse email club, and you will start receiving special offers and discounts right in your mailbox. All it takes is a few minutes to sign up online.
Careers
Admit it. you can line dance with the best of them. Why not turn your passion and enthusiasm into a career at Texas Roadhouse and become an official 'Roadie.' Check out the Career page on the official Texas Roadhouse website to learn more about current opportunities. Read stories from current employees on why they love their job! Learn how 'Roadies' support each other and their local communities.
Gift Cards
Sometimes you just need a little inspiration to find that perfect gift. How about a Texas Roadhouse gift card? You can design your own card or choose from standard designs. Do you need a last-minute gift? Send an electronic gift card and have it delivered to the recipient's email inbox within hours. That's fast!
Call Ahead Seating
Planning a special night out or dining with a big group? Nobody wants to wait to be seated. Texas Roadhouse allows you to call ahead and put your name on the list. Arrive at the specified time and Voila! you get seated. It's like you are an insider. Good job. This is not a reservation, and you should check with your local Texas Roadhouse location to see if this service is available.
Online Shopping
Now you can share the flavors of Texas Roadhouse with friends and family. You can purchase their famous steak sauce & seasoning or their rib seasoning. Be the star of the cookout, and don't tell anyone where you got the rib seasoning.
History
Kent Taylor's dream was to open a different type of restaurant. A place where guests could go and have a wonderful meal and a good time. No doubt, the food had to be top quality as well. On February 17, 1993, Kent did just that and by the late 1990s, the restaurant expanded rapidly. Today, Texas Roadhouse is the place to go for good food and fun. From buckets of free peanuts, jukeboxes and line dancing servers, there is never a dull moment at the Texas Roadhouse.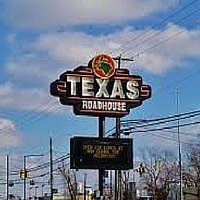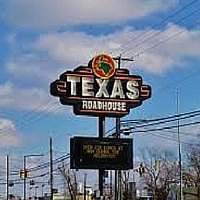 Texas Roadhouse is a publicly-traded company headquartered in Louisville, KY and boasts over 460 locations in the U.S. and parts of the world. Keeping up to date on all things Texas Roadhouse is easy. You can follow or connect with Texas Roadhouse through various social media platforms.
Interested in reading more about Texas Roadhouse? Visit their official website.
Texas Roadhouse FAQ
How does the call ahead seating work at Texas Roadhouse?
If you would like to take advantage of the call ahead seating at Texas Roadhouse, you simply call the restaurant ahead of time and ask to be put on a waiting list. When you arrive at the restaurant, you will be given a beeper box. You will only have to wait as long as you would have if you didn't call.
Can you purchase Texas Roadhouse rolls?
Yes! You can purchase the rolls off of the Texas Roadhouse menu. You can get a dozen rolls and a pint of cinnamon butter for a low Texas Roadhouse menu price of $5. You will also receive a free appetizer for every dozen rolls ordered; however, you want to check in with your location to be sure that they are running this promotion. It varies by location and area.
Does the Texas Roadhouse menu include any early-bird specials?
The special Texas Roadhouse early bird menu features an array of treats that steak and salad lovers are sure to enjoy. Among these specials, you may find the Roadkill Chop Steak, Country Fried Sirloin, and Grilled BBQ Chicken.
Is there anything special offered for those celebrating birthdays in the restaurant?
If you sign up on the Texas Roadhouse website, you can receive a coupon for a free appetizer and a birthday surprise. When you sign up, you will also receive a free dessert with the purchase of any entrée off of the Texas Roadhouse menu. If you choose to join their Regulars Club, you will also receive a free birthday waffle.
What are Texas Roadhouse prices like?
Texas Roadhouse prices are fair and are on par with other similar restaurants. As always, Texas Roadhouse prices, as well as menu items, may vary location to location. For the most up to date Texas Roadhouse prices, it is always recommended that you contact the restaurant directly.
Does Texas Roadhouse offer a senior discount on its menu items?
All promotions and discounts will vary on the location as well as the age of the patron, but some Texas Roadhouse menus do offer a senior menu. Seniors can receive discounts on items found on the senior Texas Roadhouse menu.