The best page for the latest Hooters menu prices! Hooters is a casual beach-themed restaurant is best known for its famous original chicken wings, but they also serve up a number of different dishes and meals including appetizers, seafood entrees, steaks, and sandwiches. Nothing accompanies Hooters Original Chicken Wings better than ice cold beer. Hooters has a vast selection of beers, cocktails, and specialty drinks.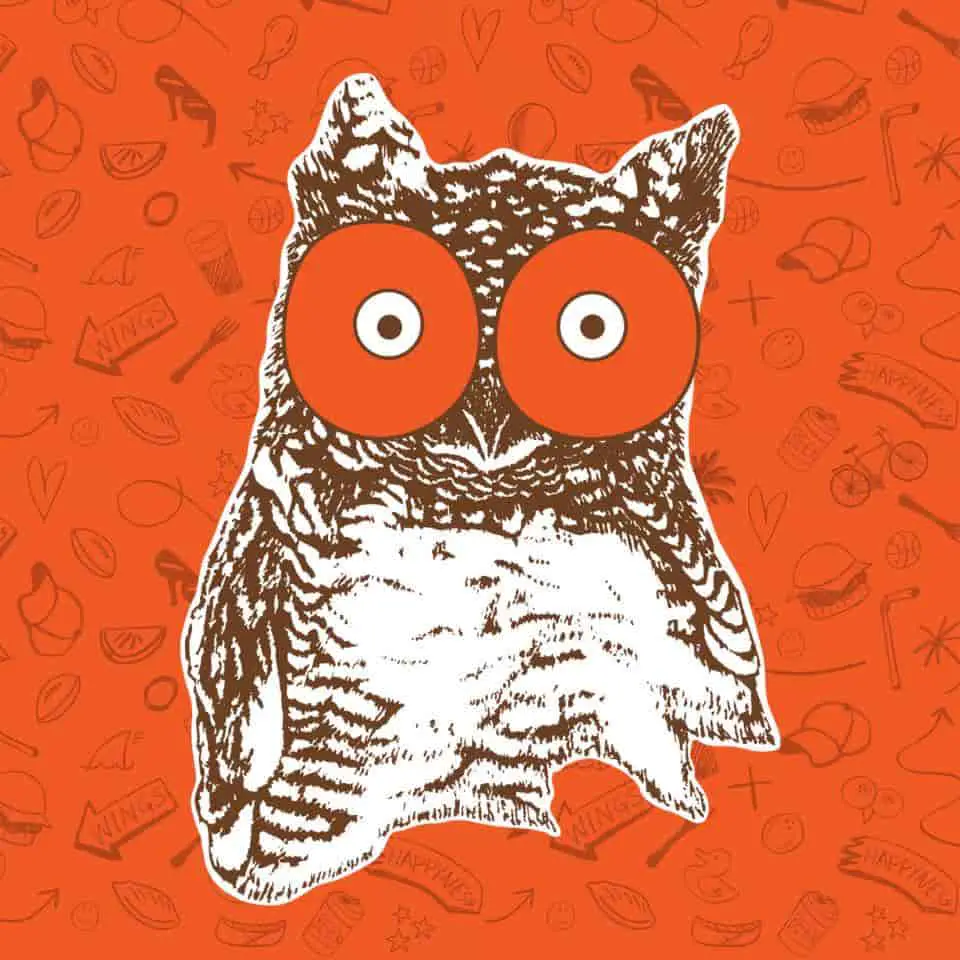 Hooters is a great place to catch live sporting events on flat-screen TVs plus non-stop music all day long. Who didn't notice the Hooters Girls? A part of the restaurant's global appeal, Hooters Girls provide great customer service, high energy, and charisma.
Table of Contents
Hooters Menu Prices
Food
Cal
Price

Starters

Mexicurly Fries
778
$6.99
Onion Rings
1379
$6.49
Cheese Sticks
1575
$7.29
Buffalo Chicken Dip
250
$7.39
Buffalo Chicken Nachos
337
$8.99
Tex Mex Nachos
561
$8.69
Lotsa Tots
1120
$6.79
Fried Pickles
571
$6.89

Burgers

Build You Own
790
$7.69
Mushroom Swiss Burger
25
$8.99
Blue Cheese Burger
69
$9.49
BBQ Bacon Burger
1350
$9.59
Hooters Burger
1279
$7.99
Turkey Burger
1259
$7.39
Veggie Burger
1248
$7.99

Sandwiches

Buffalo Chicken Sandwich
$9.29
Chicken Breast Sandwich
330
$9.29
Grilled Cheese Sandwich
330
$6.99
Philly Cheese Steak
885
$9.29
Philly Cheese Chicken
1821
$8.79
Buffalo Shrimp Wrap
1191
$4.99
Chicken Wrap
1281
$6.99

World Famous Wings

Original Hooters Style Wings (8 Pieces)
$9.99
Original Hooters Style Wings (10 Pieces)
866
$11.49
Original Hooters Style Wings (20 Pieces)
1735
$20.79
Original Hooters Style Wings (50 Pieces)
4333
$46.99
Hooters Daytona Style Wings (8 Pieces)
$10.59
Hooters Daytona Style Wings (10 Pieces)
863
$12.49
Hooters Daytona Style Wings (20 Pieces)
1735
$23.99
Hooters Daytona Style Wings (50 Pieces)
4333
$49.99
Hooters Naked Style Wings (8 Pieces)
$9.29
Hooters Naked Style Wings (10 Pieces)
$10.89
Hooters Naked Style Wings (20 Pieces)
$20.29
Hooters Naked Style Wings (50 Pieces)
$44.99
Boneless Wings (10 Pieces)
882
$9.99
Boneless Wings (20 Pieces)
1704
$18.49
Boneless Wings (50 Pieces)
4333
$42.99

Soups & Salads

Hooters Salad
648
$7.79
Hooters Salad with Chicken
503
$10.79
Caesar Salad
587
$6.69
Blackened Chicken Caesar Salad
493
$9.49
Garden Salad
450
$6.59
Buffalo Chicken Garden Salad
854
$9.49
South West Ranch Salad
176
$6.99
South West Ranch Chicken Salad
176
$9.89
Side Salad
250
$3.49
New England Style Clam Chowder
$5.39
Chili with Beans
$5.39

Seafood

Snow Crab Legs
406
$16.49
Steamed Shrimp
802
$10.49
Steamed Clams
880
$10.49
Mahi Sandwich
470
$10.69
Big Fish Sandwich
115
$8.69
Fish Tacos
406
$9.99

Sides

Tater Tots
1076
$3.49
Curly French Fries
60
$3.49
Jalapeno Cheese
176
$0.99
Cole Slaw
176
$1.39
Apple Sauce
411
$1.39
Baked Beans
600
$1.39
Potato Salad
809
$1.39
Celery
1076
$0.99
Guacamole
1107
$0.99
Sour Cream
996
$0.99

Desserts

Caramel Fudge Cheesecake
874
$4.99
Chocolate Layer Mousse Cake
1015
$5.29
Key Lime Pie
756
$4.99
Peanut Butter Cup Pie
$4.99

Kids Meals

Kid Wings & Fries
311
$5.69
Kid All Drums & Fries
0
$6.74
Kid Boneless & Fries
70
$5.29
Kid Hot Dog & Fries
311
$4.99
Kid Burger & Fries
0
$4.99
Kid Grilled Cheese & Fries
311
$3.99
Kid Mac N Cheese
110
$4.99
What's New at Hooters?
Stay Informed
Get connected with Hooters via several social media platforms. You can follow, connect and watch videos to get the latest news about all things Hooters. Gives new meaning to the phrase "who gives a hoot". convenience.
Online Ordering
Being without your Hooters favorite dish is just a click away. Get to the Hooters official website, click on what you plan on eating, select a pick-up time and then head over to your favorite Hooters and pick it up. While there, don't forget to say hello to your favorite Hooters girl.
Gift Cards 
What a great way to show your best buddy what they mean to you by giving them a Hooters Gift card. It's simple. Just pick your design and choose the dollar amount. The card will be sent via postal service. Let's hope they invite you to tag along.
Online Fun Stuff
The food is good, the girls are beautiful but you cannot forget the fun. Head over to the official Hooters website too and see how you can waste some time. Play online video games and watch Hooters TV commercials.
Guest Loyalty Program
Hooters will be re-introducing two loyalty programs. Check their website to learn all the details about their E-Club & M-Club programs.
Shopping for Hooters Gear
Ladies, you too can own a pair of those famous orange boy-shorts. You can also get your hands on other Hooters gear like tees, tank tops, caps, souvenirs, and the famous Hooters Girls Swimsuit Calendars.
Careers
Hooters is always looking for associates that are beautiful on the outside and inside. If you are outgoing, hardworking and enjoy a fast-paced environment, head over to the Career page on the Hooters website to view current openings. Hope you like the color orange!
Nutritional & Allergen Information
No need to bypass Hooters when you are following a specific diet. Hooters makes it easy to know the nutritional information of what you are eating before you go. Check out the website for complete and accurate details. The guide also provides info on what allergens are included in each dish.
History 
Hooters was founded by six individuals: Dennis Johnson, Ken Wimmer, Billy Ranieri, Ed Droste Gil DiGiannantonio and Lynn D. Stewart. The first Hooters opened in October 1983. Today, Hooters is part of Chanticleer Holdings, Inc. The company's main headquarters is in Atlanta, Georgia. There are over 480 Hooters locations in 44 US states, and the company also has branches in other countries including the UK, Singapore, Japan, Mexico, South Korea and many others.
To view more information about Hooters locations, Hooters hours or the latest news and updates, visit their official website.