You have searched and found the page for the latest Golden Corral prices & coupons. Golden Corral is a family-style restaurant chain offering American classics for breakfast, lunch, and dinner in an all-you-can-eat setting. The Golden Corral menu includes a legendary endless buffet serving a variety of familiar dishes along with seasonal offerings of new menu items at a great value. Each Golden Corral buffet features the Brass Bell Bakery offering fresh bread, rolls, and pastries.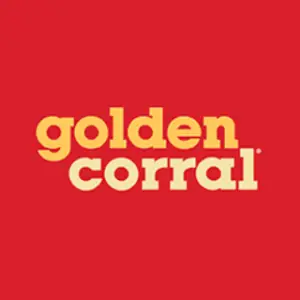 The Golden Corral price for their endless buffet is fixed and based on a Lunch or Dinner meal. Typical Golden Corral location hours are from 11:00 am to 9:00 pm. Golden Corral has started to offer a Sunday Brunch menu at select locations. Golden Corral does not accept reservations. If you will be part of a large group or celebrating a special event, please call ahead to give the restaurant advance notice.
Table of Contents
Golden Corral Prices
Food
Price

Buffet

Beverages Included for Breakfast Only

Breakfast (Sat. and Sun. till 11 am)
$9.49
Lunch (Mon. to Sat.)
$9.29
Dinner (Mon. to Sun. from 4 pm)
$13.99
Premium Dinner (Mon. to Sun. from 4 pm)
$14.49
Beverages
$2.39

Kid's Buffet

Ages 3 and under (Limit two free meals per adult)
Free
Ages 4-8
$5.99
Dinner (Fri. to Sun.)
$6.99
Ages 9-12
$6.99
Dinner (Fri. to Sun.)
$7.99

Senior's Buffet (Over 60)

Beverages Included for Breakfast Only

Breakfast (Sat. and Sun. till 11 am)
$8.99
Lunch (Mon. to Sat.)
$8.79
Dinner (Mon. to Sun. from 4 pm)
$13.49
Premium Dinner (Mon. to Sun. from 4 pm)
$13.99
Senior Early Bird Special (Mon. to Fri. from 2 pm to 4 pm)
$7.59
Beverages
$2.39

Baby Back Ribs

Beverages Not Included

All You Can Eat Ribs (Mon. to Fri. after 4 pm)
$11.99
All You Can Eat Ribs (Sat. and Sun. after 11 am)
$11.99

Breakfast Catering Packages

Light Continental
$7.50
Worth Getting Up For
$8.50
Country Breakfast
$9.75

Lunch & Dinner Catering Packages

Out to Lunch
$8.25
A Day in the Park
$13.00
GC Picnic
$9.25
GC Pit Barbecue
$8.25
BBQ Ribs
$12.00
Today's Special
$11.00
That Was Awesome
$11.00
A Fine Dine
$14.00

Holiday Catering Packages

Holiday Essentials
$9.00
Gobble Till You Wobble
$13.00
Holiday Feast
$16.00

Wedding Catering Packages

Light & Easy
$9.00
Simple & Elegant
$10.50
Wedding Complete
$11.50
Wedding Complete Plus
$13.00
Additional Information on Golden Corral
Nutritional Information 
Golden Corral strives to provide guests with complete and accurate nutritional information on their food items. A complete nutritional guide can be found online at the Golden Corral website. Guests with food allergies or those with restricted diets should speak with a restaurant manager before dining to ensure there are no issues.
Gift Cards
Golden Corral gift cards are a great way to show appreciation. Give them to co-workers, friends, or the mailman. You can purchase traditional gift cards at your local Golden Corral location or you can go online and have them sent via postal service.
Good as Gold Club
Golden Corral offers regular patrons the option to join their Good as Gold Club. A members-only club that offers members special gifts on their birthday, announcements on new and seasonal menu items, and the latest Golden Corral news.
Golden Corral's Military Appreciation Night 
Through the help & generosity of food and equipment sponsors, Golden Corral hosts a Military Appreciation Night 'Free' Thank You Dinner for military men & women. The event is held yearly, usually in November. Through this program, Golden Corral has served over 4.4 million thank-you meals.
Camp Corral 
Camp Corral is a free summer camp for kids of wounded, disabled, or fallen military service members. For one week, kids get to be kids while enjoying great fun and adventures outdoors. The camp also helps kids build long-lasting friendships and memories.
Careers at Golden Corral
Golden Corral is a great place to work for those with a taste for success. Golden Corral offers great career opportunities locally, in management, or at their corporate support center. Be sure to visit the official website to learn about the Golden Corral culture and current openings.
Operating Partner Program
Golden Corral believes in its team members. For those ambitious operating partners, there is the possibility of becoming a Golden Corral franchisee in 3 years. With a proven concept and well-known brand, you can become a successful owner of a Golden Corral franchise. Check the website for full details and offer.
History of Golden Corral
The first restaurant, called the Golden Corral Family Steak House, opened on January 3, 1973, in Fayetteville, North Carolina and was the brainchild of James Maynard & William F. Carl. Through the constant innovation of the menu items and interior layout and design, there are 500 locations in 41 states and Golden Corral is known as the #1 buffet & grill. Today, Golden Corral is headquartered in Raleigh, NC. You can follow and connect with Golden Corral through several social media platforms.
To view more information about Golden Corral, visit their official website.
Golden Corral Frequently Asked Questions
When does Golden Corral serve prime rib?
Golden Corral serves prime rib with dinner service. Dinner service starts after 4 pm local time.
What is the best time to go to Golden Corral?
The best time to go to Golden Corral depends on the meal service. To reduce your wait time the least busy time by meal service is as follows: breakfast arrival before 9 am, lunch either 11 am or 3 pm, dinner 4 pm or after 7 pm.