You have found Red Robin menu prices. Red Robin Burgers and Brews is a casual dining restaurant that is known for offering over two dozen freshly made gourmet burgers. The menu also features appetizers, soups, salads, wraps, sandwiches, and entrées. Don't forget the famous steak fries and Bottomless Beverages (TM).
All Red Robin locations are open for lunch and dinner. Reservations are recommended especially if celebrating a special occasion or dining with a large group.
Below are the latest Red Robin menu prices.
Food
Price

Appetizers

Consider Them A Warm-Up Exercise

Fried Pickle Nickels
$5.00
Classic Wedge Salad
$5.00
The O-Ring Shorty®
$5.00
Pretzel Bites
$5.00
Gauc, Salsa & Chips
$7.00
Red's Bold Boneless Wings
$9.00
Creamy Artichoke & Spinach Dip
$7.00
Chili Chili (tm) Cheese Fries
$7.00
Voodoo Fries
$7.00
Jump Starter Double
$7.00
Bar Wings 'N' Yukon Chips
$9.00
Nacho.M.G. (tm)
$9.00
Towering Onions Rings®
$9.00

Gourmet Burgers (Fire-Grilled)

Red Robin Gourmet Cheeseburger
$9.99
Keep It Simple
$9.69
Grilled Turkey
$9.99
Veggie Burger
$10.69
Vegan Burger
$10.69
The Wedgie (tm) Burger
$11.09
Prime Chophouse
$11.69
Whiskey River® BBQ
$11.29
Burnin' Love
$11.29
Bacon Cheeseburger
$11.29
Guacamole Bacon
$11.29
Sauteed 'Shroom
$10.99
Bleu Ribbon
$11.29
A.1.® Peppercorn
$11.89
Chili Chili (tm) Cheeseburger
$11.19
Banzai
$10.79
Royal Red Robin
$11.39

Finest Burgers

The Grand Brie
$14.29
Smoke & Pepper (tm)
$13.99
Black & Bleu
$14.29
The Southern Charm Burger (tm)
$13.99
Mad Love
$14.49
The Marco Pollo - Chicken
$12.99
Citrus Harissa Salmon Sandwich
$14.99

Tavern Burgers

Cowboy Ranch Tavern Double
$6.99
Taco Tavern Double
$6.99
Red's Tavern Double®
$6.99
Sir Acha Tavern Double
$6.99
Pig Out Tavern Double
$8.99
Fiery Ghost® Tavern Double
$8.99
Smoky Jack Tavern Double
$6.99

Chicken & More

Worth crossing the road for

Crispy Chicken
$10.79
Whiskey River® BBQ Chicken
$11.29
Bruschetta Chicken
$11.29
Teriyaki Chicken
$10.79
California Chicken
$11.29
Simply Grilled Chicken
$9.69
Crispy Arctic Cod
$10.99
Grilled Turkey Burger
$9.99

Entrees

Fun without a bun

Shrimp & Slaw Platter
$12.69
Buffalo Style Clucks & Fries®
$11.29
Prime Rib Dip
$14.79
Clucks & Shrimp
$13.49
Sear-ious Salmon
$14.19
Arctic Cod Fish & Chips
$13.89
Ensenada Chicken (tm) Platter
$12.99
Shrimp & Cod Duo
$14.39
Pub Mac & Cheese
$7.99
Clucks & Fries®
$11.29

Add A Side

Steak Fries
$2.99
Steamed Broccoli
$1.49
Coleslaw
$1.49
Freckled Fruit® Salad
$1.99
Black Beans
$1.49
Sweet Potato Fries
$2.99
Mac 'n' Cheese
$2.99
Garlic Herbed Fries
$2.99
Black Beans
$1.49

Fresh Salads

Southwest Chicken
$10.59
Avo-Cobb-O
$10.99
Mighty Caesar Salad
$10.29
Crispy Chicken Tender
$11.19
Simply Grilled Chicken Salad
$9.29
Soup & Salad Combo
$9.79
House or Caesar Salad
$4.99

Wraps & Sandwiches

Four Cheese Melt
$7.99
Souper Sandwich Combo
$12.19
BLTA Croissant
$11.99

Soups

French Onion Soup (Bowl)
$5.39
Clamdigger's Clam Chowder (Bowl)
$5.39
Chicken Tortilla Soup (Bowl)
$5.39
Red's Chili Chili (tm) (Bowl)
$5.89

Dessert

Cinnamon Sugar Doh! Rings®
$8.99
Mountain High Mudd Pie
$6.99
Double Berry Cheesecake
$5.99
Chocolate Fruffles (tm)
$5.99
Gooey Chocolate Brownie Cake
$5.99
Silver Spoons S'Mores Milkshake
$5.99
Chocolate Hazelnut Bliss Milkshake
$5.99

Kids Menu

Red's Burger
$4.99
Mac it Yours
$4.99
Meatballs on a Stick
$5.99
Lil' Appetites Meatballs on a Stick
$4.99
Corn Doggies
$5.79
Lil' Appetites Corn Doggies
$4.79
Swirly Twirly Pasta
$5.99
Grilled Cheesy
$4.49
Cluck-a-Doodles
$5.99
Lil' Appetites Cluck-a-Doodles
$4.99
M.V.Pizza
$4.99
M.V.Pepperoni Pizza
$5.19
Grilled Chicken Dip'NS
$4.99

32 Ounce To-Go Beverages

Freckled Lemonade®
$4.49
Poppin' Purple Lemonade
$4.49
Very Berry Raspberry Limeade
$4.49
Soft Drinks
$2.99
Root Beer Float
$4.99
Fresh-Brewed Gold Peak® Tea
$2.99
Orange or Raspberry Cream Soda
$3.79

Chilin' Concoctions

Salted Caramel Shake (Monster Milkshake)
$4.99
Salted Caramel Shake (Classic Size)
$3.99
Mint Brownie Shake (Monster Milkshake)
$4.99
Mint Brownie Shake (Classic Size)
$3.99
Cookie Magic (Monster Milkshake)
$4.99
Cookie Magic (Classic Size)
$3.99
Classic Milkshakes & Malts (Monster Milkshake)
$4.99
Classic Milkshakes & Malts (Classic Size)
$3.99
Nana-Nana Moo-Moo (New!) - Monster Milkshake
$4.99
Nana-Nana Moo-Moo (New!) - Classic Size
$3.99
More Information on Red Robin Burgers & Brews
Gift Cards 
What is better than a gift that tastes great. Red Robin gift cards are a perfect way to show your appreciation. Give them to co-workers, the mailman, or the auto mechanic. No matter who gets one, they will be satisfied. You can send a traditional, personalized gift card via the postal service or if you need it delivered sooner, you can send an e-gift card to the recipient's email inbox. Either way, you will look like a rock star!
Burger Hub Video Library
Looking for a few minutes of downtime fun? Check out the Burger Hub. A compilation of fun and wacky videos about Red Robin.
Giving Back – by Red Robin
Red Robin believes in giving back to the communities where they operate. Red Robin participates in several programs that help individuals as well as communities, through fundraising efforts and donations. Their 'Burgers for Better Schools' program allows families to enroll their school with 1% what they spend being donated to the school. The Red Robin Foundation is a charitable organization that helps Team Members and the communities they live in.
Kid Activities
Before you take the kids to Red Robin to enjoy some great tasting menu items, have them take a look at the Kids page on the Red Robin website. There, kids can download cool science experiments or play neat online video games.
Red Robin Royalty Program
The guest recognition program makes you feel like royalty. It is simple to sign up and the benefits last all year. Besides earning free burgers and discounts, you will get exclusive offers and special deal all year.
Shopping Online
You don't need to wait for Black Friday or Christmas to shop online at Red Robin. Check out their Merchandise page where you can buy cooking accessories, apparel, or the Famous Red Robin seasoning.
Customizer Hub 
The Red Robin nutrition guide has taken away the guesswork when it comes to figuring out how many calories or fat your meal has. If you are counting calories or following a restrictive diet, head over the Customizer Hub page where you can customize your meal to meet your specific targets. For food allergy sufferers, you can also visit the Customizer Hub page. The interactive menu allows you to specify what you are allergic to and makes menu suggestions.
Careers 
Are you ready to embrace the Red Robin B.U.R.G.E.R. values? If you are enthusiastic, high energy, and committed to providing top notch customer service, then check out the Red Robin Career page on their official website. There, you can learn more about the history of Red Robin, current opportunities, and details about their competitive pay and benefits package. Team members also receive training, perks & discounts.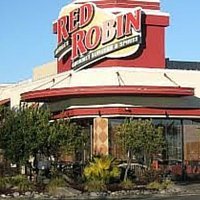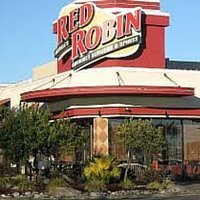 If you are interested in reading more about Red Robin, visit their official website.
Frequently Asked Questions
How did Red Robin Burgers and Brew get started?
In 1969, Gerry Kingen, a restaurant entrepreneur, purchased an existing tavern called Sam's Red Robin in Seattle, WA. Gerry dropped the "Sam's"  and the new place was named Red Robin. After a few years of operating as a tavern, Gerry introduced several types of burgers and the rest, they say, is history.
Who owns Red Robin Burgers and Brews and where are they headquartered?
Red Robin Burgers and Brews is a publicly traded company headquartered in Greenwood Village, CO, and operates over 500 locations in the U.S. & Canada.