Quite possibly the biggest impact on restaurants and the restaurant industry has been the sudden appearance of COVID-19. It's had an immediate impact on the restaurant and the service industry and the effects will be more than short-term.
Your dining experience will be changed forever in a world post-COVID-19. The way you order food, the methods in which it's handled, and the interaction you have with restaurant staff will be different than it was before. Here's just some ways COVID-19 will change dining.
Restaurant Capacity Will Decrease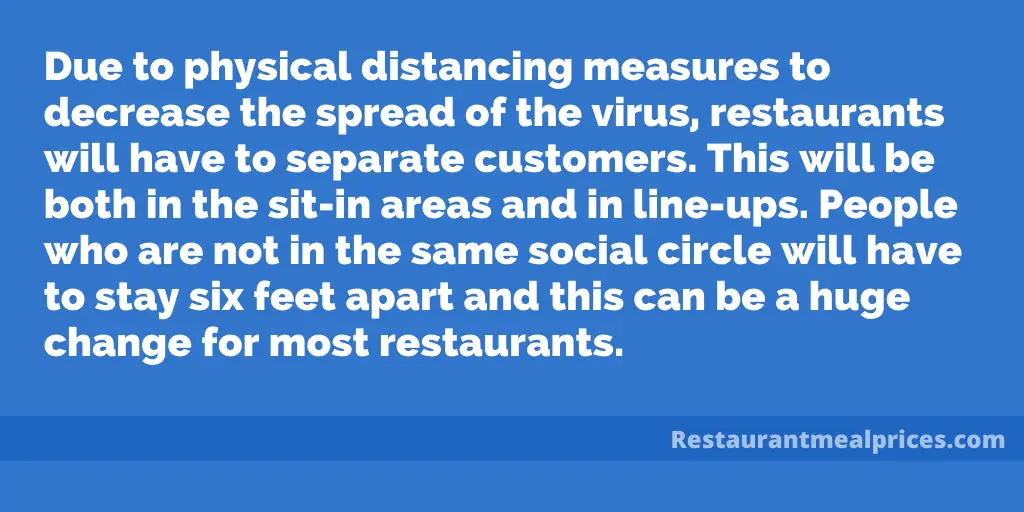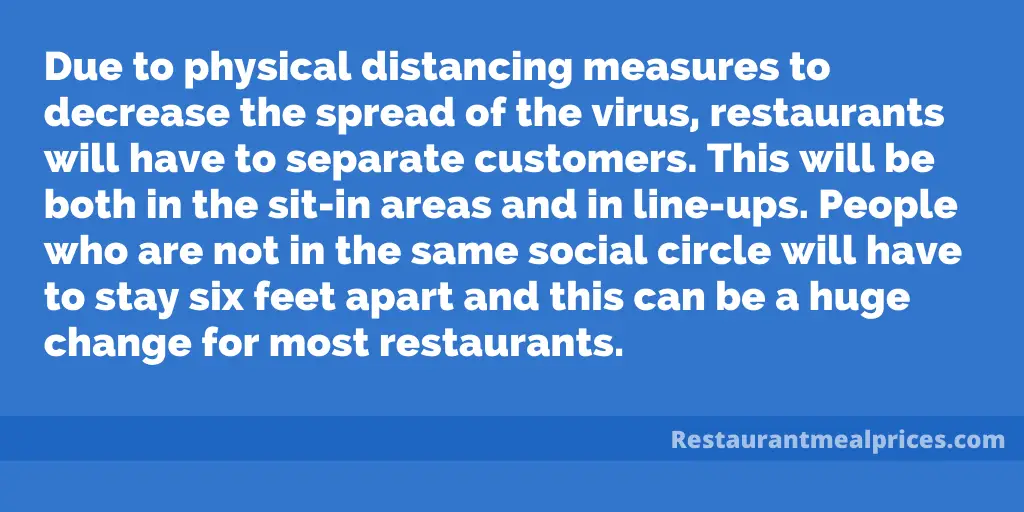 Due to physical distancing measures to decrease the spread of the virus, restaurants will have to separate customers. This will be both in the sit-in areas and in line-ups. People who are not in the same social circle will have to stay six feet apart and this can be a huge change for most restaurants.
There may not be any dining seats and tables in close quarters anymore, and therefore the capacity to how many people can fit in a restaurant's space will change. Restaurants may have to run at half the capacity or less, and this can result in a huge financial loss long-term.
CTV News describes the changes that restaurant kitchens will have post-COVID:
"Rankin expects it will come down to ensuring customers feel as safe as possible, especially those who may be wary of going back to a restaurant setting in the first place. That could mean moving toward more open-plan kitchens, where diners can see the way their food is being handled, and asking servers to wear gloves and face masks — for now, anyway."
Social Distancing Presents a Barrier For Customer Interaction
Unfortunately, the services you've received before coronavirus from restaurant staff will look significantly different going forward. Due to physical distancing, anyone who isn't in your social circle will have to stay six feet away and wear a face mask when interacting.
There's no doubt there'll still be friendly service from wait staff, but it'll look significantly different interacting with them. This can take some time to adjust to but remember to show restaurant staff your support and respect by social distancing.
Business Insider explains the precautions the restaurant industry needs to take going forward:
"Customers should also keep their dining parties small — no more than a few people or a single household – and employees should wear face masks and wash their hands frequently. 'You should be able to have a household group at the same table because they're exposed to each other every day anyway,' Dr. Ramzi Asfour, an infectious-disease doctor in the San Francisco Bay Area, told Business Insider."
Take-Out Orders Will Increase
Since restaurants have had to shut down, they have already seen a huge increase in take-out orders. Despite the declining sales, people still want to show their support by buying from restaurants and financially supporting service workers, chefs, and delivery people.
During and after the era of coronavirus, take-out will be easily accessible and be not just a once in a blue moon option, but a great alternative to eating out at restaurants.
QSR Magazine says the impact of switching to takeout orders has significantly affected the industry: 
"While COVID-19 doesn't discriminate in who it affects, the impact isn't so evenly or randomly distributed among restaurants. Full-service locations less equipped to pivot to takeout and delivery have represented the tip of the spear. They've had to not just try to rearrange business practices, but also to bring along customer bases that have historically looked elsewhere for off-premises consumption."
See how meal prices for popular restaurant brands like Cheesecake Factory, Red Robin, and Applebee's have changed. Check out our list of all restaurants to compare more food menus.