The 2020 pandemic has a lot of us missing regular activities that used to be quite frequent, especially during the summer. One especially is the social activity of going out to your favorite bar or restaurant. During summer patio season, nothing beats a grill house, with offerings like steak, burgers, hot dogs, veggie burgers, and more.
If you're looking to find a grill house restaurant that's open during COVID-19, we've compiled a short list of some of the top restaurants open now for either dine-in or take-out options.
Bonefish Grill
This seafood dining chain is famous for their grilled fish and seafood, and has been open for carryout since spring. Depending on what state or town you live in, Bonefish Grill may be open to you for dine-in as well.
On their website, Bonefish Grill has indicated that each restaurant is following the proper health and safety protocol. This includes employees wearing personal protective equipment, frequently sanitizing surfaces, and limited seating capacity to obey social distancing rules.
This means that when you go out to dine at Bonefish Grill, you can expect friendly, clean service and be ensured that staff are following the right protocols to keep people safe.
Genghis Grill        
A staple for building your own grill experience, Genghis Grill offers customizable stir-fry bowls and meals at their casual grill house restaurant. After making your stir-fry bowl, you pass it over to the Grill Master chef who expertly cooks your meal.
Things have changed a bit since the pandemic, but luckily, the quality of the food has stayed the same. Genghis Grill has a statement on their website outlining safety steps they're taking during COVID-19. They're adhering to the highest safety standards, sanitizing surfaces, wearing PPE, and temperature checking each employee daily.          
This restaurant also offers online ordering, curbside pickup, contactless delivery, and a 20% discount for first responders.
Hudson Grille
Hudson Grille is known for its contemporary American dining experience, and is a great place to stop by when you want to watch a sports game at a bar. However, things have changed during the pandemic, but the excellent service at this grill house hasn't.
Offering hospitality and cleanliness, Hudson Grille updates their website detailing the protocols they're following to keep staff and customers safe. Many locations are now open for dine-in and every location is open for delivery or curbside pickup with apps like Uber Eats.
Carrabba's Italian Grill
For some delicious Italian-America grill house cuisine, look no further than Carrabba's Italian Grill. Serving you up some delicious pasta, salads, and fire wood-grilled chicken and beef, this is a great place to go for Italian flavors.
During the summer season, Carrabba's is here to serve the community, and that includes keeping the restaurants and kitchens sanitary and clean, employees wearing PPE, and social distancing customers by offering limited seating. You can order online and have it ready with pickup or delivery, or if you want to dine in, you can make a reservation ahead of time to lessen your wait time.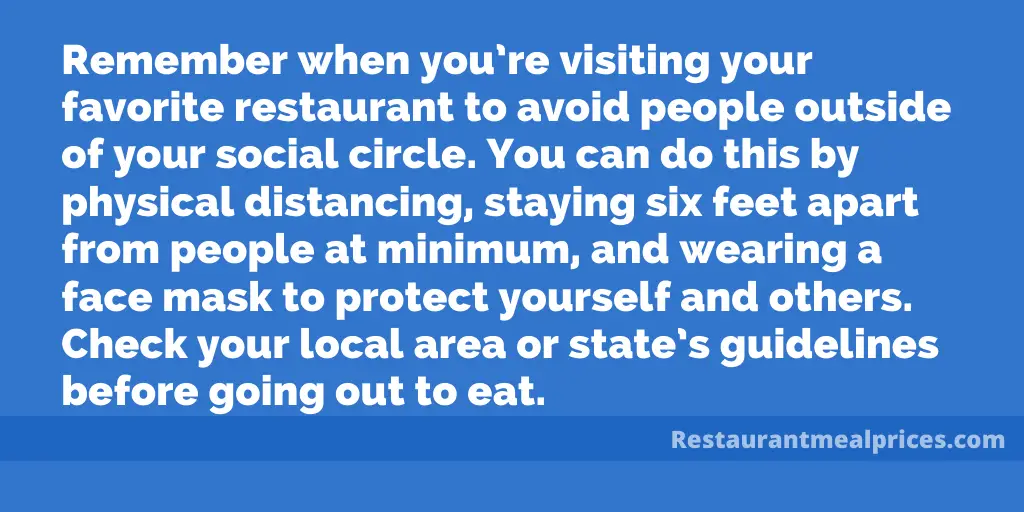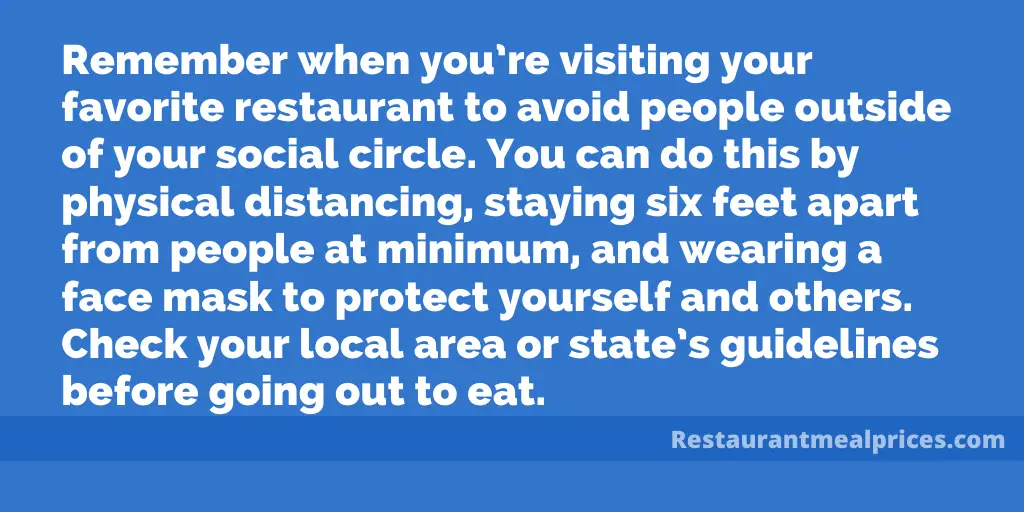 Remember when you're visiting your favorite restaurant to avoid people outside of your social circle. You can do this by physical distancing, staying six feet apart from people at minimum, and wearing a face mask to protect yourself and others. Check your local area or state's guidelines before going out to eat.
Check to see if restaurant menu pricing has changed for these restaurants and more, like Bonefish Grill, Genghis Grille, Hudson Grille, and Carrabba's Italian Grill, all here on our site. Check out our list of all restaurants to compare more food menus.