Marie Callender's menu prices at your fingertips. In the early 1940s, a professional baker, Marie Callender started a small pie business.  She delivered pies to restaurants and later on started her own eating place that sold lunch, dinner specials, and her classic pies.  Today, Marie Callender's pies and restaurants are well-known with over 75 locations in America and Mexico.
Below are the latest Marie Callender's menu prices.
Food
Price

Appetizers

Mozzarella Sticks
$7.99
Crispy Chicken Tenders
$9.49
Wings Sampler
$9.49
Crispy Green Beans
$7.99
Appetizer Combo Platter
$13.99
Fresh Avocado and Shrimp Stack
$8.79
Black Bean & Chicken "Chimis"
$8.99

Seasonal Comfort Favorites

Parmesan Crusted Sole
$14.99
Southern Fried Sole Fillets
$13.99
New Orleans Bake
$10.99
Crispy Jumbo Shrimp Dinner
$11.99

Comfort Favorites

Freshly Roasted Turkey Dinner
$16.49
Home-Style Meatloaf Dinner
$15.99
Artichoke & Mushroom Chicken
$16.99
Country Fried Steak
$16.49
Braised and Slow-Roasted Pot Roast
$16.99
Callendar's Fish & Chips
$15.99

Burgers

Callendar's Cheeseburger
$11.29
Original Burger
$10.99
Traditional Frisco Burger
$12.49
'The Works' Frisco Burger
$13.49
Knife & Fork Chilli Patty Melt
$12.99
Spicy Ortega Burger
$11.99

Pasta Perfecto!

Chicken & Broccoli Fettuccine
$16.49
Double Shrimp Pasta
$16.99
Four Cheese Ravioli with Chicken
$14.29

Fresh Crisp Salads

Crunchy BBQ Chicken Salad
$13.29
Chicken Caesar Salad
$12.79
Traditional Caesar Salad
$10.29
Marie's Classic Quiche & Salad Sampler
$13.99
Classic Cobb Salad
$13.29
Santa Fe Shrimp Caesar Salad
$13.99
Santa Fe Chicken Caesar Salad
$12.99
California Chicken Waldorf Salad
$13.79

Marie's Mid-Day Mix-Ups - Pick 2

Four Cheese Ravioli
$6.99
Half Roasted Turkey Sandwich
$6.99
Half Rosemary Chicken Sandwich
$6.99
Meatloaf Sliders
$6.99
Half Chicken Waldorf Salad Sandwich
$6.99
Grilled Veggie Tacos
$6.99

Marie's Mid-Day Mix-Ups - Pick 3

Four Cheese Ravioli
$8.99
Half Roasted Turkey Sandwich
$8.99
Half Rosemary Chicken Sandwich
$8.99
Meatloaf Sliders
$8.99
Half Chicken Waldorf Salad Sandwich
$8.99
Grilled Veggie Tacos
$8.99

Marie's Perfect Pie Trio

Tuscan Shrimp Pot Pie Trio
$13.99
Shepherd Pie Trio
$11.99

Marie's Famous Pot Pie

Heartland Chicken Pot Pie
$12.99

Home-Style Soups & Chili

Bowl of Hearty Vegetable Sup
$7.99
Bowl of Creamy Potato Cheese Soup
$7.99
Calendar's Famous Chili & Cornbread
$9.29
Bowl of Clam Chowder Soup
$7.99

Delightful Dishes

Grilled Shrimp Street Tacos
$10.79
Grilled Chicken Street Tacos
$9.79
Delightful Rosemary Chicken and Spring Salad
$8.79
Half Turkey Bacon & Avocado Sandwich with Soup
$10.49
Rosemary Chicken with Potatoes and Broccoli
$11.99
Cajun Atlantic Salmon with Broccoli
$16.79
Angus Top Sirloin with Potatoes and Asparagus
$17.49
Grilled Turkey Burger
$11.29
Grilled Veggie Tacos
$8.99
Fresh Vegetable Pasta
$11.49

Sandwiches

Freshly Roasted Turkey Croissant Club
$12.49
Grilled Ham Stack
$10.49
Albacore Tuna Melt
$12.49
Meatloaf On Grilled Parmesan Sourdough
$11.59
Classic French Dip
$12.49
Souper Sandwich
$10.49
Spicy Ortega Chicken on Parmesan Sourdough
$12.59
French Dip Supreme
$13.49
Rosemary Chicken Sandwich
$11.99
Grilled Mahi Mahi Cabo Tacos
$11.99

From The Grill

Grilled Rosemary Chicken
$16.79
Ribs & Crispy Jumbo Shrimp
$16.79
Full Rack of St. Louis BBQ Ribs
$18.99
Grilled Atlantic Salmon Fillet
$17.79
Angus Top Sirloin Steak
$17.49

Kid's Meals

Kid's Souper Duper! Sandwich
$5.99
Kid's Slider Burgers
$5.99
Kid's Golden Chicken Strips
$5.99
Kid's Macaroni & Cheese
$5.99
Kid's Penne Pasta
$5.99
Kid's Gobble Gobble Turkey Dinner
$6.99
Kid's St. Louis BBQ Ribs
$7.99
Kid's Grilled Cheese
$7.99
Kid's Fountain Drink
$0.99
Kid's Juice
$0.99
Kid's Milk
$0.99
Kid's Root Beer Float
$1.99

Beverages

Coke
$1.79
Diet Coke
$1.79
Coke Zero
$1.79
Sprite
$1.79
Barqs Root Beer
$1.79
Lemonade
$2.79
Strawberry Lemonade
$2.99
Pibb Xtra
$1.79
Nestea Raspberry
$1.79
Iced Tea Lemonade
$2.79
Freshly Brewed Iced Tea
$2.79
Fanta Orange
$1.79
Coffee
$2.39
Cranberry Juice
$2.69
Decaf Coffee
$2.39
Hot Chocolate
$2.39
Hot Tea
$2.69
Apple Juice
$2.69
Orange Juice
$2.69
Milk
$2.49
Perrier Mineral Water
$2.25
More information about Marie Callender's
Marie Callender's Community Programs
Marie Callender's offers local charities, schools, and organizations two ways to raise money. Through their fundraising program, organizations can raise funds via the 'Whole Pie Fundraiser' or the 'Dine in for Dollars' fundraiser. To help promote schools and student achievement, local schools can participate in the 'Award of Excellence' program or the 'Appetite for Reading' program. Interested parties should contact their local Marie Callender's location.
Marie Callender's famous pies include classics such as the Lemon Meringue Pie for only $7.99.  The Kahlua Cream Cheese Pie is filled with a special taste of Kahlúa mocha throughout the velvety cream cheese in a chocolate cookie crust.  Customers crave for sour cream apple pie, which is full of baked apples, sour cream topping, sprinkled with cinnamon and buttery pecans.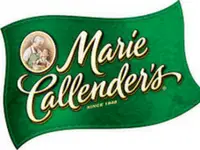 Marie Callender's restaurant specials are the Parmesan Crusted Sole, or grilled Parmesan crusted sole fillets, topped with creamy Alfredo sauce which is served with rice and fresh asparagus.  The crispy jumbo shrimp dinner is a dish of home-style breaded jumbo shrimp fillets fried to a crispy, golden brown and served with chips and fresh almond coleslaw. This eatery offers an all-you-can-eat soup and salad bar, as well as hamburgers, barbecued ribs and classics like pot roast and meatloaf.
For more information about Marie Callender's, visit their official website.
Frequently Asked Questions
Does Marie Callender's have Happy Hour?
Yes, Marie Callender's does have Happy Hour. Monday – Saturday: 3 PM – 10 PM and all day Sunday. Locations offering Happy Hour may vary, please check your nearest location.