The best page to get Einstein Bros menu prices. Einstein Bros. Bagels is a quick-casual neighborhood bagel and coffee shop that serves freshly baked signature bagels, fulfilling breakfast sandwiches, lunchtime sandwiches, sweets, and more. Mondays are extra special because guests can purchase 13 bagels for only $7.00.
Einstein Bros. Bagels is committed to using simple fresh ingredients for their products. Bagels are baked every 4 hours so customers always get delicious tasting bagels.
Below are the latest Einstein Bros. Bagels menu prices
Food
Cal
Price

Bagels

Classic
260
$1.15
Thinfastic
260
$1.15
Signature
260
$1.25
Gourmet
260
$1.80

Bagel Boxes

Baker's Dozen Box
260
$14.65
Half Dozen Box
140
$8.75
Extra Smaher
260
$2.75

Breakfast

Egg Sandwiches
370
$4.89
Egg Sandwiches with Cheese Only
470
$4.59
Egg Paninis
310
$5.59
Egg Wraps
302
$4.89
Nova Lox* & Bagel
480
$6.79
Thintastic Eggwhites
360
$4.79

Lunch

Deli
231
$6.49
Signature
260
$6.99
Hot Paninis
840
$7.69
Bagel Melts with Turkey & Cheddar
500
$6.99
Bagel Melts with Pepperoni Pizza
520
$5.55
Bagel Melts with Cheese Pizza
290
$5.55

Hot, Iced or Frozen (Signature)

Vanilla Hazelnut Latte (Med)
240
$3.79
Vanilla Hazelnut Latte (Large)
280
$4.29
White Chocolate Mocca (Med)
310
$3.79
White Chocolate Mocca (Large)
370
$4.29
Caramel Macchiato (Med)
250
$3.79
Caramel Macchiato (Large)
300
$4.29
Vanilla Cream Latte (Med)
190
$3.79
Vanilla Cream Latte (Large)
230
$4.29

Hot, Iced or Frozen (Classic)

Latte (Med)
140
$3.49
Latte (Large)
160
$3.99
Mocha (Med)
300
$3.49
Mocha (Large)
360
$3.99
Chai Tea Latte (Med)
220
$3.49
Chai Tea Latte (Large)
270
$3.99
Cappuccino (Med)
140
$3.49
Cappuccino (Large)
230
$3.99

Hot, Iced or Frozen (Neighborhood)

Fresh-Brewed Coffee (Reg)
5
$1.89
Fresh-Brewed Coffee (Med)
10
$1.99
Fresh-Brewed Coffee (Large)
15
$2.29
Iced Coffee (Reg)
5
$1.89
Iced Coffee (Med)
15
$1.99
Iced Coffee (Large)
25
$2.29
Green Tea (Med)
35
$1.99
Green Tea (Large)
50
$2.29
Hot Chocolate (Reg)
280
$1.89
Hot Chocolate (Med)
350
$1.99
Hot Chocolate (Large)
410
$2.29
Real Fruit Smoothies (Med)
503
$3.79
Fountain & Iced Tea (Med)
50
$1.90
Fountain & Iced Tea (Large)
75
$2.05

Smart Choices

Thintastic Eggwhites
360
$4.79
Thintastic Lunch
360
$5.99
Soup (Cup)
284
$2.50
Soup (Bowl)
397
$3.50
Greek Yogurt Parfaits
205
$2.79
More information on Einstein Bros. Bagels
The Shmear Society
Who doesn't love free bagels? One way to earn free bagels is to join the Shmear Society. By joining The Shmear Society, guests earn rewards towards free items plus, by being a member, guests receive additional special offers throughout the year.
Nutritional Information
Guests with food sensitivities or food allergies should check out the nutritional guide here.
All food in the kitchen is prepared using ingredients that contain all 8 major allergens.
Catering Service
The best way to get noticed by the Boss is to knock it out of the park with a great catering event. If you are planning a breakfast gathering or lunch meeting, Einstein Bros. Bagels offers a variety of catering choices. Get noticed.
History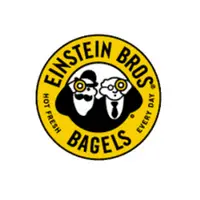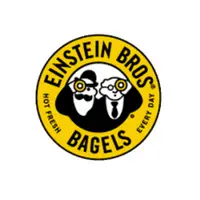 As a way to promote breakfast food items, Boston Chicken created Einstein Bros. Bagels in 1995. Over the years, Einstein Bros. Bagels acquired several regional retail bagel chains. Today there are over retail locations across the US. Privately held Einstein Bros. Bagels parent company is Einstein Noah Restaurant Group which is owned by JAB Holding Company & BDT Captial Partners.
For more information about Einstein Bros Bagels, visit their official website.
Frequently Asked Questions
Does Einstein Bros. Bagels offer any vegetarian choices?
Yes, there are several food items on the Einstein Bros. Bagels menu that are vegetarian.
Does Einstein Bros. Bagels have gluten-free items?
As of this posting, there are currently no food items being identified as gluten-free.
Does Einstein Bros. Bagels sell gift cards?
Yes, Einstein Bros. Bagels does sell gift cards. Guests can purchase traditional gift cards in the store. Guests can also purchase traditional gift cards online and have them mailed to the recipient. Alternatively, guests can purchase an eGift card and email it to the recipient.