Pork chops are a classic meal that has been served by families for decades. Pork tends to be less expensive than many kinds of steaks but it offers the same meaty satisfaction you get with a filet. You can get pork chops bone-in or boneless and either works fine for some of the most popular preparations, including bourbon-glazed pork chops.
If you're looking for a delicious recipe to serve at an upcoming summer party or you want to have an upscale cookout this summer and wow all of your friends with a dish they're sure to remember, this recipe is it.
This dish feeds four people so adjust based on a larger or small-sized dinner party. For this dish, you need the following ingredients:
4 one-lb one-and-a-half-inch thick center-cut bone-in pork chops
4 Tbs. Dijon mustard
2 tsp. packed dark brown sugar
1 Tbs. bourbon
1 minced garlic cloves
Liberally amount of Smoky Seasoning blend:
½ cup salt
¼ black pepper
¼ cup garlic powder
Directions
1. Heat grill to medium-hot.
2. In a bowl, mix the mustard, bourbon, and brown sugar.
3. Rub the pork chops with the garlic and smoky seasoning then brush with the bourbon brown sugar glaze.
4. Place the chops on the grill and grill until they are slightly charred, about 20 minutes based on size.
5. Flip and brush with the remaining glaze.
Why is Pork a Great Option for Summer Meals?
Pork might not be the first thing that comes to mind when you think about grilling hot dogs, hamburgers, and even chicken at the backyard summer barbecue but the truth is it's a great option. This lean meat appeals to those who typically love chicken breast but it's generally a lot cheaper. Pork tends to be on the dryer side, like chicken breast, so you need to be smart about its preparation. The method listed above is especially tasty because the glaze keeps the chops tender.
What Should I Serve with Glazed Pork Chops?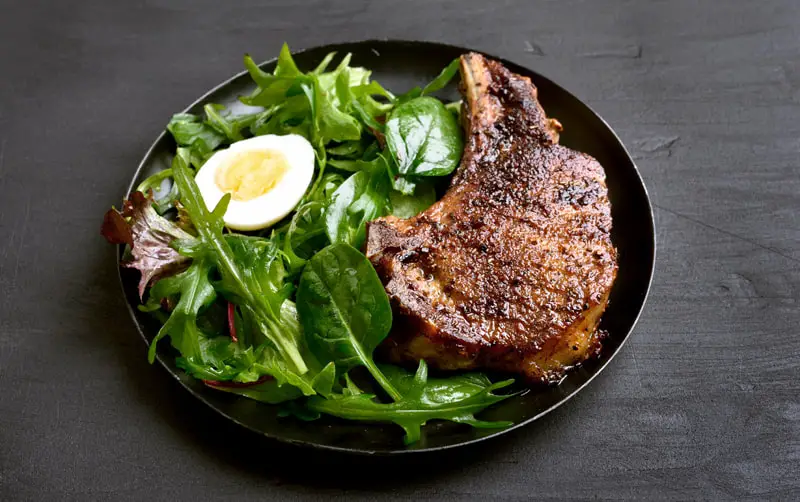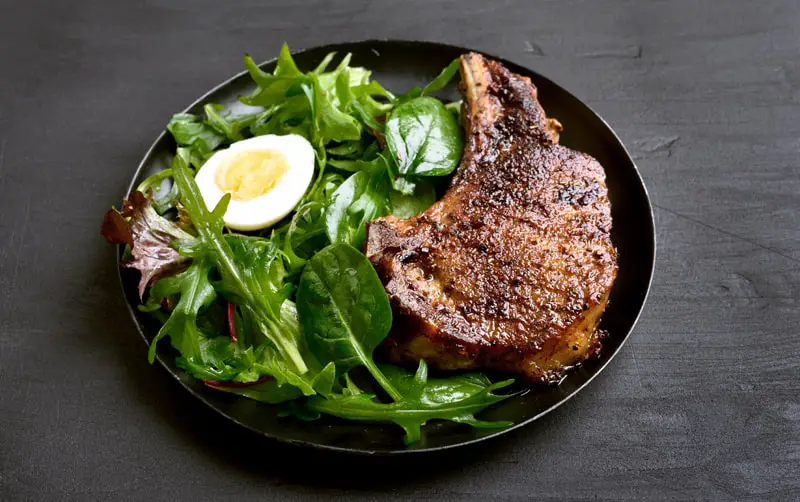 Source: canva.com
There plenty of side dishes that pair wonderfully with these chops.
If you are looking for a heartier meal that's great for a chilly night in early or late summer, consider pairing these chops with macaroni and cheese. The bourbon glaze pairs wonderfully with the zesty bite of the cheese sauce and you'll love how creamy the mac and cheese is with the tangy-sweet taste of the glaze, too.
If you want something a little lighter, go with a green bean salad. You can even cook the beans on the grill before tossing them with a bit of Italian dressing and parmesan or serve them chilled and sprinkled with sea salt.
Corn on the cob is also a great side dish option. It can be grilled alongside the pork chops and served fresh from the flames. If you aren't in the mood for chomping on corn cobs during your dinner party, grill your corn in advance and slice it from the cob – it tastes fresher than canned or frozen corn and you avoid the cob altogether. Serve it plain or toss it with a light mayo and paprika mix for a little extra flavor.
A final option for a side dish to pair with glazed pork chops is baked potatoes. Again, this is something that can be made on the grill. Take one whole Russet potato per guest, wet the skin, and sprinkle it with sea salt. Puncture a few holes in the top and then wrap with aluminum foil and place on the grill. The foil ensures the potato steams at just the right temp and you'll have a slightly crisp salty skin and a smooth potato. Top with butter or sour cream. For a variation on this that's a bit healthier, consider using sweet potatoes instead of Russet.
Will Guests Be Happy I'm Serving Glazed Pork Chops?
It's understandable why you might worry about what your guests think when you're hosting a dinner party. It's challenging to assemble a menu that appeals to everyone's tastes and is also easy to cook and serve to guests. A lot that can go wrong when hosting a dinner party but we think this recipe is simple enough that you can handle it, even if you aren't an experienced host or chef. That said, it's also one that doesn't appear simple and your guests will love the taste of these pork chops. The glaze really makes this dish something special and allows you to serve a delicious recipe that is also easy to prepare and serve.
We also love it because it's so easy to make on the grill. You can make it inside on a stovetop or oven but if you're hosting a dinner party during the summer, what better way to bring your guests outside to enjoy a warm summer evening than having a backyard cookout? Putting the glazed pork chops and sides on the grill means you'll be right there preparing the meal while your guests relax and unwind nearby.
Best of all, this meal pairs well with a variety of beverages, including different wines, so you can invite your guests to participate by bringing their favorite bottle or choose a few you like and share them with the meal.
The only caveat that comes with this recipe for glazed pork chops is that the cleanup might be a little more intense than you'd want under the circumstances. Any time you're working with a glaze, you want your dishes to soak because they'll be sticky. This is especially true when brown sugar is involved. Our recommendation would be to do just that – let the dishes soak while you enjoy the company of your guests or serve the meal on disposable plates if only a few guests are attending the party.
Source of Featured Image: canva.com