New Orleans is known as one of the best dining destinations in the country – maybe even the world. Anyone who visits New Orleans goes there, at least in part, for the cuisine. Its culinary influences come from Africa, Europe, and America and it also has its own unique flair. The food is one of the things people miss the most when they leave Bourbon Street but it's possible to bring some of it home and replicate the best recipes in your own kitchen, even if you're not a trained chef. Chances are there's a restaurant in your area that can deliver creole cuisine, too.
So, what are the 15 essential New Orleans seafood dishes you need to try?
1. Boudin
Boudin is a French blood sausage used in a variety of New Orleans dishes. It's usually stuffed with pork and rice but you can add shrimp, crawfish, alligator meat, or a blend of these! Boudin can also be paired with veggies or rice for a complete meal that's hearty and delicious.
2. Crawfish Pie
Crawfish pie is similar to other savory pies, like chicken pot pie, but it has a special New Orleans-inspired seafood flair. This pie is filled with crawfish, tomatoes, and aromatics and is baked in a flaky pastry dough.
You can make crawfish pie completely from scratch or you can improvise with pre-made pie crust, frozen mixed veggies, and crawfish meat. This dish is filled with flavor and includes a long list of spices that make it taste quintessentially New Orleans. It's then laid over rice for a hearty dish you'll love.
3. Crawfish Etouffee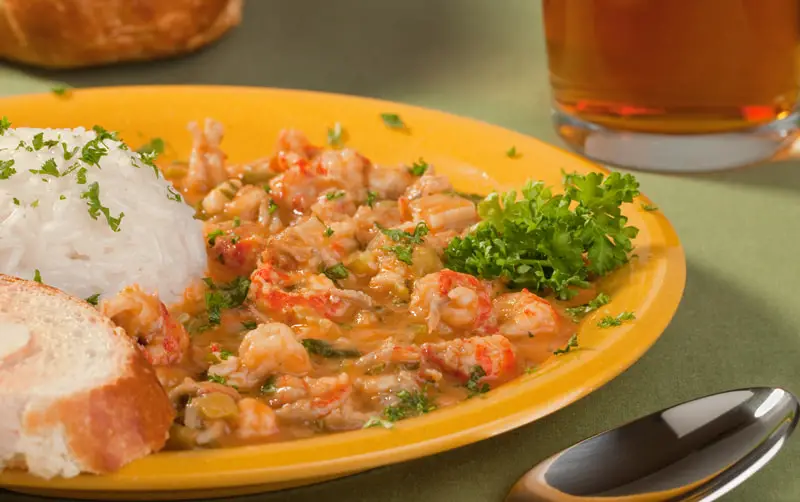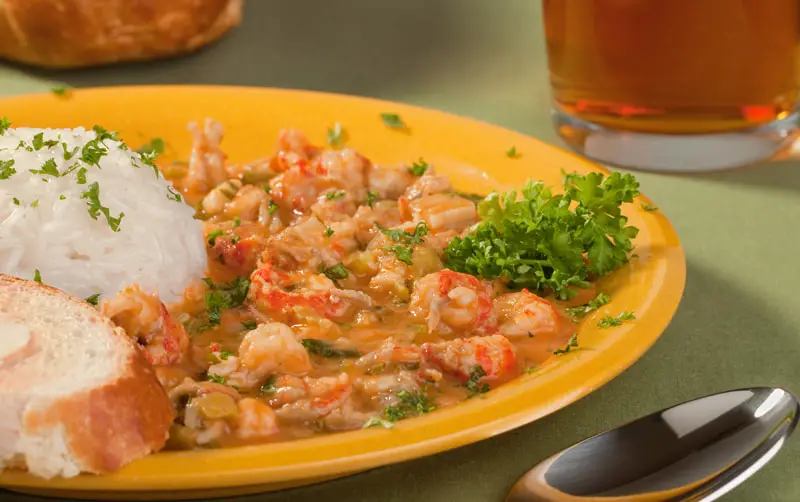 Source: canva.com
Crawfish makes another appearance in this New Orleans seafood dish that includes crawfish tails, tomatoes, cream, and paprika over rice. It's a savory stew-type dish that is loved by New Orleans natives and others.
4. Turtle Soup
The best-loved turtle soup in New Orleans can be found at Brennan's, one of the area's best-loved restaurants. It's a thick soup made with tomatoes and sherry. Many people like to begin their meal with a cup of turtle soup but serve it in a larger bowl with a chunk of crusty bread to soak up the remains of the broth and you have yourself a full meal.
5. Pompano en Papillote
Here's one of the most beloved French-inspired New Orleans seafood dishes. It features pompano filets topped with seafood sauce baked in parchment paper.
6. Shrimp Remoulade
Remoulade is a sauce that's delicious on everything from steak to French fries but it's especially delicious on shrimp and other fresh seafood. It has a spicy bite to it and features paprika and whole grain mustard.
7. Cajun Seafood Boil
If you struggle to make up your mind about what type of seafood you want to eat, you aren't alone. A seafood boil is right for you. It features corn, potatoes, lobster, crawfish, and more, all seasoned and boiled in a pot. Then, it's dumped on the table for everyone to grab and share.
8. Barbecued Shrimp
Shrimp is a classic seafood choice and preparing it barbecued gives you a touch of New Orleans. It's standard peel-and-eat shrimp that's swimming in tangy, spicy butter sauce. BBQ shrimp is simple and sweet but it's a dish you'll love for the rest of your life.
9. Oysters Bienville
This oyster dish features fresh gulf oysters (if you can get your hands on them), ham, bacon, and sherry.
10. Scallops with Sweet Potato Puree
Good chefs know that you don't need to do a lot with scallops when cooking them so you need something exciting to pair with them because they are so simple. This sweet potato puree makes a sweet accompaniment to fresh New Orleans grilled scallops.
11. Crawfish Salad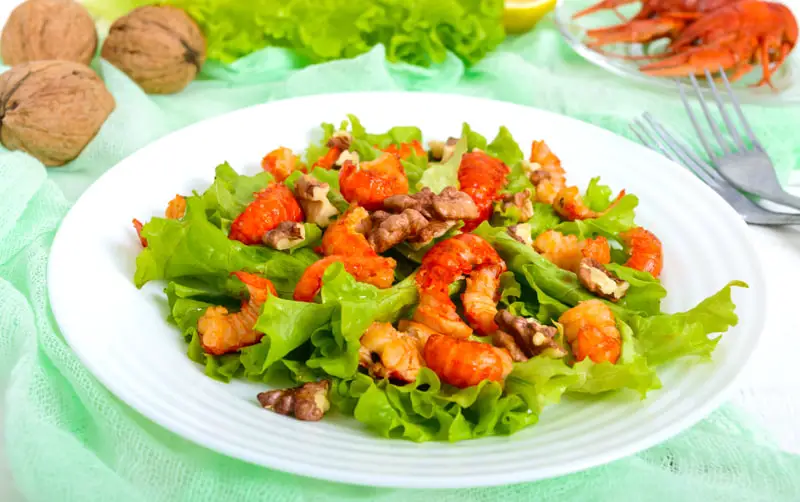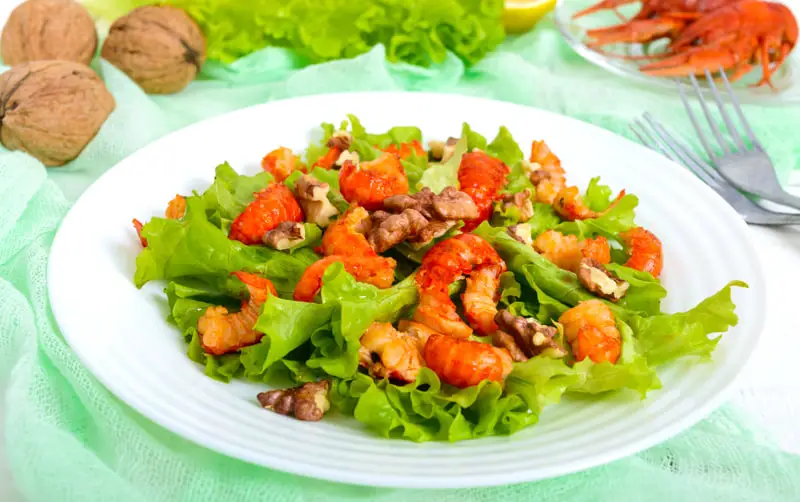 Source: canva.com
Salad might not be the first dish that comes to mind when you think about New Orleans but by topping it with crawfish meat, you're turning it into a true NOLA dish. It's a great option for those who want the classic flavor of New Orleans but who are also looking for something on the lighter side. Add even more Cajun flavor by topping it with remoulade ranch dressing.
12. Oysters LaRuth
Broiled oysters topped with sweet crabmeat and shrimp? It's a classic New Orleans dish you'll never forget. Broiled oysters are one of the best dishes you can find in the French Quarter and throughout the city. They have a slightly crisp top but you can still taste the meaty Gulf flavor of the oysters. Top these with crabmeat and shrimp and you get something that is sure to be a favorite of seafood lovers everywhere.
13. Gumbo
Gumbo is a hearty New Orleans stew. It's traditionally served during the autumn but if you love the traditional taste of this dish, it can be a belly filler any time of the year. Gumbo is a blend of Creole and Cajun flavors and one of the easiest dishes to mimic at home in part because there are so many unique versions of it in Nola. It seems every eatery in the city and throughout the area has its own classic gumbo. One of the most famous gumbos in the French Quarter comes from the 100-year-old Galatoire's restaurant but locals and tourists also love the version made by the Royal House Oyster Bar and nearby Cochon Butcher in the Warehouse District.
14. Louisiana Chicken and Crawfish Pasta
The Louisiana Chicken and Crawfish pasta dish is one that's very easy to duplicate at home. It blends all of the spice flavors of New Orleans into a creamy pasta sauce that's paired with chicken chunks and juicy crawfish meat. There are also versions of this you can find at restaurants throughout the country, like Cheesecake Factory, if you're looking for a taste of that New Orleans flavor in a carb-heavy dish.
15. Jalapeno Shrimp Coleslaw
Looking for a way to jazz up this summertime picnic staple? Adding spicy jalapenos and shrimp will definitely do it.
Whether you choose to make them yourself or get takeout from a local restaurant, these dishes offer a lot of delicious ways to bring the taste of Nola home.