As coronavirus restrictions begin to ease, more and more restaurants are starting to reopen to the public. Instead of settling for take-out options, customers can choose to dine in the restaurant.
However, every restaurant differs, by its size, financial income, and amount of customers it can serve. It also varies by state and region as well. It can often be confusing to figure out who's open right now for dining in and who is still closed. Here's seven ways you can check online to see if your favourite restaurant is open for dining in.
1. Google
The easiest way is through a Google web search. Simply type in the restaurant and the city it's in to see a Google search result.
Most restaurants register their business hours on Google Business and they'll show up on your search. If it's closed for dining in, there'll be an X marked beside "dine-in."
2. Check your favourite restaurant's website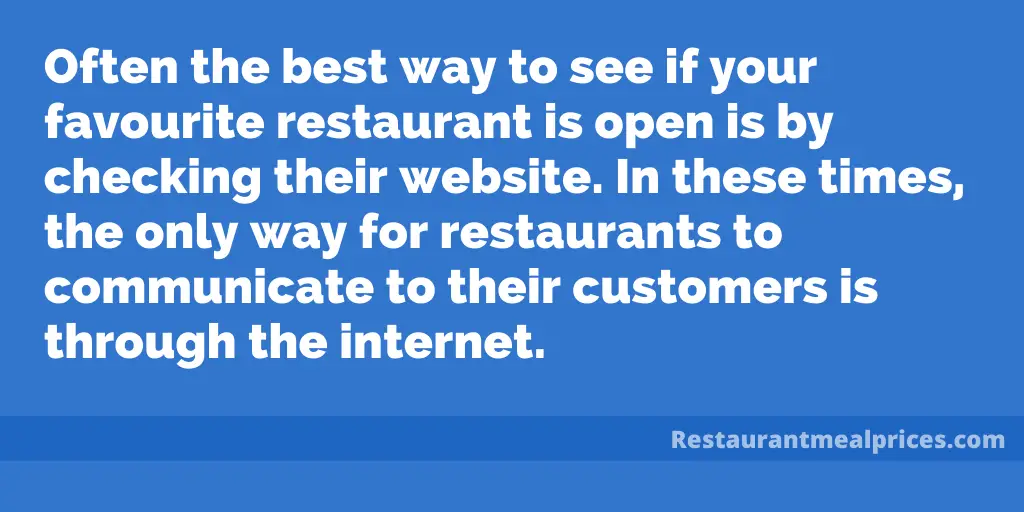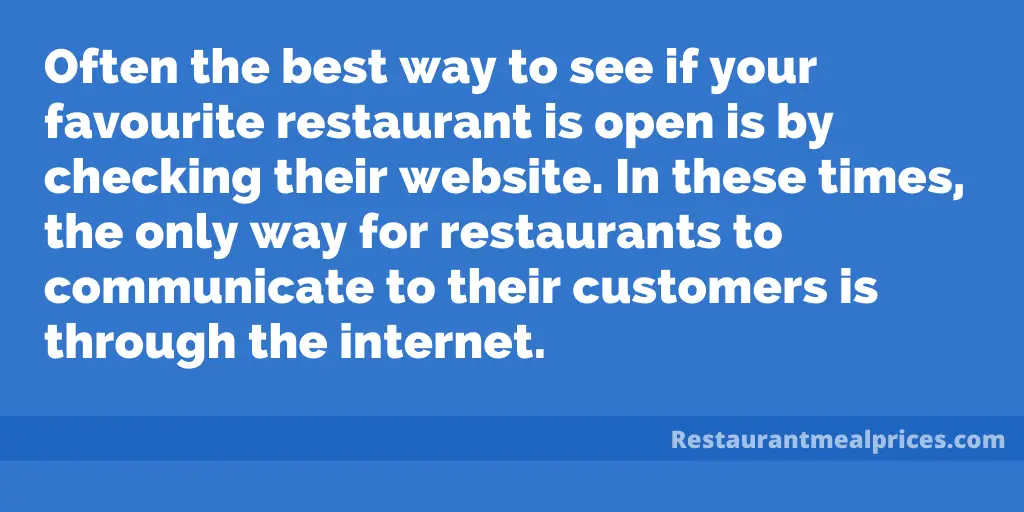 Often the best way to see if your favourite restaurant is open is by checking their website. In these times, the only way for restaurants to communicate to their customers is through the internet. Their website will have updates and information on what their current status is on dining in and take out options during COVID-19.
3. Apple Maps
Similar to Google, Apple maps will update restaurants' business hours and operations. If you find a specific restaurant you want to eat at, click on the restaurant to reveal more details. Apple Maps will tell you if that location is open for dining in. If it doesn't, call the phone number attached and ask the restaurant.
Eater explains what precautions the restaurant industry is taking:
 "In each state, varying degrees of social distancing measures remain in place for businesses that elect to reopen. These measures, usually described as components of a first or second reopening phase, variously maintain that restaurants must set tables six feet apart, and follow guidelines to cap dining room capacities between 25 and 50 percent."
4. Waze & Google Maps
If you don't have an Apple device, Waze and Google maps are alternative apps you can use to check for specific restaurant locations. Search for the restaurant on your map or through the search bar.   
Once you've found the restaurant, click on the details to see if it's open for dine in. If there are X markings or it reads "closed," that means that the restaurant is closed to the public and isn't taking customers.
Desert News highlights here how to check Waze to see if a restaurant is open:
"Waze incorporates information from millions of users who report accidents, construction and other traffic holdups. The app has rolled out some new features including Location Personalities. Businesses can add these badges that will appear in the corner of the business' icon on the map. The badges will show that the location offers either drive-thru, curbside pickup or both."
5. Zomato or Yelp
User reviews on food websites like Zomato and Yelp will indicate whether or not a restaurant is open. Check to see if anyone has recently visited your favourite restaurant.
Search a restaurant on one of these food review websites, and their updated business hours may be indicated. Check user reviews to see if anyone has been there recently and if dining in is allowed.
6. Uber Eats
To check if restaurants are open, you can search on Uber Eats to see if take-out options are available. Usually, if take out is available, that could mean the restaurant is now open. If the menu is unavailable, they may still be closed to the public.
Business Insider says restaurants need to follow specific criteria to reopen:
"If the organization checks off the criteria, which includes things like promoting hygiene, and intensified cleaning, they should move on to assess if they have an ongoing monitoring system for the virus. If the business is able to check employees for signs and symptoms of the coronavirus, plan for employees getting sick, among other things then they're good to reopen."
7. Other Food Delivery Apps
Other food delivery apps you use on your phone will also inform you on what's open at this time. Restaurants have to update their information into food delivery services to show that they're actually open to fill out orders.
Do a search for your favourite restaurant on a food delivery app to see if their menu is available. If not, they could be closed for delivery, meaning their dine-in options are also unavailable.
If you're interested in checking out restaurant prices, check out places like Nando's,  Chili's and Cracker Barrel and Applebee's at our website, or check out our list of all restaurants to compare more food menus.