If you or your family are big restaurant lovers, you may have a few favorite places that you visit often. Whether you heard of it or not, one of the best ways to save money while dining out is by joining a restaurant loyalty program.
Being a member of a loyalty program often means collecting points and saving big on meals. They're usually free to join or have a small yearly fee. This can be worth it if there's a restaurant you find you're going to a lot. Read on for some of the best restaurant loyalty programs out there.
P.F. Chang's
At P.F. Chang's, you can become a rewards member for free. Just signing up rewards you with 1,000 points and at 2,000 points, you receive a free entrée.
For every $1 spent at this restaurant, you'll get 10 points, which can stack up quickly if you're ordering often or going with large groups. They also offer an app where you can track your rewards points and see when you qualify for any free entrées or meals. P.F. Chang's offers a huge array of food and a versatile menu, which you can check out here.
Hospitality Tech discusses why restaurant loyalty program apps are so effective:
"Once you have members enrolled in your loyalty program, you need to keep them engaged and interested through on-going marketing. One way to do this is with personalized offers. Pacific Catch uses segmented marketing based on purchase data and customer insights —'who's coming in frequently, who are the big spenders so we can reward them and segment them in different ways,' [Keith Cox] says. 'Then we can follow up with them in any number of ways.'"
Outback Steakhouse
This steak lover's favorite restaurant is part of a loyalty rewards program called Dine Rewards, which includes Bonefish Grill, Fleming's Prime Steakhouse and Wine Bar and Carabba's Italian Grill. Outback Steakhouse is a great place to take the whole family, as they offer everything from mouthwatering steaks to lunch combos with their signature Outback Burger. You can check out the menu and its pricing here for more info.
Dine Rewards offers a great way to save money if you frequent any of these restaurants as a large group or family. If you visit any of the restaurants within six months, the next visit will be 50% off at up to $20 in savings.
"Loyalty program customers are more likely to return to your restaurant.Given the choice between a restaurant with a loyalty program in which they're already enrolled versus one in which they're not, customers are more likely to dine at the restaurant where they'll accrue additional rewards.This is especially so when a restaurant loyalty program rewards them consistently for every visit, whether it's through accumulating points towards a discount or the ability to redeem a voucher by reaching a certain number of visits."
Chili's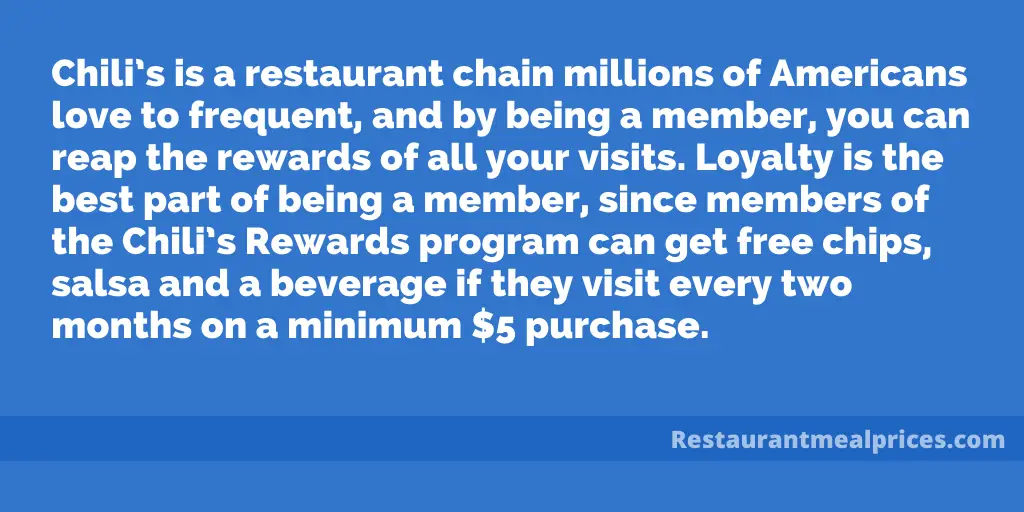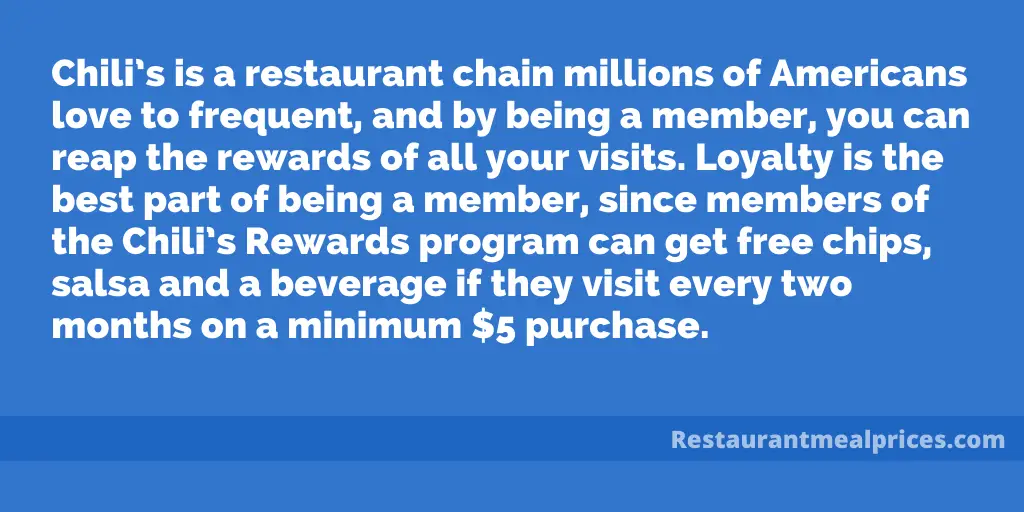 Chili's is a restaurant chain millions of Americans love to frequent, and by being a member, you can reap the rewards of all your visits. Loyalty is the best part of being a member, since members of the Chili's Rewards program can get free chips, salsa and a beverage if they visit every two months on a minimum $5 purchase.
Some of the perks of being a rewards member also include free appetizers, desserts, and kid's meals. To check on your rewards points, Chili's has an app available for download for iOS and Android. With the app, you can check out all the rewards offers and scan them on the kiosk in-store. You can even add in your most-visited Chili's location to find out the rewards being offered at your favorite location.
You can check out the Chili's menu here for a peek at what food they offer and at what price.
QSR Magazine further explains why restaurant loyalty programs keep customers coming back:
"Getting customers into a restaurant is the first step in the process, but restaurants also need to keep customers wanting to come back. Brands with the most well thought out loyalty strategies are the ones who connect customers to their restaurant. This connection can take many forms. One of the most sophisticated is closed loop reward management, in which a restaurant will deliver single-use, personalized offers that can be redeemed at the restaurant POS system. Closed loop rewards create a two-way benefit: the restaurant gains insight into each individual customer's behavior, connecting their digital activity to brick-and-mortar actions, and customers receive more targeted and relevant offers based off their profile and personal preferences—even if they pay in cash."
There are tons of other restaurants that offer loyalty programs. Using a loyalty program can help you save big on meals next time you get take-out or meet your family or friends for a dine-in meal. Check out our list of all restaurants to compare more food menus.