Whether you are cooking hickory bourbon salmon at home or if you are out enjoying dinner out at somewhere great like Ruby Tuesdays or Texas Roadhouse, you may want to have an additional side to go with it. Choosing the right side dish to compliments this tasty fish entrée completes your meal and makes it all the more enjoyable. If you are going to pick a side to go with your hickory bourbon salmon, make sure it pairs well and tastes good as a whole meal. Here are some great side dish suggestions to make your meal of salmon spectacular.
Best Sides Paired with Hickory Bourbon Salmon
Side dishes do not have to be complex or something you spend hours contemplating and planning. They can be simple enough to be made while the salmon is cooking. They should be tasty and complementary to the flavor of the fish without overpowering or outdoing the main entrée itself. The salmon is going to have a great hickory bourbon flavor so you do not want to have a side whose flavor is too intense. Some fresh vegetables, pasta, or rice can be the perfect complementary side, adding great flavor and color and making your meal look and taste awesome.
1. Salad – Orange and Pomegranate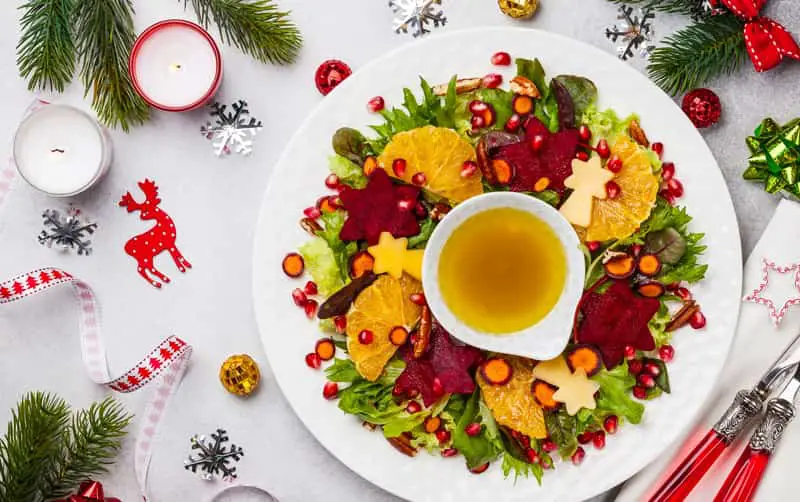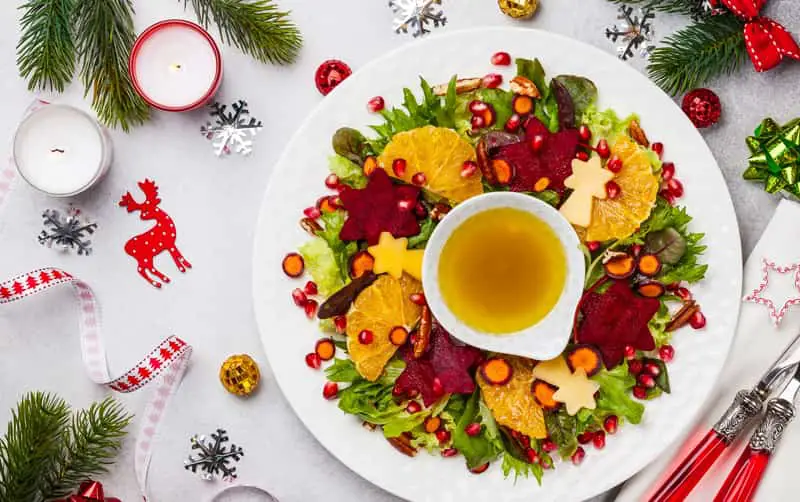 Salmon is high in good fats and has a taste that is not overly strong. It works well when paired with stronger tastes such as citrus. Citrus cuts through the richness of the fish itself. Salads are light and a great alternative to heavier starches. It is easy to make for four people.
DRESSING
¼ cup orange juice
2 tbsp sherry vinegar
1 tbsp Dijon mustard
⅓ cup extra-virgin olive oil
Salt and ground black pepper
Whisk OJ, mustard and vinegar then add oil gradually. Season with salt and pepper as you wish.
SALAD
8 cups mixed greens
½ cup parsley
2 oranges peeled and in pieces
2 cups pomegranate seeds
1 red onion cut in thin pieces
1 cup chopped hazelnuts
1 cup faro
¼ cup shaved Parmesan
Toss greens with parsley, orange pieces, pomegranate, onion, hazelnuts and faro. Add dressing in the amount you wish then toss. Sprinkle salad with parmesan when you serve it.
2. Potatoes – Parmesan and Pesto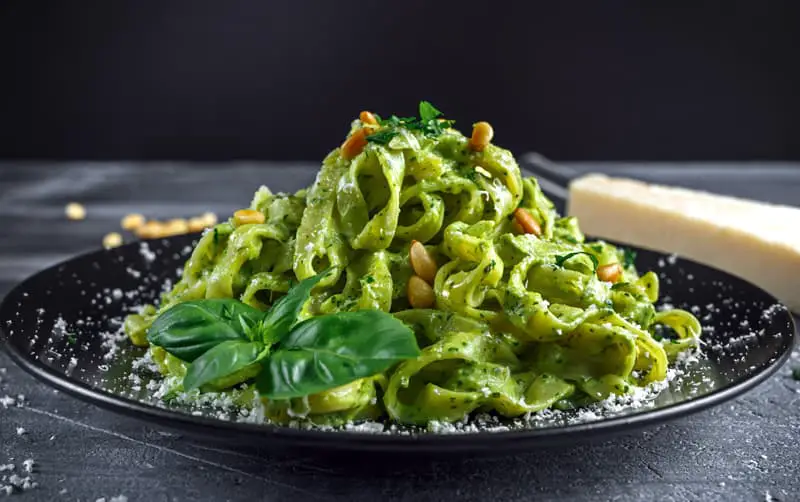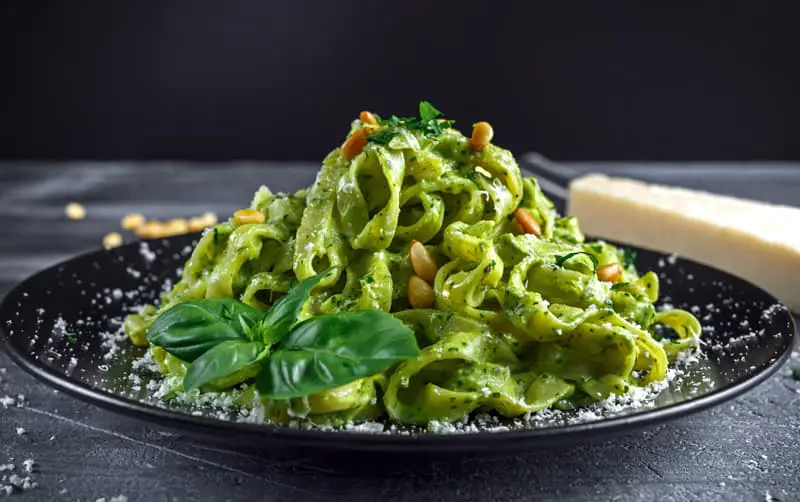 This potato dish is a great pair with hickory bourbon salmon as its crispiness contrasts with the fish's smooth texture.
INGREDIENTS
2 lbs baby potatoes – wash and quartered
2 tbsp basil pesto
Salt and pepper
3 tbsp fresh grated parmesan
Preheat oven to 400F. Toss potato and pesto in a bowl. Put them on a baking sheet and season with salt and pepper. Roast 20 minutes. Take out, sprinkle with parmesan, then roast another 10 to 15 minutes or until tender and crispy.
3. Cauliflower Rice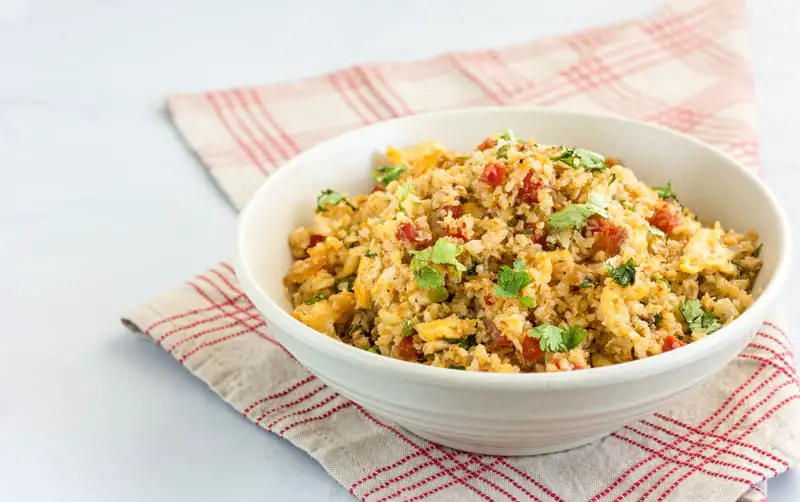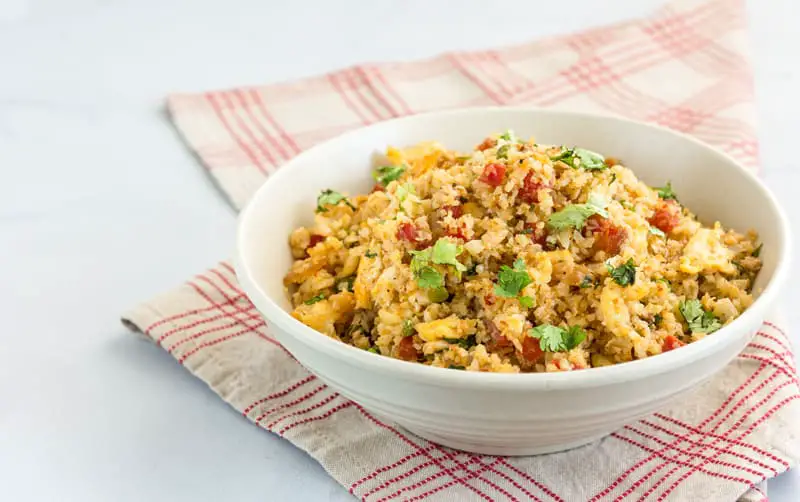 This type of side dish is perfect with salmon, especially if you are trying to watch your carbohydrate intake. It's low carb and a great tasting side.
INGREDIENTS
1 head of cauliflower
1-2 tbsp olive oil
Salt and pepper
Chop cauliflower into florets, removing soft parts of stems. Get rid of tough and leafy parts as well. Fill a food processor halfway with pieces and pulse until it looks like rice. It should take 45 seconds to one minute. Repeat until all the cauliflower is riced. Serve cold after tossing with olive oil, salt, and pepper or serve warm by sautéing it in one tablespoon of oil for two to three minutes then seasoning.
4. Salad – Asparagus Caesar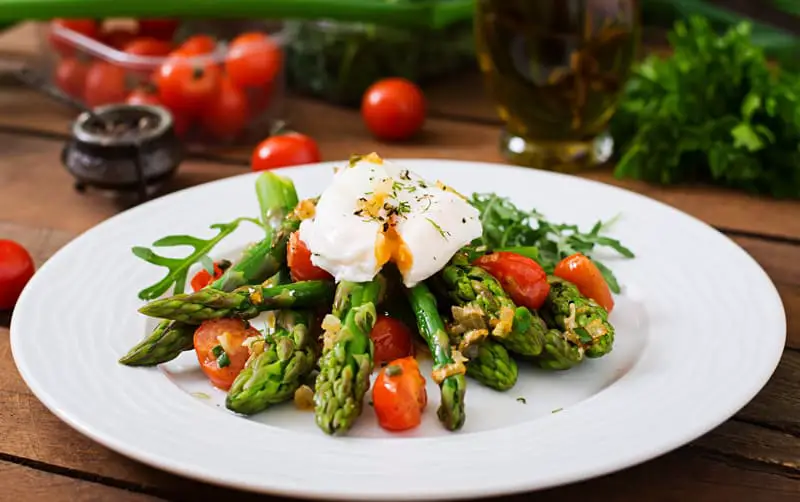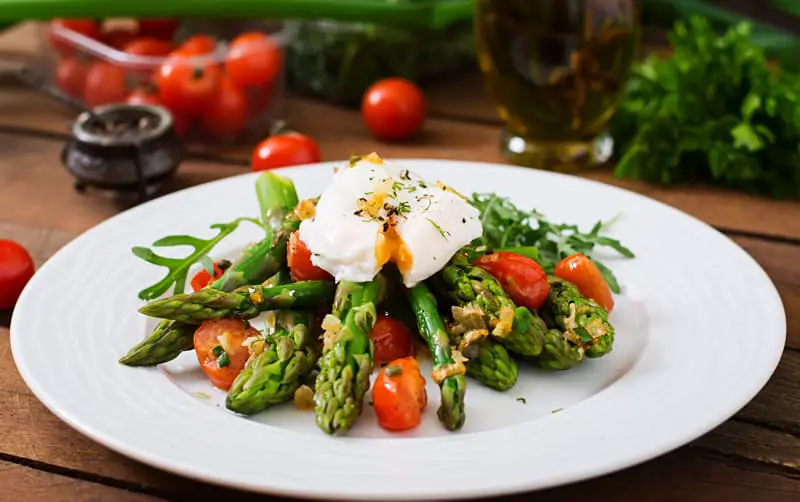 Asparagus is often paired with salmon as a side. This salad gives you a tasty vegetable with some citrus and Caesar flavor.
DRESSING
4 anchovies
1 crushed clove of garlic
½ tsp salt
2 egg yolks
2 tbsp lemon juice
1 tbsp Dijon mustard
½ cup extra virgin olive oil
½ tsp ground black pepper
SALAD
2 bunches asparagus
1 ½ cup crouton
1/3 cup shaved parmesan
Mush anchovies, garlic, and salt into a paste. Put in blender or processor. Add yolks, lemon juice, and Dijon and mix until it is smooth. Add oil in a steady pour while mixing until it is thick. Season with pepper.
Add asparagus to boiling salted water. Cook five to seven minutes until tender. Drain and shock with ice water for five minutes. Pat dry. Put on a plate and drizzle dressing over them and add some croutons and Parmesan.
5. Quinoa Salad – Cranberry Pecan with Honey Orange Dressing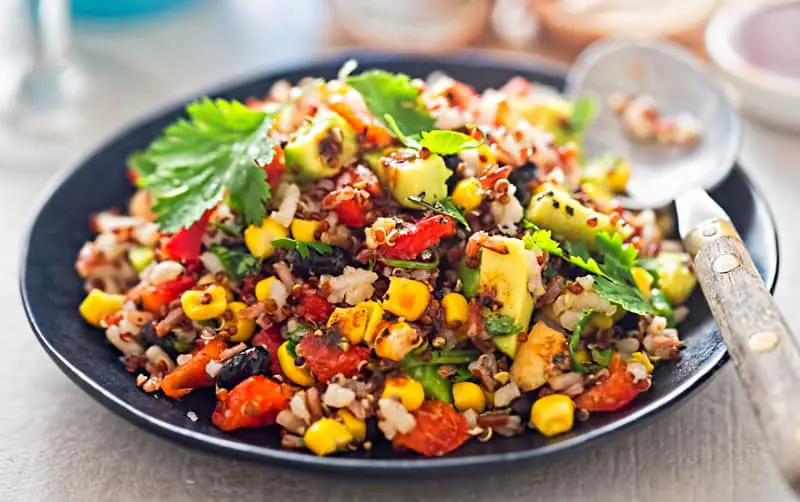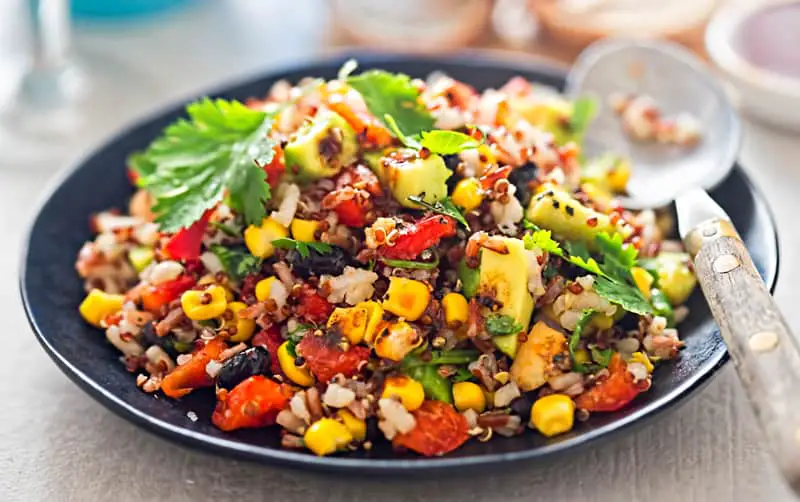 This is a nice change from a leaf salad and can be paired with dinner or a lighter lunch. Great taste that balances well with the salmon.
INGREDIENTS
1 cup uncooked quinoa
1/3 cup dried cranberries
1/3 cup pecans
DRESSING
1 tbsp olive oil
2 tsp apple cider vinegar
1 med orange, juiced
Zest of ½ orange
1 tbsp honey
½ tsp turmeric
½ tsp thyme
Salt and pepper
Heat oven to 350 F. Toast pecans for six to eight minutes. Cool.
Rinse quinoa in cold water in a strainer. Boil two cups water. Add quinoa and boil again. Cover, reduce heat to low. Simmer 15 minutes until all water is absorbed. Fluff after and cool for 10 minutes.
Dressing: Whisk oil, vinegar, orange juice, zest, honey, turmeric and thyme together. Pour over cooled quinoa and add cranberries. Put in the fridge for 30 minutes for flavors to set. Add salt and pepper as you wish. Fold in pecans.
6. Lemon and Spinach Orzotto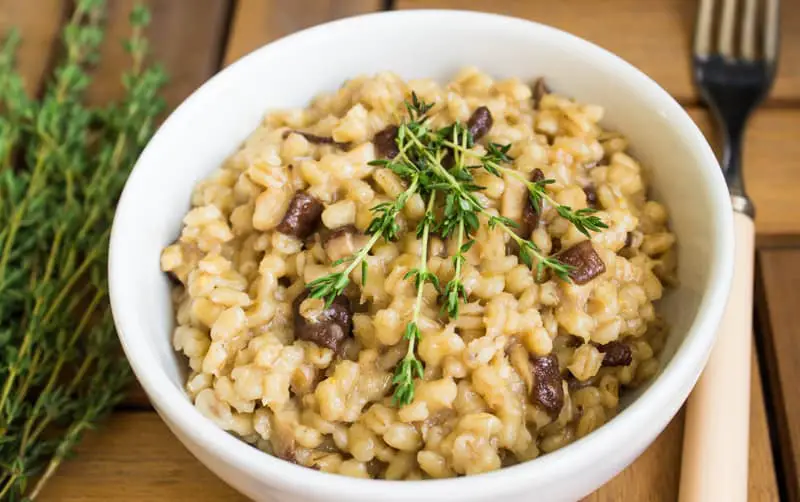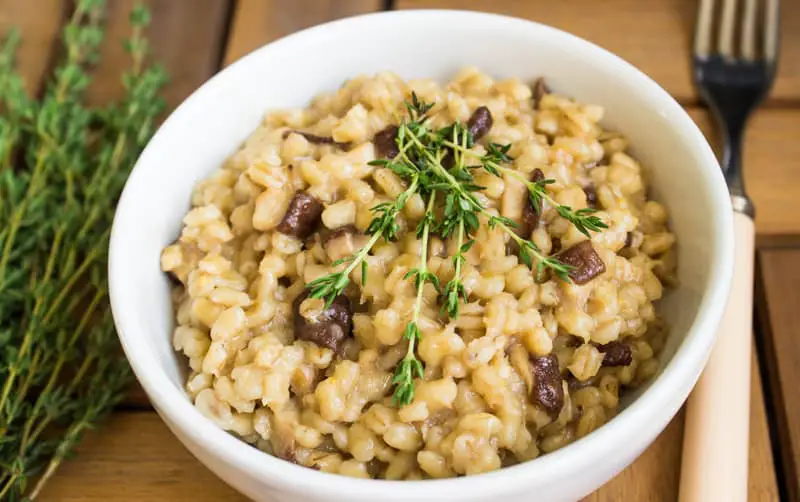 Spinach is a similar side to asparagus as the taste compliments the salmon well. Add in some citrus flavor and you have a great combination.
INGREDIENTS
1 tbsp extra virgin olive oil
1 shallot (diced)
1 clove garlic (diced)
1 ½ cups orzo
½ cup white wine
3 cups broth (chicken or vegetable)
4 cups baby spinach
1 lemon – zest and juice
3 tbsp unsalted butter
1/3 cup grated parmesan
Salt and ground pepper
Heat oil over medium heat. Put in shallots and cook one to two minutes then add garlic another minute. Add orzo and stir. Add wine and simmer. Stir occasionally until wine is absorbed by the pasta, about three to four minutes. Gradually add the broth a cup at a time. Simmer again stirring occasionally. Cook until broth is absorbed in orzo then add the next cup. It should take 12 to 15 minutes for the orzo to become softer. Add spinach which will wilt quickly from the warm orzo mix. Add zest, juice, butter, and parmesan. Season with salt and pepper for taste.
7. Corn on the Cob with Spicy Aioli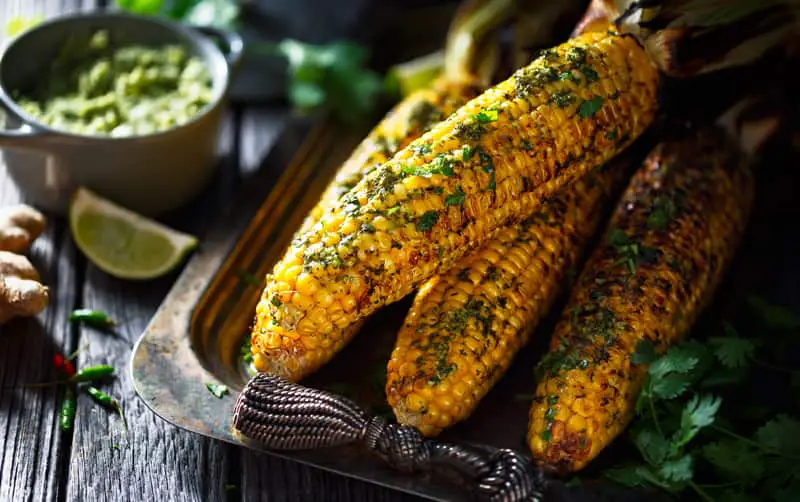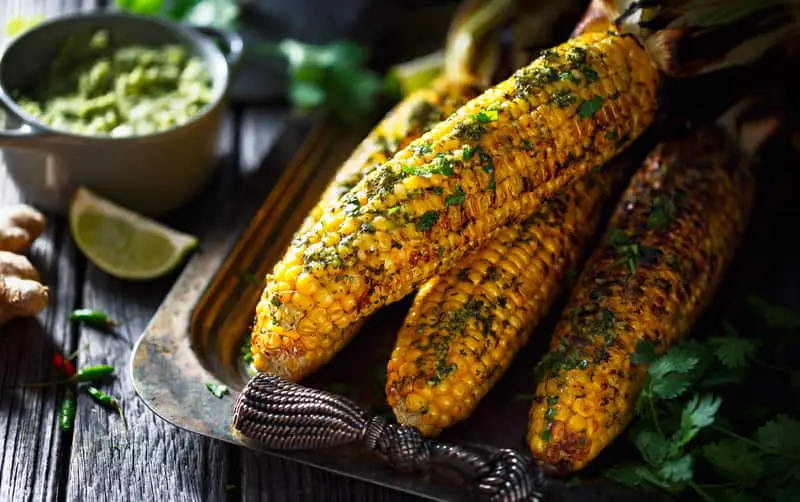 This is a great side to have with your salmon as it is simple and summery. If you are having your hickory bourbon salmon done on the grill then having fresh corn on the cob beside it is perfect.
AIOLI
¾ cup mayo
1 minced clove of garlic
½ tsp paprika that's been smoked
1 ½ tbsp Sriracha
CORN
4 tbsp butter
2 tbsp zest of lime
¼ tsp coriander
½ tsp garlic powder
6 husked ears of corn
Salt and ground pepper
Preheat grill. Whisk mayo, garlic, paprika, and Sriracha together in one bowl. In a second bowl, mix butter, lime zest, coriander, and garlic powder. Brush this mixture on corn. Grill corn until charred all around. It should take six to eight minutes. Season with salt and pepper if you wish. Drizzle with aioli.
8. Sweet Potatoes Roasted with Butter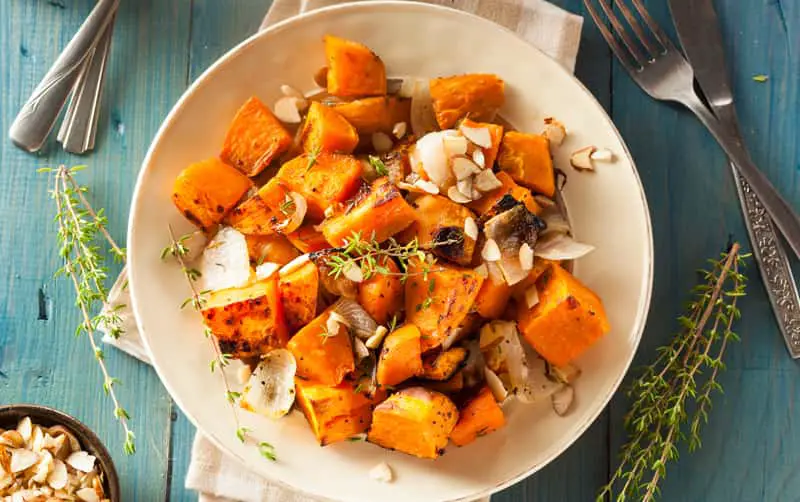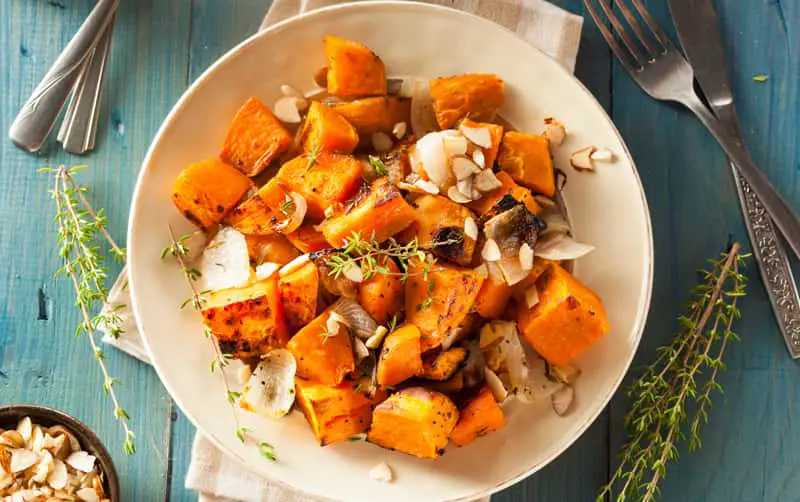 This is a really tasty side you can have with your salmon. The flavor compliments the fish without overpowering it. Works great as a leftover as well.
INGREDIENTS
2 lbs sweet potato
4 tbsp unsalted butter – you can also use ghee or coconut oil
½ tsp kosher salt
Make sure your rack is in the center of the over rather than high or low. Preheat the over to 425F. Peel the potatoes and then chop into one-inch-thick round pieces. Place in a bowl, drizzle with butter and then salt. Toss in the bowl gently to coat them. Put flat on a baking sheet with ½" or more between each of them. Roast in the oven for 20 minutes, flip, then roast 20 minutes longer. Remove, let sit for a few minutes and enjoy with your salmon.
9. Orzo – Creamy Parmesan and Spinach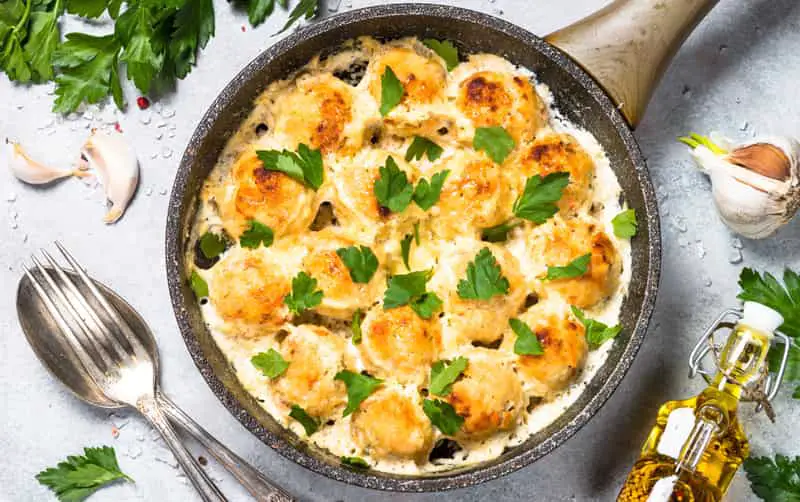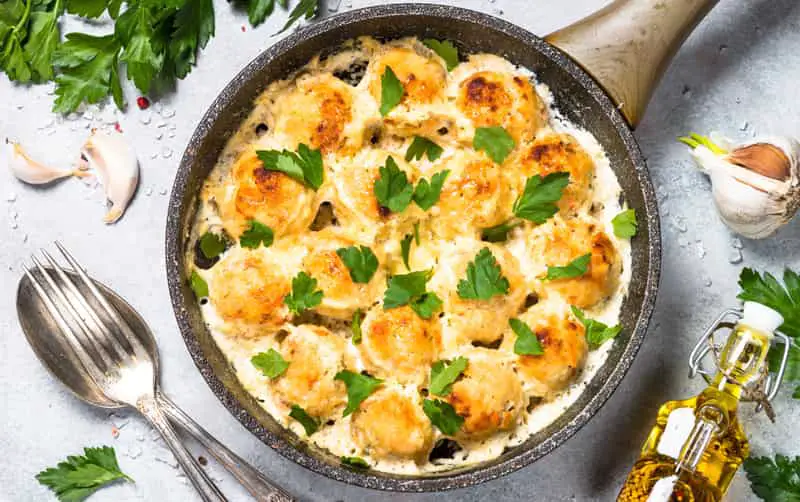 This is a great side for your salmon that everyone in the family is going to enjoy. It is simple to make and kids will love it with its mac and cheese type taste. It pairs well with salmon with its creamy subtle flavors.
INGREDIENTS
2 tbsp olive oil
1 small minced onion
2 minced cloves of garlic
1 lb dried orzo pasta
2 cups low salt chicken or vegetable broth
2 cups whole milk
2 cups chopped baby spinach
1 cup grated parmesan
Kosher salt
Ground black pepper
Heat oil in a large pot over medium heat. Sauté onion for three minutes then toss in garlic and orzo. Use salt and pepper to season and sauté for one minute. Stir in broth and milk until it boils. Cover and reduce heat to simmer. Stir occasionally until orzo is al dente and has absorbed most of the broth and milk, about 10 minutes. If the orzo needs to cook longer, just add a little more broth and simmer until it is ready. Stir in spinach and parmesan for about one minute. Season with more salt and pepper if you wish. Add a little more parmesan on top when you serve it with your salmon.
10. Wild Rice Pilaf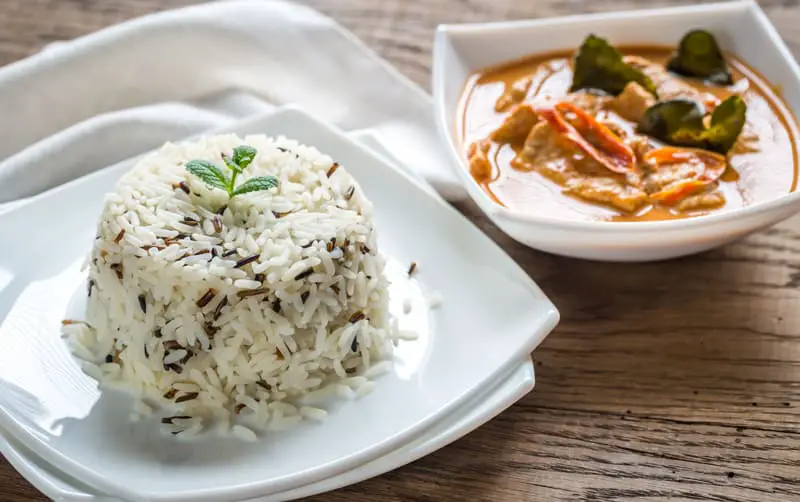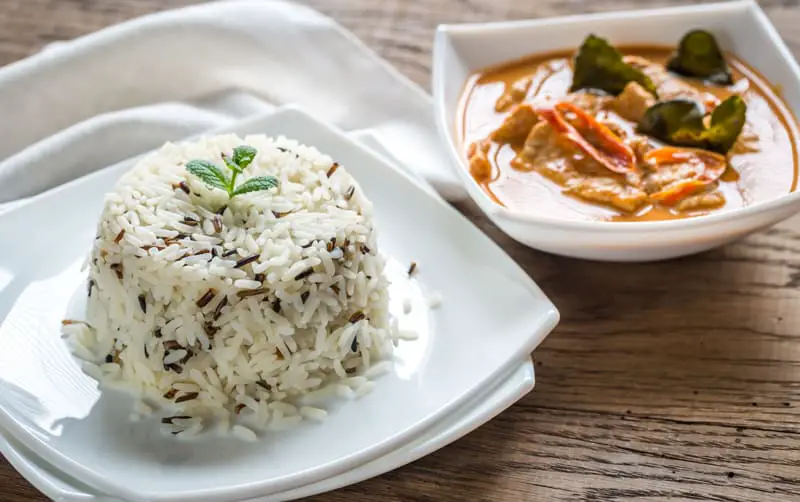 Rice of almost any kind pairs well with salmon but this recipe is especially good with cranberries and squash. It smells wonderful cooking and tastes even better when you have it beside your hickory bourbon salmon.
INGREDIENTS
1 cup wild rice
4 cups water
1 tsp kosher salt
¼ tsp ground black pepper
1 butternut squash – 2 ½-3 lbs
2 tbsp olive oil
2 tbsp butter
1 minced shallot – large
1 tsp fresh thyme leaves
2/3 cup cranberries – dried
½ cup toasted and chopped pecans
¼ cup chopped fresh parsley
Preheat oven to 425F and make sure rack is in the middle. Rinse wild rice under cold running water then put in a big pot and add the water and ½ tsp salt. Boil on high heat then reduce to low for it to simmer. Cover and simmer until the rice is al dente. This will take about 40 to 45 minutes but may take longer so check until ready.
Get ready to roast ½-inch pieces of squash by drizzling with oil and seasoning with pepper and salt. Toss in a bowl to coat. Put on a baking sheet. Roast until its soft and starting to brown. This should be around 25 to 30 minutes.
Cranberries can be put in a bowl with hot water to plump. After five minutes, drain and put aside.
Melt butter over medium heat and add in the shallot and thyme. Sauté for two minutes then remove from heat and mix in the rice. Once this is done, fold in squash, cranberries, nuts, and parsley. It can be served warm, hot, or cold.
Final Thoughts
Hickory Bourbon Salmon is a dish full of flavor that can be paired with so many great side dishes. If you have dinner somewhere like Ruby Tuesdays or Texas Roadhouse, you can choose one of their delicious sides to go with your salmon that complements the fish and may be similar to some of these great recipes. Choose rice, sweet potato, salad, or pasta to complement the smooth, rich salmon taste. Both of these restaurants have take out, too, so you can even make your sides at home ahead of time if you want something a little more complex to go with your salmon. Do curbside pick up and eat it with your prepared dishes at home. There are lots of great options when you have this healthy, tasty recipe.