Chicken is one of those things that tastes best when cooked on a grill. While using a grill may sound a little dull, limiting, or less versatile than kitchen cooking, there are some great recipes to give the chicken a great BBQed taste that is beyond just the basic grill flavor. You can make a great grilled BBQ chicken yourself at home or try an awesome version of it at Ruby Tuesdays or Texas Roadhouse. No matter where you decide to eat it, the taste of an outdoor BBQ flavor and some great recipe variations will have you wanting to have grilled BBQ chicken all year round.
Tips for the Grill
Chicken is not always easy to grill because of its often higher fat content, BBQ sauces, and heat. We often see the grill flame up as the chicken drips onto the high heat elements or charcoal.  You don't want the flavor of black char on your chicken so doing some preventative things helps avoid this, leaving you with the BBQ flavor your want rather the taste and smell of ash.
Along with avoiding a burnt taste, you want your grilled BBQ chicken to be moist and tender with a subtle smoky flavor. To do this, don not use scorchingly high heat and do not put on any BBQ sauces until closer to the end if you can. When cooking grilled BBQ, a lot of the chicken's flavor comes from the spices you use as a rub before it is even on the grill. The longer and slower you cook your chicken, the better the taste is. The spices and lower heat marinate it. Using a low fire and applying any sauce later in the cook means not only a longer cook time but also less char, fewer flare-ups, and less juggling pieces on the grill due to high heat. You don't have to stand over them every second that they're cooking if you use the slow cook method.
Types of Grills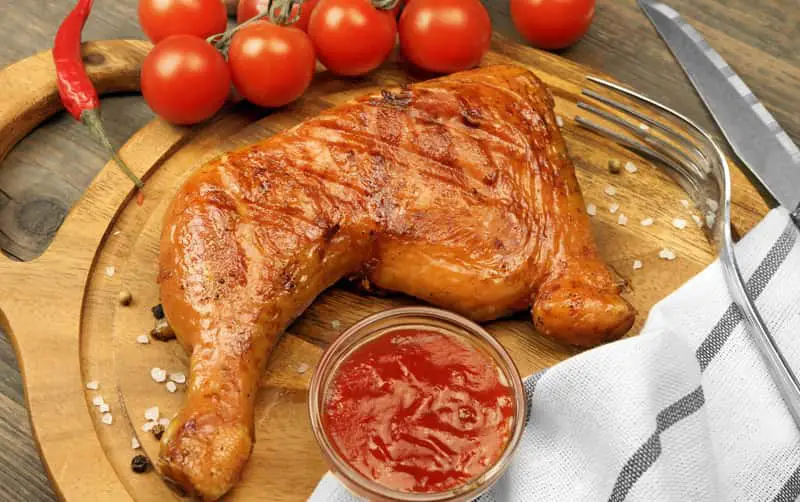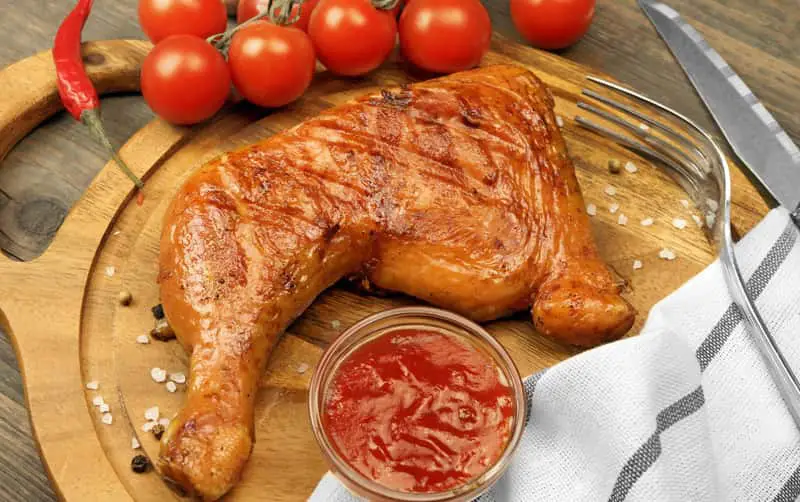 When you do lots of grilling, choosing the grill that works best for your circumstances is important. If you are looking to cook on the road when you are camping or in a park, a small portable charcoal grill is great. These can run on propane or charcoal and are generally easy to transport. They cook well but can only do smaller quantities at a time.
You can also buy electric grills. These make it easy to cook inside or out. If you live somewhere that doesn't allow open flame cooking such as an apartment, these grills make it easier. You won't get the charcoal taste for your grilled food but it is still a handy way to cook and to be able to add in some great BBQ flavor.
Bigger outdoor grills for your backyard usually use gas or charcoal as their cooking method. Gas is often easier for lighting and maintaining an even heat whereas charcoal gives you that real grilled experience and flavor. Both are great options and can be used year-round if they are in a sheltered area. Natural gas grills can't move as they are piped in but propane ones can so they're a little more flexible for year-round grilling.
Secrets for Grilling BBQ Chicken
Making a great grilled BBQ chicken is not only about the recipe but also about the way you cook it. Keeping the chicken moist is a must. If you place a pan of water somewhere next to the heat source, this will help maintain moisture.
Second, try to put the chicken anywhere on the grill but directly over the flame or over the heat source itself. You want it off to the side a little so the intensity of the heat is less. Put bigger pieces of chicken closer to the heat, though, so you get an even cooking overall.
Third, keep the cooking temperature somewhere between 230-250F. You can change the airflow or add charcoal if you are grilling that way but don't go overboard with the heat. If it is too much, too quickly, the chicken will dry out and you end up with flare-ups and a burnt outer layer.
Lastly, leave the sauce off your chicken as long as possible, preferably until the chicken is cooked through. Most recipes for grilled BBQ chicken use a spice rub so you won't need the sauce until the end. Put the sauce on in enough time to glaze over with the heat but not enough to dry the chicken out. This suggestion may vary depending on the recipe and how you are flavoring your BBQ chicken.
Recipe Secrets for the Best Grilled BBQ Chicken
Everything is variable when you are grilling chicken. Tips and secrets work for some recipes and may need to be adjusted for others. Heat levels vary based on the selection of chicken and the recipe. The fun of grilling is finding out what tips work for you. Choose recipes for full chickens, wings, legs, breasts, and halves – each needs its own style of grilling. So, combine the best recipes with the best tips and you will have a great grilled BBQ chicken meal.
While many people slather store-bought BBQ sauce onto their grilled chicken, doing a dry rub before any sauce is helpful for getting the deeper grilled flavor. Various dry rub spice blends work well and are the best when it comes to enhancing your grilled BBQ chicken's flavor. The rubs only take a few minutes to make and can be saved for future use as well if you want to double the recipe. If you make some extra rub, put them in either small glass jars or sealed bags with labels so you simply have to measure them out for your next grill time.
Basic Spice Mix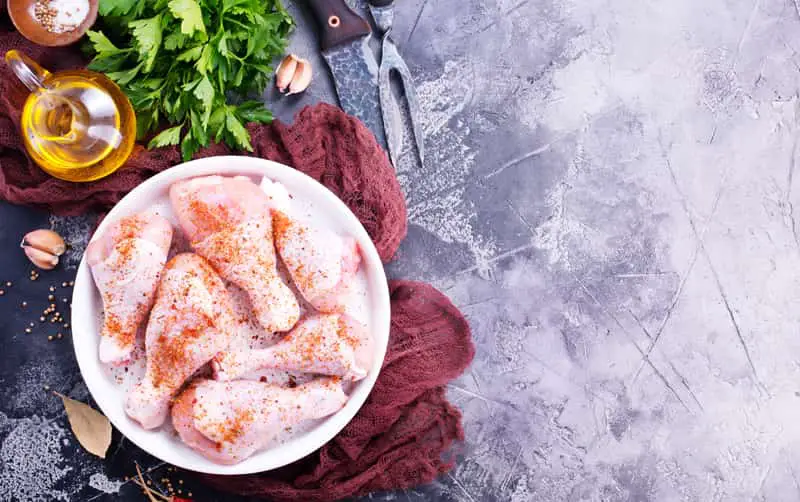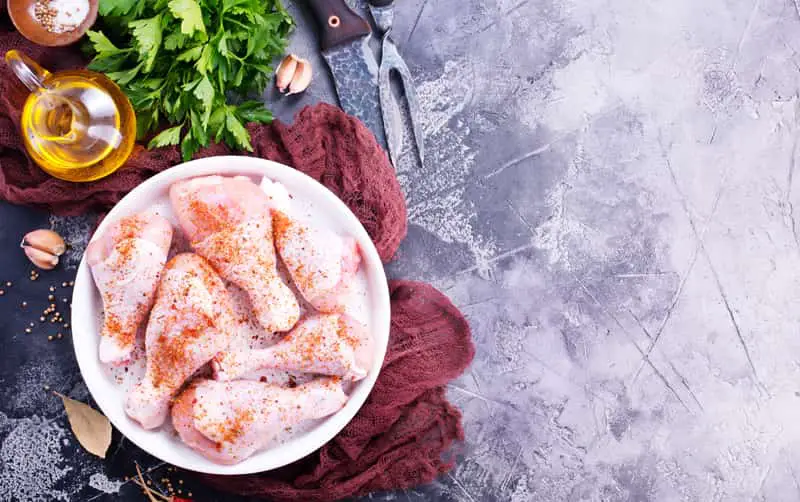 This basic mix is great when it comes to being tasty but not overpowering. It makes the chicken flavorful while giving it a good crust as it cooks. Mix the spices and then when you are ready to grill, simply use two tablespoons of mix with one tablespoon of olive oil and make a paste. Once the paste is ready, rub it on your chicken and grill. So easy to do and tasty to eat!
INGREDIENTS
1 tbsp garlic powder
1 tbsp ground cumin
½ tsp ground coriander
½ tsp smoked paprika
½ tsp sea salt
1 tsp ground black pepper
Smoky Chipotle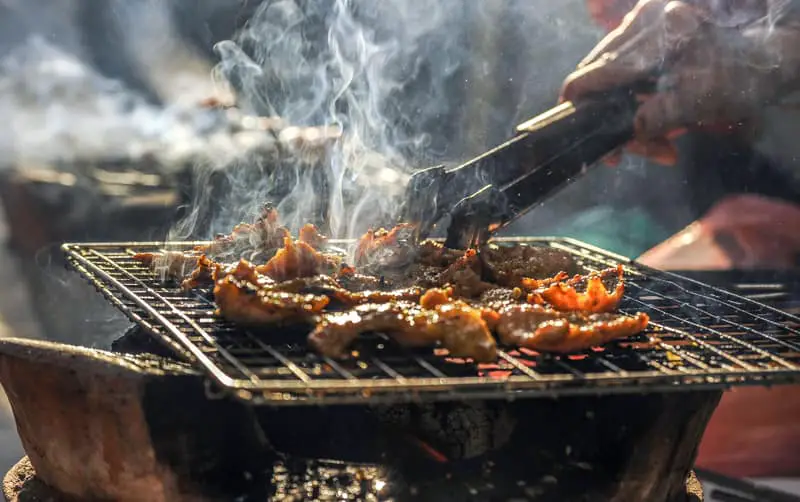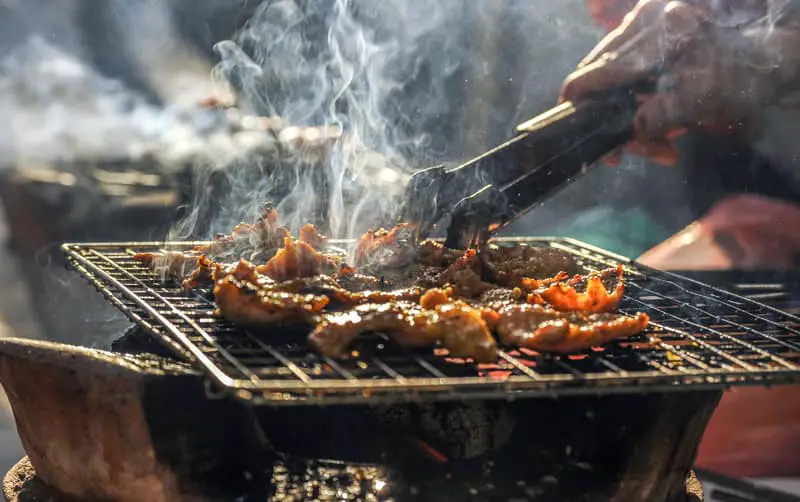 This spice mix has everything Tex-Mex about it. Great flavor and lots of zing. It can be used in conjunction with a BBQ sauce. Grill the chicken with the mix on then add the sauce near the end. If you just want to use the rub on its own, that works, too. The added bonus of this rub is that it tastes great on ribs as well!
INGREDIENTS
1 tsp cumin
1 tsp chili powder (adjust as you want for heat preference)
1 tsp garlic powder
1 tsp onion powder
1 tsp chipotle chili powder (adjust to personal flavor preference)
2 tsp smoked paprika
½ tsp salt
½ tsp ground black pepper
Mediterranean Mix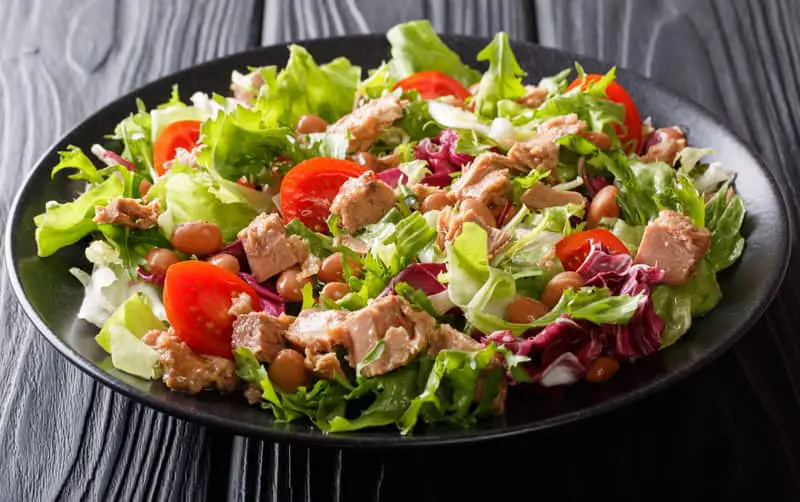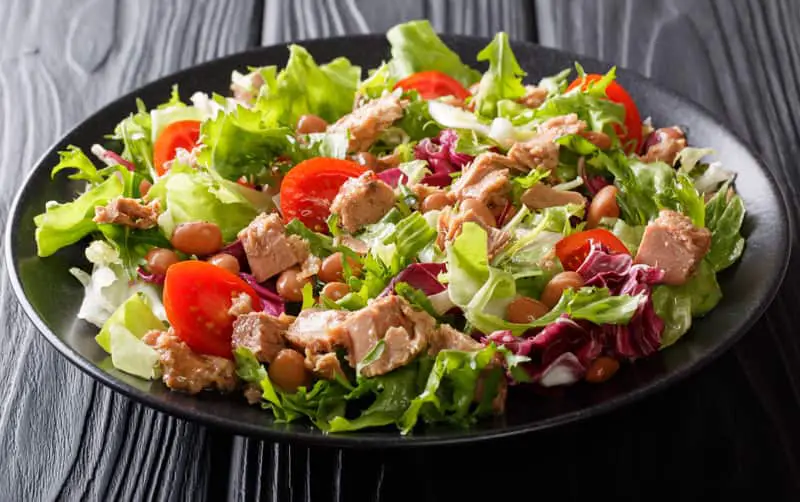 This great mix of spices and herbs make a perfect taste combination for your grilled BBQ chicken. You get a strong flavor of garlic and onion along with the Greek flavors coming from the basil, oregano, and dill. Note that when all these spices and herbs are combined, they may stick together a little so be sure to shake or stir it up so they all separate and you don't get an overpowering taste of just one particular flavor. You want it balanced so you get the full Mediterranean taste.
INGREDIENTS
1 tbsp basil
1 tbsp garlic powder
1 ½ tbsp oregano
½ tbsp onion powder
½ tbsp dill
1 tsp ground black pepper
¾ tsp salt
¼ tsp cayenne pepper
Lemon Pepper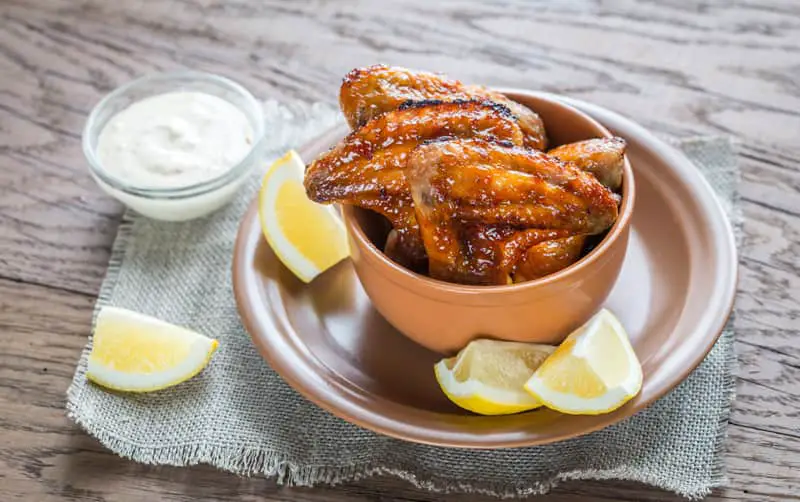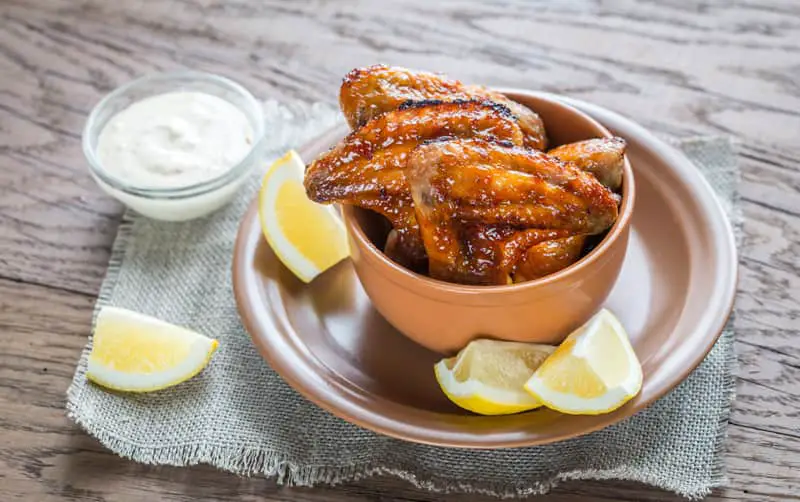 This rub is a little trickier to make than the others but it gives you are really original taste for your grilled BBQ chicken. It includes lemon zest so make sure to zest the lemon first and then let it dry by spreading it on parchment paper. It has to be fully dry or it will throw the whole rub off as it will go moldy. While many rubs are deep in color and taste, this one is bright and refreshing. It can be had any time of year but is perfect in the summer for a lighter tasting grill.
INGREDIENTS
2-4 Lemons – you will need about 2 tbsp of well-dried zest
2 tsp ground black pepper
1 tsp garlic powder
½ tsp onion powder
½ tsp dry thyme
½ tsp sea salt
The Best for Last
Buffalo Chicken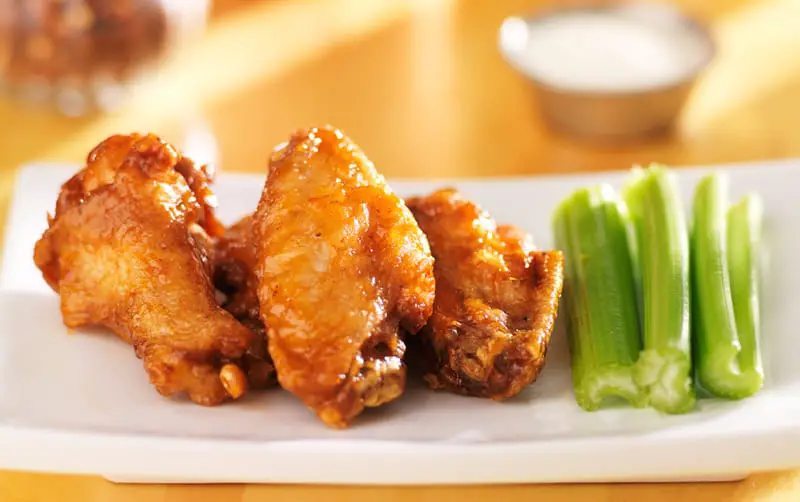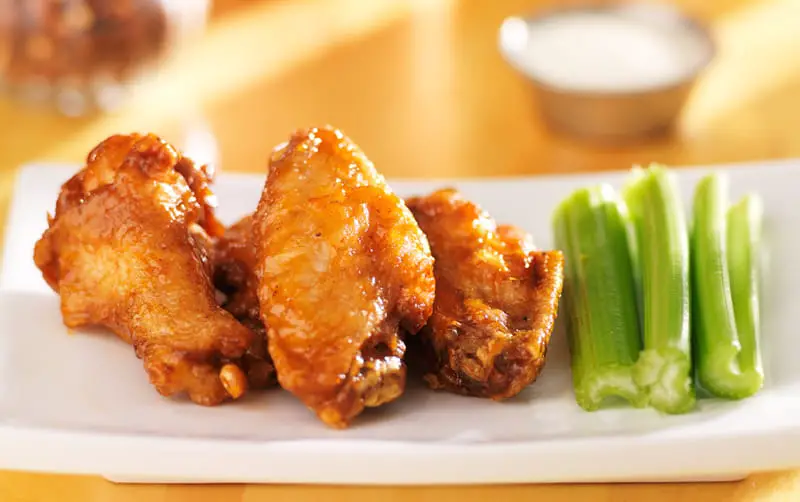 Are you really grilling BBQ chicken if you don't have a good buffalo chicken recipe in the mix? This dry rub is outstanding and one of the best Buffalo chicken tasting recipes around. It is tasty and versatile and gives you all the flavor you want without having to use an additional sauce. It is spicy but not unbearably over the top. You get some sweet flavor along with heat.
There is no better Buffalo spice rub around and you can use it on any chicken pieces. Use it for beer can chicken by rubbing the whole bird down before grilling. Do up some good boneless breast pieces so you can make a chicken salad or do it as Buffalo chicken wings by adding the recipe then putting them on the grill.
INGREDIENTS
1 tbsp garlic powder
1 tbsp smoked paprika
1 tbsp cumin
½ tbsp brown sugar
½ tbsp dry mustard
½ tbsp chili powder
1 tsp ground black pepper
½ tsp chipotle chili powder (adjust for personal taste if you want hotter)
½ tsp sea salt
1 ½ tsp cayenne pepper (adjust for personal taste if you want more spice)
Final Thoughts
If you are going to make grilled BBQ chicken, you need to do a little bit of work beforehand. Chicken is one of the more trickier meat items to cook well on a grill. There is lots of variety when it comes to taste but the actual cooking can be problematic with flareups and making sure the chicken is cooked properly. You do not want to have a meal that is burnt on the outside and raw on the inside.
Once you know the best tips and practices to grill healthy and tasty BBQ chicken, you can find some great recipes to compliment that hardy flavor. Some meals can be made completely on the grill saving you from a mess of pots and pans in the kitchen. Whether you want to make one of these great recipes at home or head to Ruby Tuesdays or Texas Roadhouse for their grilled BBQ chicken, it tastes great and meets anyone's craving for chicken.
Pick your grill then your chicken pieces, grab your favorite blend of spices and maybe a good BBQ sauce as well. Then, you are ready to grill and make a delicious outdoor meal that makes your mouth water. These recipes are simple to mix and with some background knowledge on how to coook chicken, you cannot go wrong in making this great meal.