So much shrimp, so little time! We all know Red Lobster specializes in serving great seafood and fresh fish at a good price but its shrimp dishes are something special. If you are looking for a good meal with excellent side dishes and salads (not to mention their amazing cheddar bay garlic biscuits) then Red Lobster is the place to go. Whether you are going during their Endless Shrimp event or to have a meal off the regular menu, shrimp is a tasty choice for both lunch and dinner.
If you are a shrimp fanatic, you should know that 70% of Red Lobster's shrimp entrees have increased in size since 2015. They have gotten almost 47% larger. Not only do you get more of your favorite shellfish but you also get more for your money, no matter what meal you are enjoying. Red Lobster serves over 80 million servings of shrimp annually. Their chefs know their way around the seafood kitchen and offer the best shrimp dishes around. 
While Red Lobster does have its Endless Shrimp promotion every year, their regular menu offers a great list of shrimp dishes that you can enjoy at any time. While the Shrimp alfredo pasta is amazing, Red Lobster has lots to offer when it comes to this delicious seafood. This list of Red Lobster's shrimp dishes is just a sampling of what they have to offer.
Creamy Shrimp Alfredo Pasta
If we are going to talk about shrimp dishes at Red Lobster, we have to mention the creamy shrimp alfredo pasta. It's a long time menu standard but we have to warn you, do not eat this first if you want to try anything else. This great-tasting dish is rich, warm, and really hits the spot. More than 15 shrimp are presented on a big bed of noodles, making this dish great tasting and very filling. In fact, you may not even be able to finish the whole thing, especially if you have already indulged in an appetizer and a cheddar bay garlic biscuit or two. That said, don't worry if you can't finish it. That's what doggy bags are for! Eat what you can and then take the rest home for lunch tomorrow.
Shrimp Cocktail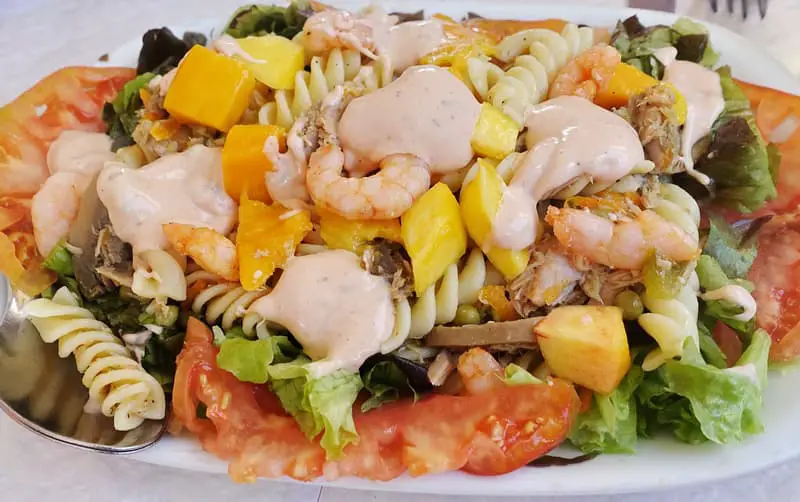 Image by Mogens Petersen from Pixabay
Something a little lighter than the Shrimp alfredo is the Shrimp Cocktail. This is a basic, old-fashioned recipe that's simply delicious! Six large shrimp, a bit of lemon to squeeze, and some sauce on the side is a great way to start a meal. It's healthy, too. This shrimp cocktail is fat-free and only 130 calories per serving. Eating something that's loaded with protein and packed with flavors is a great way to start a meal. With no spices or breading, the flavor of shrimp really comes through with only the tang of lemon to enhance it. The bonus is that it will not fill you up so you can also enjoy other delicious shrimp dishes on the menu.
Shrimp Skewers
Although we all crave that great shrimp alfredo pasta, sometimes you want something a little lighter with fewer carbohydrates. In this case, shrimp skewers are the way to go. With only 80 calories per skewer and some brown rice and veggies on the side, you have a great light meal that is filling and full of flavor. The Red Lobster chefs suggest pairing it with a Mango Passion Margarita to make it a perfect meal.
Garlic Sriracha Grilled Shrimp
This garlicky, Sriracha spiced shrimp is ideal if you prefer an entree with a strong flavor. This item is on the Endless Shrimp menu and consists of grilled, skewered shrimp with a kick. The flavor gets better and better the more you eat. While it is not a typical easy-going shrimp combination, this is a great choice if you want to be more adventurous with flavor. For a plainer option, breaded is the way to go but this spicy dish really takes it up a notch.
Peppercorn-and-Parmesan Shrimp
Wow! This plate from the Endless Shrimp menu is something you're going to love. This is one that customers think should be on the main menu all year round. It's a salty, cheesy, and perfectly seasoned dish in the form of traditional breaded shrimp. Try it with the lemon aioli and a squeeze of Meyer lemons, specially sourced for this particular dish. If you want the texture of regular breaded shrimp but crave something a little more flavorful, this plate is for you. Great flavor and seasoning!
Shrimp Scampi
This shrimp dish is so traditional but sooooo good. Shrimp and butter is a wonderful combination. If you think you have too much butter, simply hold it up, give it a little shake to remove excess, and you have the perfect amount. The sauce is rich, smooth, and highlights the great shrimp taste.
Final Thoughts
Red Lobster is a long-standing family restaurant that specializes in seafood. It offers a range of reasonably priced menu items, including shrimp. While Red Lobster makes a lot of great seafood, shrimp is their specialty. If you want a good meal that includes this tasty crustacean, Red Lobster has it, from filling pasta dishes, healthy appetizers, to wholesome fare. Come in and enjoy. If your eyes are bigger than your stomach, take home the leftovers and enjoy an extra special lunch tomorrow.