Red Lobster offers fine dining at an affordable price. Their fish and other menu options are to die for.
Who doesn't love Red Lobster's shrimp scampi? It's a Red Lobster favorite.
When the shrimp scampi is cooked, fresh shrimp is coated in garlicky goodness and the garlic butter melting on your tongue is heaven.
Red Lobster has our favorite shrimp scampi, loaded with oregano, rosemary, and olive oil.
If you're feeling the Red Lobster shrimp scampi flavoring, you can make this easy recipe in the comfort of your home if you're not looking to go out.
We're going to share our Red Lobster Shrimp Scampi Copycat Recipe, so you can have the same eating experience at home that you do at Red Lobster.
Red Lobster Shrimp Scampi Copycat Recipe
Below is our Red Lobster Shrimp Scampi Copycat Recipe, created just for you.
You can check out the price of Red Lobster's shrimp scampi here in case you decide to go out instead of staying out.
This recipe only takes a little over a half an hour to cook (minus the time it takes to peel and devein shrimp) and it makes about four servings.
Each serving of this shrimp scampi has 150 calories, with 7 grams of fat, 3 grams of carbs, and 19 grams of protein.
1 pound of medium-sized shrimp, peeled and deveined
3 cloves of garlic, minced (or 1 1/2 teaspoons of wet minced garlic)
1 1/2 cups of white wine
2 tablespoons of lemon juice (fresh tastes the best)
1/4 teaspoon of dried basil
1/4 teaspoon of dried oregano
1/4 teaspoon of rosemary
1/4 teaspoon of thyme
1 tablespoon of parsley
Salt
Black Pepper
1 tablespoon of olive oil
1/2 cup of unsalted butter, softened and at room temperature
1/4 cup grated Parmesan (fresh tastes the best)
De-veining and Peeling Shrimp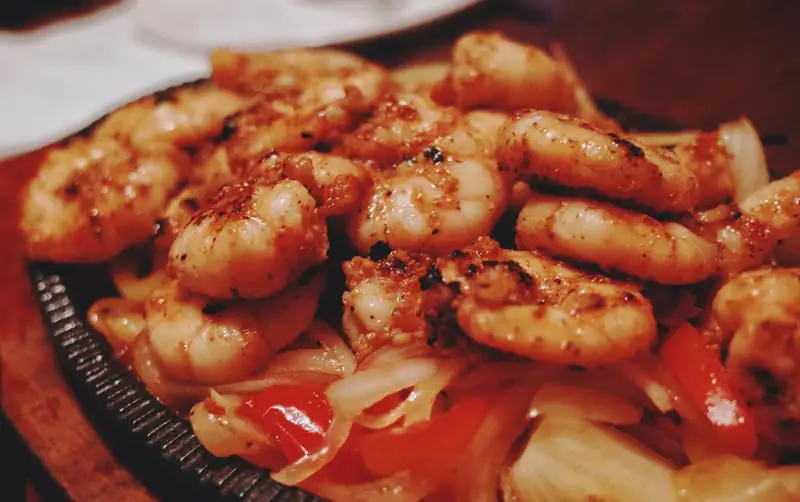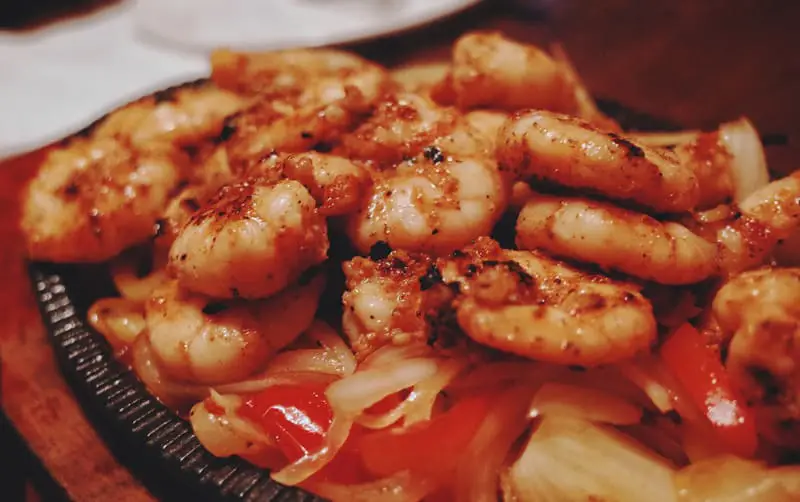 First, we're going to go through the steps of peeling and de-veining your shrimp properly. The most tedious process of making the shrimp scampi is peeling and deveining shrimp. It's also the longest process but it's super simple.
You can buy shrimp that's already been through peeling and deveining but if you can take on doing the work yourself, you'll save yourself a little bit of money.
For the peeling, you're going to use your hands and get dirty with it. However, when you go to devein, you'll need a paring knife.
1. First, gently twist off the head off the body of the shrimp, if it's attached.
2. Next, pluck all the legs off the shrimp.
3. When you start peeling shrimp, you always want to start from underneath. This is where the legs are attached to the body of the shrimp and it's the softest side of the shell. Just dig your thumbnail under the shell from underneath. This action should release the shell so it pops right off.
4. To devein shrimp, lay the shrimp on a cutting board or disinfected surface. Make a shallow cut along the vein (it's actually the intestines but it resembles a vein). Some veins are a light gray and difficult to see while others are black and stand out. Be careful not to cut too deep into the shrimp.
5. Lastly, use the tip of your paring knife to pull the vein out of the shrimp. It's super easy to pull the veins out.
Cooking the Shrimp Scampi
1. First, pour olive oil into a skillet and preheat it on medium-high heat.
2. Sprinkle just a little bit of salt and black pepper on your peeled and deveined raw shrimp.
3. Once the olive oil starts to bubble a little bit, you can add the shrimp to the skillet. The shrimp will take two to three minutes to fully cook. Make sure you stir them on and off while they're cooking in the oil. They should be pink and no longer translucent. When they're fully cooked, remove the shrimp from the skillet and set them off to the side for later.
4. Add your garlic to the skillet to cook. Stir the garlic often so it doesn't burn. This should only take about a minute and you should be able to smell the garlic. If your garlic turns brown, you've cooked it too long and the finishing taste won't be pleasant.
5. When the garlic is fully cooked it's time to add both the lemon juice and white wine. Keep stirring the minced garlic and bring the juice and wine to a boil.
6. Once the liquid starts boiling, turn the heat down a bit and cover the skillet with a lid so it can sit and simmer. After about five minutes, the wine should go down to about half of what you originally added.
7. Now you can add the basil, oregano, rosemary, and thyme to the skillet with the minced garlic. Turn the heat on low.
8. Once the heat has gone down, add the unsalted butter a little bit at a time. If the heat is too high, your butter will separate. Stir the entire mix together thoroughly until the butter is fully melted.
9. Stir the shrimp back into your skillet and add parsley to season. Make sure your shrimp is drenched with the ingredients in your skillet. You want that special Red Lobster taste.
10. Sprinkle your Parmesan cheese on the shrimp scampi, using as much or as little you'd like. Let it cool and then you can serve your yummy dinner dish.
The Bottom Line
Whether you want to cook shrimp scampi because you have a craving or because you're celebrating National Shrimp Scampi Day (April 29th), our Red Lobster Shrimp Scampi Copycat Recipe will bring a smile to your dinner table.