Red Lobster is famous for its fresh lobster, fresh fish, and yummy appetizers but no one can deny its amazing stuffed mushrooms. They're our favorite appetizer and we know you love them just as much.
What if we told you that you could make these stuffed mushrooms at home? With a little effort and some free time, you can be chowing down on your own stuffed mushrooms for dinner tonight.
We're going to share with you our Red Lobster stuffed mushrooms copycat recipe, so you don't have to head to the restaurant the next time you get a craving.
Plus, we threw in another Red Lobster copycat recipe for good measure!
Red Lobster Stuffed Mushroom Copycat Recipe 
This is our delicious Red Lobster stuffed mushroom copycat recipe. It's easy and doesn't take long to prepare.
Don't be afraid to get creative with it and try out your own seasonings.
This recipe serves about eight people and is 310 calories per serving.
1/2 pound canned crabbed meat, drained
1 pound of fresh button mushrooms, stems should be removed
1/4 cup of celery, finely chopped
1 onion, finely chopped
1 red pepper, finely chopped
2 cups of oyster crackers, crushed
1/2 cup of shredded cheddar, pepper-jack cheese, or mozzarella cheese
1 cup of butter, melted
1/2 cup of water
1/2 teaspoon of garlic powder
1/2 teaspoon of black pepper, ground
1/4 teaspoon of salt
1 egg
Additional grated cheddar, pepper-jack cheese, or mozzarella cheese
First, preheat your oven to 400 degrees Fahrenheit.
Brush your baking sheet with melted butter. This keeps the mushrooms from sticking to the pan and gives them a nice taste as well.
Wash the mushrooms and remove the stems, saving about half and chopping them. Now, lay out the mushroom caps on a baking sheet at least two inches apart so they don't stick together.
Add about 2 tablespoons of olive or vegetable oil to a skillet. A nonstick or stainless steel skillet works best for sauteing veggies. Wash the celery, onion, and red pepper. Now, add the chopped celery, onion, and red pepper to the skillet. It should take about 2 to 5 minutes to saute the veggies to a nice brown color and a tender consistency. Be sure not to overdo it, you don't want burnt veggies that have lost their flavor or are too soft.
Once you're done sauteing, move your veggies to a plate. Put the plate in the fridge to cool. You can also let them sit on your counter but make sure they're covered to prevent bacteria from sneaking in.
When the veggies are cool, toss them in a medium or large-sized mixing bowl with the chopped mushroom stems, crab meat, oyster crackers, shredded cheese, garlic powder, black pepper, salt, egg, and water. Mix the ingredients thoroughly.
Use a tablespoon to scoop an even amount of the mixture into each mushroom cap. Once each mushroom is stuffed with the mix, sprinkle on the grated cheese.
Place the mushrooms in the oven and bake for about 10 to 15 minutes. The grated cheese should be a light brown when they're finished baking.
Remove the mushrooms from the oven and let them cool. Once cooled, stuff your face with these tasty treats.
Red Lobster Cheddar Biscuits Copycat Recipe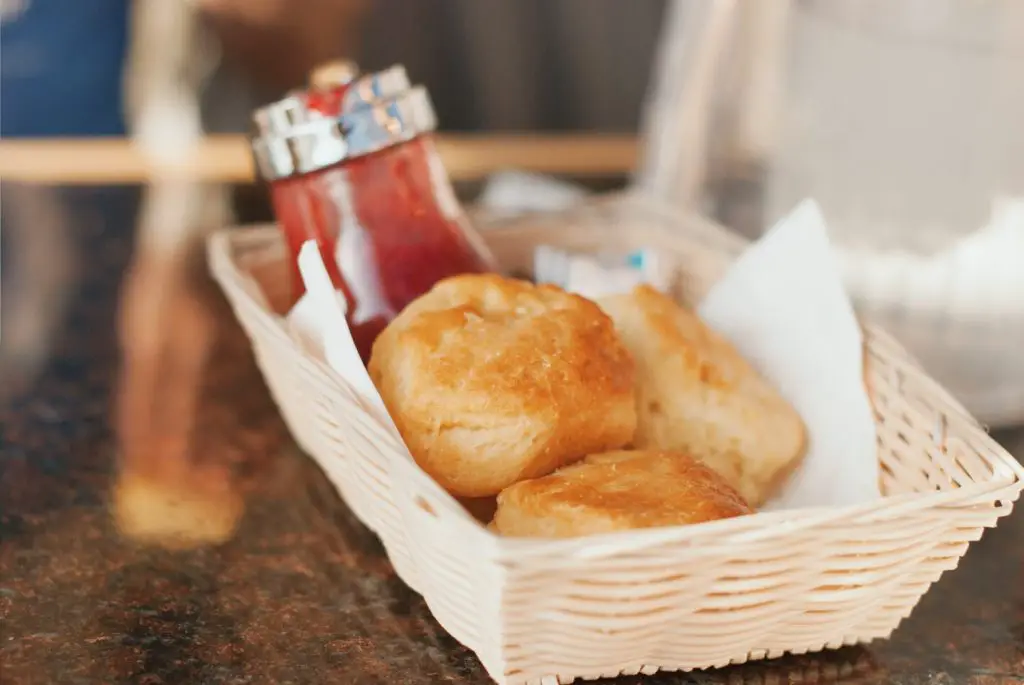 Want another treat to enjoy with your stuffed mushrooms? We also have the copycat recipe for Red Lobster's delicious cheddar biscuits.
This recipe serves about six people and has 379 calories per serving.
2 cups of all-purpose flour
1 cup of buttermilk
1 cup of cheddar cheese, shredded
1/2 cup of butter, melted
1 teaspoon of ranch dressing or ranch dressing powder mix
1 tablespoon of baking powder
1 teaspoon salt
1 teaspoon of garlic powder
1 egg
1/3 cup of melted butter
First, preheat the oven to 400 degrees Fahrenheit.
Next, brush abaking sheet with some of the melted butter so your biscuits won't stick.
In a small or medium-sized mixing bowl, add the flour, shredded cheese, baking powder, salt, and garlic powder. Mix the dry ingredients evenly.
In another medium-sized mixing bowl, add the buttermilk, 1/2 cup of melted butter, and egg. Mix the ingredients fully.
Slowly add the dry ingredients to the wet ingredients, stirring as you go. When you're done mixing, the batter will be a bit chunky. This is a good sign. You don't want the batter too smooth.
Scoop the biscuit mix a tablespoon at a time onto your baking sheet. Try to make round shapes with your spoon but they don't have to be perfect. Make sure there are at least two inches between each biscuit because they will grow a bit while baking.
Bake the biscuits for 8 to 10 minutes. Remove the biscuits from the oven and brush each one with the extra melted butter.
Put the biscuits back in the oven and bake for another 5 to 8 minutes. The biscuits should be a golden color when done, no more and no less.
If you love Red Lobster's cheddar biscuits and stuffed mushrooms, you'll love the rest of their mouth-watering menu! Check out their menu and prices here.
The Bottom Line
You don't have to find a Red Lobster in your area to enjoy their delicious stuffed mushrooms and cheddar biscuits. With a trip to the grocery store and a little bit of effort, you'll have a mouth-watering dinner on your table that the whole family will enjoy.