The keto diet is making waves and for very good reason. People are shedding the weight that's been holding them back by implementing this simple diet into their lives.
One of the hardest parts of sticking to this diet is finding keto-friendly options at your favorite restaurants, including places like Red Lobster. You either find yourself cheating on your diet or you avoid going out.
We decided to make your keto diet a bit easier by diving into Red Lobster's menu for their keto-friendly options. We're going to share our favorites on the Red Lobster menu that are perfect for any low carb diet, including the keto diet.
While you won't be able to enjoy and Red Lobster biscuits, thankfully, their menu is chock full of options so you can continue to keep losing that unwanted weight and still treat yourself to dinner out.
What is the Keto Diet?
If you're curious about how the keto diet works, we've got the low down for you. This diet has been popular in recent years, outshining other low carb diets like the Atkins diet or the Paleo diet.
The word "keto" stands for ketogenic. The ketogenic diet requires you to cut drastically down on your daily carb count and replace it with high-fat foods like red meats.
The standard keto diet has dieters consuming 75% of their daily calories from fat, 20% from protein, and only 5% of carbs.
After about three or four days of cutting the carbs out of your diet, your body goes into a metabolic state called "ketosis".
Ketosis is when your body turns to stored fat to burn for energy instead of burning off the carbs your body is consuming through food. Since your body is burning stored fat, it's creating ketones to help fuel your body instead.
This increases fat burning and helps you drop pounds quickly and efficiently, experiencing weight loss without starving yourself as other strict diets require.
It also significantly lowers your blood sugar and insulin levels, making it a great diet for some diabetics.
Keto Friendly Side Dishes and Appetizers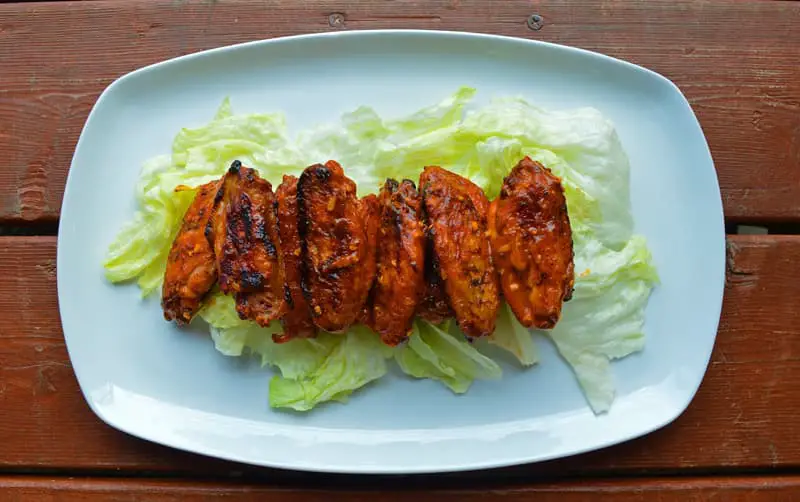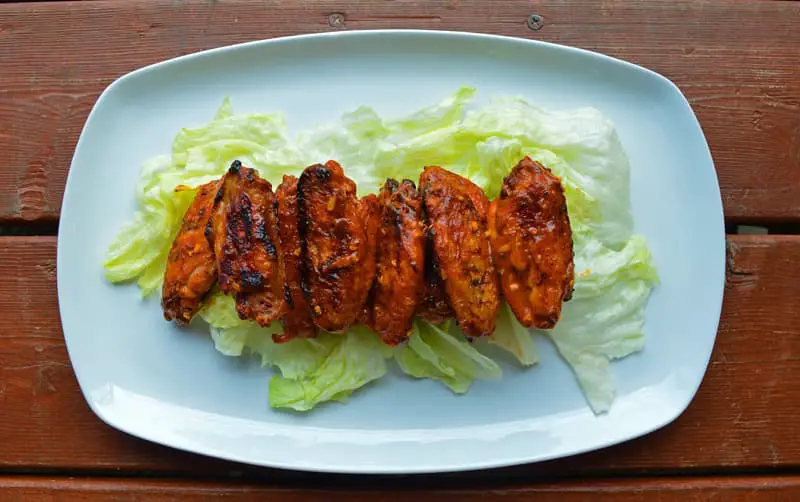 1. Buffalo Chicken Wings: Red Lobster's buffalo chicken wings are extremely spicy for those who love a hot number. It comes with celery and even a blue cheese dressing that's also keto-friendly. These buffalo wings have only four net carbs, not including the blue cheese dressing.
2. Classic Cesar Salad: A salad is always a great option for the keto diet or any low carb diet. This salad has romaine lettuce, croutons (ask to leave out the croutons), and shaved Parmesan cheese. The salad has only 10 net carbs. Plus, you can add either chicken, salmon, or shrimp to top your salad. All three have zero net carbs and so does any salad dressing you may want to use on your salad.
3. Seafood-Stuffed Mushrooms: This yummy appetizer promises fresh mushrooms. They're stuffed with Red Lobster's special seafood stuffing. Once they're stuffed, they're covered with Monterey Jack cheese and then baked to perfection. This appetizer has only 11 net carbs.
Keto Friendly Lunch Entrees
1. Broiled Wild-Caught Flounder: The wild-caught flounder is fresh and flaky. It's guaranteed to satisfy any fish lover. Of course, you'll have to choose to have your flounder broiled and not fried. It has only one net carb, making it the perfect low carb lunch entree.
2. Hand-Crafted Garlic Shrimp Scampi: Red Lobster's hand-crafted garlic shrimp scampi is a menu favorite of everyone's. The shrimp is broiled to tenderness and perfection and is covered in the best garlic butter known to man. It only has four net carbs.
3. Wood-Grilled Shrimp: If you love shrimp as much as we do, the wood-grilled shrimp entree is another great low carb option. You'll get two skewers filled with buttery garlic shrimp plus your choice of two sides. When picking your side dishes, choose the veggie options and you'll be ready for a tasty keto-friendly lunch. Both skewers together are only two net carbs.
4. Salmon New Orleans: Their Salmon New Orleans is to die for. They use fresh Atlantic salmon. This fresh salmon is blackened and topped with shrimp. The shrimp is drenched in Cajun butter and topped with pico de gallo. You get your choice of two sides so look for the veggie options. Whether you order the half order or full order, this dish has only eight net carbs.
5. Snow Crab Legs: This lunch entree is served with fresh and wild-caught super tender crab legs. Plus, you get your choice of two sides so stick to the veggie options. These crab legs have zero net carbs.
6. Farm-Raised Catfish: This fresh catfish is super tender and they're raised for the best and cleanest taste. Of course, you'll want the blackened option, not the golden fried option. It comes with your choice of a side, so avoid any high carb sides and stick to the veggie options. It has only two net carbs.
Keto Friendly Main Courses
1. Live Maine Lobster: Red Lobster's fresh and live Maine lobster is wild-caught in the Atlantic Ocean. You can choose two sides with this delicious lobster, just make sure you avoid the rice and other high carb options. The best type of live   Maine lobster for the keto diet is to get it steamed. The steamed lobster is zero net carbs. However, if you choose the stuffed lobster, it's seven net carbs which is still a pretty good deal.
2. Rock Lobster Tail: Their lobster tail comes from a wild-caught lobster from the Caribbean. They take the lobster tail and oven roast it for a delectable taste. The lobster tail only has one net carb.
The Bottom Line
Red Lobster has several yummy lunch and dinner options for anyone on the keto diet. Head out to Red Lobster for fresh fish and fun. You can check out all their menu options here.