Gluten sensitivity and celiac disease affects one in 133 people and roughly 3 million Americans. Celiac disease is an autoimmune disorder. When someone with this disease eats food that contains gluten, their body attacks their small intestines.
This can cause horrible stomach pain, nerve pain, lack of concentration, depression, and many other symptoms that can become debilitating.
Now that we're more aware of celiac disease and gluten sensitivity, more and more gluten-free dishes are available at your favorite restaurants.
Red Lobster has a great menu that's full of delicious gluten-free options. Here are 19 delicious dishes for anyone who's trying to avoid gluten.
Gluten-Free Side Dishes and Appetizers 
Buffalo Wings: These super spicy wings come with celery and blue cheese, a yummy combo for your taste buds. They pull out all the stops when they cook their buffalo wings, proving Red Lobster knows more than just seafood. 
Oysters on the Half Shell: You can get these delicious oysters raw or steamed. Choose between an order of 6 or an order of 12 to share with your friends. 
Signature Jumbo Shrimp Cocktail: Red Lobster guarantees that their jumbo shrimp is cooled that day and cooked fresh, just for you. The jumbo shrimp comes with Red Lobster's classic cocktail sauce. 
Gluten-Free Lunch Entrees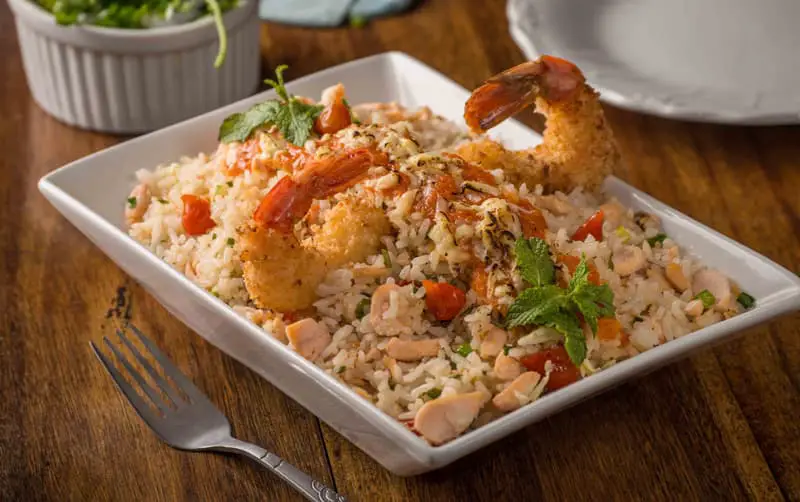 Shrimp and Wood-Grilled Chicken: This tasty lunch dish includes a wood fire grilled chicken breast and shrimp that's made to your liking. It's served with wild rice pilaf. There offer a delicious hand-crafted garlic shrimp scampi option, perfect for a gluten-free dish. 
Summer Power Bowl: This new dish at Red Lobster gives you the choice of wood-grilled shrimp skewers, grilled salmon, or chicken. The bowl includes fresh berries, sliced almonds, and edamame served over quinoa rice, covered with a tasty lemon vinaigrette sauce. 
Wood-Grilled Shrimp Skewers: These shrimp skewers are grilled and seasoned to perfection. You get to choose two side dishes to go along with your skewers. You'll leave the restaurant full after this satisfying meal. 
Farm-Raised Catfish: This fresh catfish can be either blackened or golden fried. To stay gluten-free, though, choose the blackened option. The catfish comes with your choice of one side to make the meal your own. 
Hand-Crafted Garlic Shrimp Scampi: This yummy shrimp is oven-broiled to perfection. It's cooked in a delicious garlic butter sauce. 
Gluten-Free Main Courses 
Live Maine Lobster: Each Maine Lobster is guaranteed to be caught wild in the Atlantic Ocean. Since you're looking for gluten-free options, avoid the stuffed lobster option. instead, go with the classic choice. Plus, you get two sides along with your fresh lobster to make a filling meal. 
Rock Lobster Tail: These fantastic lobster tails come from lobsters that are caught wild in the sunny Caribbean. They're oven-roasted for the perfect taste.
Shrimp Your Way Scampi: If you choose the garlic shrimp scampi, you can be sure your meal is from gluten. Build your platter however you want. This dish is great if you're planning on sharing a meal with someone. 
Snow Crab Legs: Like every item on Red Lobster's menu, these crabs are caught wild in the ocean. This juicy crab meat comes with your choice of two sides. 
Salmon New Orleans: The fresh salmon is caught in the Atlantic Ocean. It's topped with shrimp that's covered in yummy Cajun butter sauce and pico de gallo. You can request either a half order or a full order if you're in the mood to share. You also get to choose two sides with your salmon. This dish will leave you craving a trip to New Orleans. 
Salmon Power Bowl: The salmon power bowl is also a new entree for Red Lobster. The main ingredient? Fresh salmon caught wild from the Atlantic Ocean. The entree also includes edamame, seasonal berries, quinoa, and sliced almonds decked out in an olive oil lemon vinaigrette. 
Yucatan Tilapia and Shrimp: Red Lobster takes their Yucatan tilapia and shrimp and roasts it in chili-lime butter and caramelized pineapple for a sweet, mouth-watering experience. To add a bit of kick, they top it with spicy jalapenos and serve it over rice. 
Rock Lobster and Steak: With this entree, you can choose either a 12-ounce New York strip steak or a 6-ounce filet mignon. The steak is grilled in a wood oven and seasoned with peppercorn. It comes with a Caribbean rock lobster tail and mashed potatoes as well as a second side dish of your choice. 
7-Ounce Sirloin Steak: This juicy steak is cooked in a wood-fire grill to your preferred doneness. It's also seasoned with peppercorn. You get a side of mashed potatoes and another side dish of your choice. 
12-Ounce New York Strip Steak: Red Lobster's second steak option is even just as good at their first. Like the sirloin, this steak is cooked in a wood-fire grill and can be prepared rare, well-done, or anything in between. It's seasoned with peppercorn and served with a side of mashed potatoes and another side of your choosing. 
Wood-Grilled Shrimp and Sirloin: This entree includes a 7-ounce sirloin steak and a skewer of delicious grilled shrimp, both cooked in a wood grill. It comes with a side of mashed potatoes and a second side of your choice. 
The Bottom Line 
If you're coping with celiac disease, you don't have to go without when you go out to eat. Red Lobster has tons of gluten-free dishes and appetizers to choose from. Check out their menu and prices here.