Grill House restaurants are known for their delicious and juicy steaks, but they often offer way more dishes on their menu than just steak cuts. If you're tired of ordering the same few menu items when you dine out, it may be time to switch things up. Here are our recommendations for menu items to try at some great grill house restaurants, including Hudson Grille, The Keg, Longhorn Steakhouse, and more.
1. Ultimate Nachos at Hudson Grille
The Ultimate Nachos are served with chicken or chilli and are a great plate to share with a group. This plate is piled with cheese, meat, black beans, jalapenos, salsa, and more. It's a great sharing plate for a great price starting at $8.95. For more menu items and prices at Hudson Grille, check out the menu here.
2. 14 Oz. Texas Ribeye at Lone Star Steakhouse
Lone Star Steakhouse features quality Texas-style dishes and this menu item does not disappoint. The portion for this cut of steak is big, and it tastes delicious. Lone Star Steakhouse promises to only sere tender, grain-fed beef, grilling all their steads over mesquite wood. This menu item also comes with two sides. Check out the rest of the menu here.
3. Top Sirloin at The Keg Steakhouse
The Keg Steakhouse is a casual dining house with tons of fresh food menu items. It offers a homey experience with delicious, well-cooked meals. Their Keg cuts are no exception, and their Top Sirloin is grilled to perfection over high heat and served with a signature Keg seasoning. Ranging from $20 to $27, their Top Sirloin steak cut is a great option if you're looking for a high-quality steak. Check out additional Keg Steakhouse menu options here.
4. Third Pound Mushroom Swiss Burger at Longhorn Steakhouse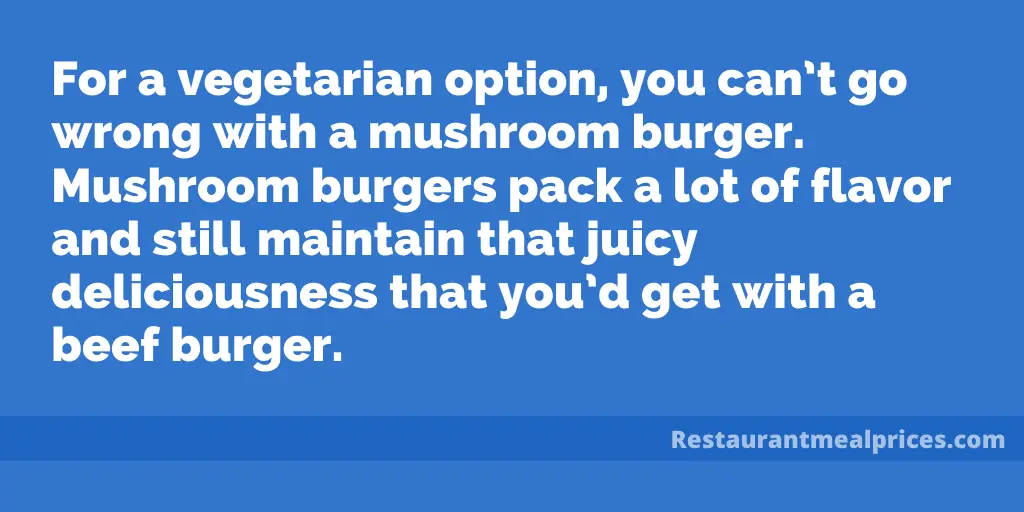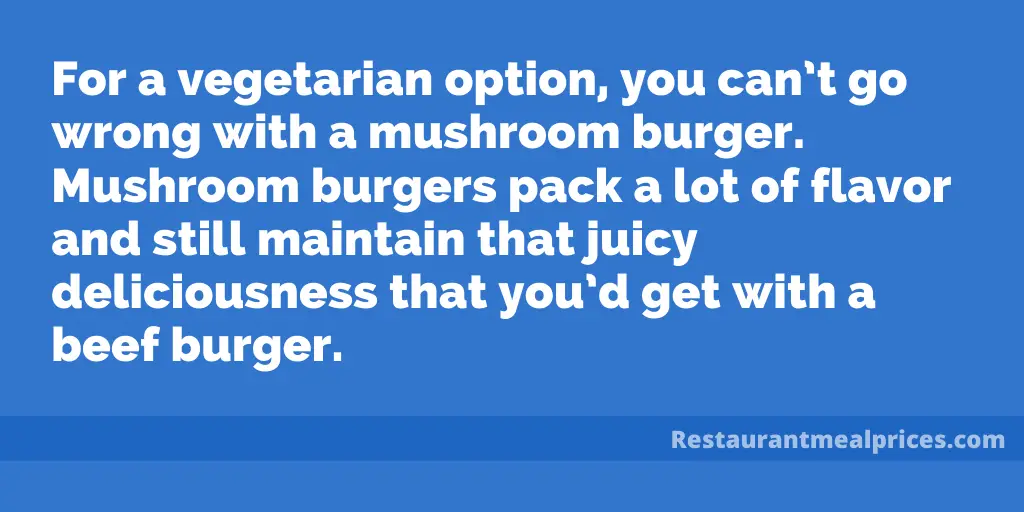 For a vegetarian option, you can't go wrong with a mushroom burger. Mushroom burgers pack a lot of flavor and still maintain that juicy deliciousness that you'd get with a beef burger. This third pound mushroom swiss burger at Longhorn Steakhouse is delicious and comes as a combo with a side, all for $9.99. Check out the rest of the menu here.
5. Red Rock Sandwich at Ted's Montana Grill
The Red Rock sandwich at Ted's Montana Grill is the crunchy, flavorful chicken sandwich you've been looking for. It's made with all-natural grilled chicken breast, pepper jack, cilantro, jalapeno, fried onion, Z-sauce, all served on a ciabatta bun with fries on the side. The fried onion straws offer a great crunch, making this a delicious and unique sandwich that you'll want to try at your next grill house visit. For more options, take a look at the Ted's Montana Grill menu.
6. All-Natural Herb Roasted Chicken at Capital Grille
The Capital Grille is an upscale steakhouse known for their dry-aged steaks. We'd recommend ordering a steak at least once from this restaurant, but if you're looking for other options, the all-natural herb roasted chicken is a delicious choice. This is a main course and offers a heaty serving of quality chicken. For more menu items, like the Chef's Suggestions, check out their menu.
7. Eggplant Parmesan at Romano's Macaroni Grill
So, this might be a different kind of grill house than you're used to, since it mainly offers Italian-American dishes and not a lot of steak options. However, Romano's Macaroni Grill has a ton of great options for a casual dining experience, with scrumptious pasta dishes on their menu. Their Eggplant Parmesan is a great vegetarian alternative to chicken parmesan and is sure to satiate your cravings.
Check to see if your favorite restaurant menu has changed, with favourites like Hudson Grille, Ted's Montana Grill, and Longhorn Steakhouse all here on our site. Check out our list of all restaurants to compare more food menu pricing.