Now that we've entered Fall, we're getting the urge for pumpkin, cinnamon, nutmeg and rich, comforting ingredients. Even though we love to bake, it can be difficult to find the time to devote to it, not to mention finding new recipes. We've found 3 fall recipes that are not only quick and easy, but that the whole family is sure to love. Plus, you can serve them at Thanksgiving as an alternative to your traditional pumpkin and apple pies! Keep reading for 3 quick and easy fall recipes.
Caramel-Pecan Cheesecake Pie
This Caramel-Pecan Cheesecake Pie by Taste of Home is not only rich, nutty, and delicious, but it's quick to prepare, and only takes 35 minutes in the oven. Continue reading to get the recipe for this family favourite.
Ingredients
1 sheet refrigerated pie crust
1 package (8 ounces) cream cheese, softened
1/2 cup sugar
4 large eggs, room temperature
1 teaspoon vanilla extract
1-1/4 cups chopped pecans
1 jar (12-1/4 ounces) fat-free caramel ice cream topping
Additional fat-free caramel ice cream topping, optional
Directions
Preheat oven to 375°. Line a 9-in. deep-dish pie plate or cast-iron skillet with crust. Trim and flute edges. In a small bowl, beat cream cheese, sugar, 1 egg and vanilla until smooth. Spread into crust; sprinkle with pecans.
In a small bowl, whisk remaining eggs; gradually whisk in caramel topping until blended. Pour slowly over pecans.
Bake 35-40 minutes or until lightly browned (loosely cover edges with foil after 20 minutes if pie browns too quickly). Cool on a wire rack 1 hour. Refrigerate 4 hours or overnight before slicing. If desired, garnish with additional caramel ice cream topping.
Pumpkin Brownies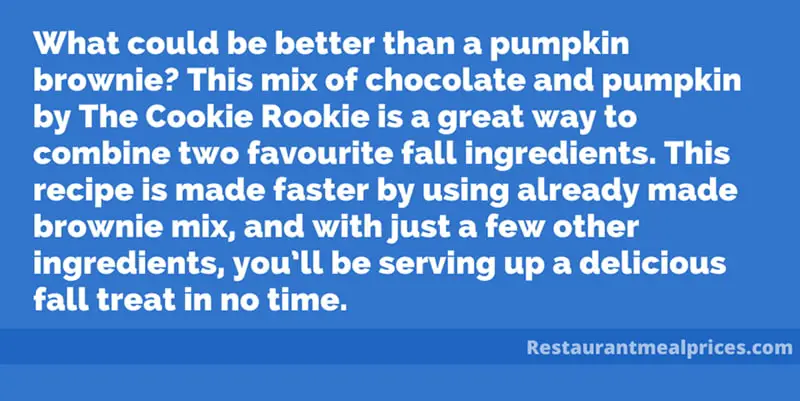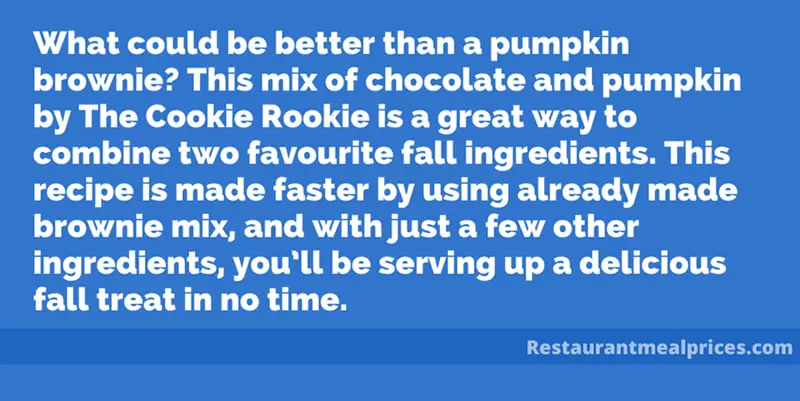 What could be better than a pumpkin brownie? This mix of chocolate and pumpkin by The Cookie Rookie is a great way to combine two favourite fall ingredients. This recipe is made faster by using already made brownie mix, and with just a few other ingredients, you'll be serving up a delicious fall treat in no time.
Ingredients
Brownie mix of your choice
1/2 can pumpkin NOT pumpkin pie filling
6 oz cream cheese6 oz cream cheese
3 tablespoons Sugar
1 tablespoon pumpkin pie spice
1/2 cup milk chocolate chips
Directions
Preheat your oven to whatever instructions are on the brownie mix box. 350F works well.
Make the brownie mix in a separate bowl. Follow the directions on the box. Add the chocolate chips to the brownie mix. Stir them in and set the bowl and set to the side.
Mix the pumpkin, cream cheese (softened), sugar, and pumpkin pie spice in another bowl. Mix until very smooth.
Spray your pan with cooking spray before starting. Pour half of the brownie mix into the pan and spread out so the entire bottom of the pan is covered.
Next add the pumpkin. You can either spoon the pumpkin filling onto the brownie in chunks or spread it out evenly. Cover the pumpkin with the rest of the brownie batter and smooth out the top.
Now you're ready to bake! I added 10 minutes to the directions on the box (cooked for 35 minutes for my pan size). Since you're adding quite a bit of depth with the pumpkin mix…you'll need to cook longer. To check if brownies are done…dip a fork into the middle of the brownies. If the fork comes out clean…they're done! Enjoy!
Of course, we can't forget about two other perfect fall ingredients – apple and cinnamon. These Apple Cinnamon Fritters by Taste.com are the perfect quick and easy fall dessert. Ready in 10 minutes, these are guaranteed to leave your guests wanting more.
Ingredients
1 cup self-raising flour
1/4 teaspoon bicarbonate of soda
1 cup soda water, chilled
1/2 cup caster sugar
1 teaspoon ground cinnamon
2 large pink lady apples
Vegetable oil, for shallow-frying
4 scoops vanilla ice-cream, to serve
1/3 cup golden syrup, to serve
Directions
Sift flour and bicarb into a bowl. Gradually add soda water, whisking until a smooth batter forms.
Run out of self-raising flour? Learn how to use it by making plain flour and baking powder, plus get some tips for measuring and storing.
Combine sugar and cinnamon in a shallow dish. Peel and core apples. Cut into thick rounds.
Heat oil in a large, deep frying pan over medium-high heat. Dip 1 apple slice in batter, allowing excess to drain. Add to oil. Repeat with 3 more apple slices. Cook for 1 to 2 minutes each side or until golden. Using a slotted spoon, transfer fritters to a plate lined with paper towel to drain for 20 seconds. Add to cinnamon sugar. Toss to coat. Transfer to a plate. Repeat with remaining apple, batter and sugar.
Stack fritters on serving plates. Top with ice-cream and drizzle with golden syrup. Serve.
If you're looking for more recipe inspiration or restaurant menu items, check out our list of all restaurants to compare food menus from your favorite restaurants.