Crock pots are widely viewed as a slow way to cook your food while you're at work during the day, and that's, well – pretty much it. However, crock pots are actually an incredibly versatile kitchen tool and can be used for just about any cooking task that you can imagine, from the very simple to complex. We're going to take a look at why crock pots have become the go-to kitchen tool for many, by giving you some unexpected ways you can use it.
Making Bread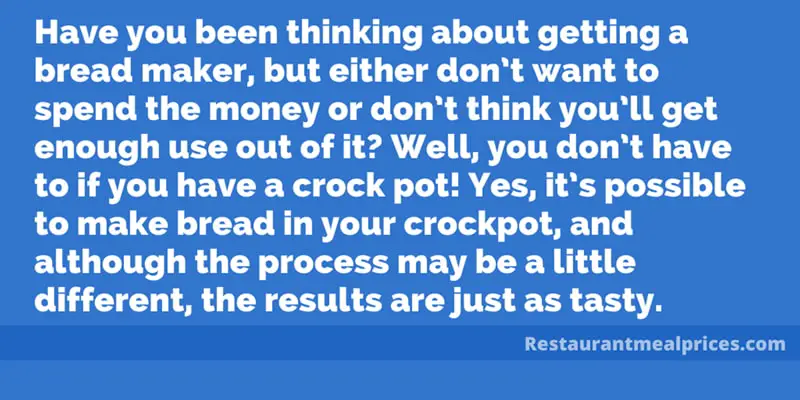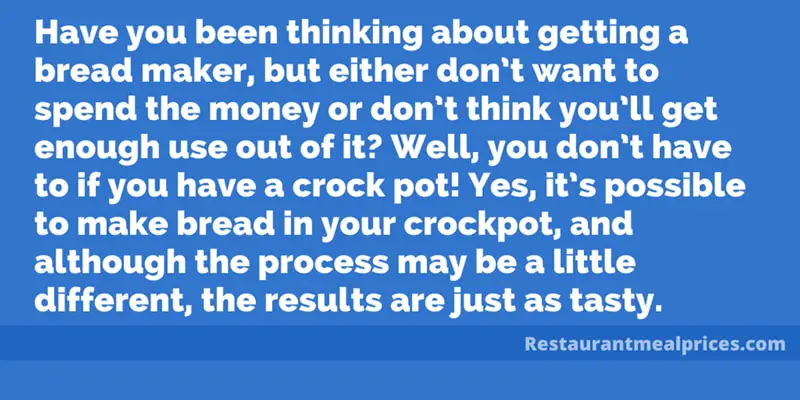 Have you been thinking about getting a bread maker, but either don't want to spend the money or don't think you'll get enough use out of it? Well, you don't have to if you have a crock pot! Yes, it's possible to make bread in your crockpot, and although the process may be a little different, the results are just as tasty.
FoodForNet.com gives us their tips on this seemingly unusual use for your slow cooker or crock pot:
In addition to baking desserts, you can also actually make bread in a slow cooker. This use is particularly appealing because most of us don't have a bread maker and making bread in the oven can be difficult. Instead, a slow cooker can end up being the perfect tool for baking bread and the finished product does end up surprisingly good. Theoretically, you can use any slow cooker for making bread, as you shape the loaf yourself rather than relying on the shape of the slow cooker. Nevertheless, a small slow cooker will limit your final product, as you might expect. Likewise, you can make fairly typical loaves of bread with an oval slow cooker, while you may be limited to round loaves in circular slow cookers.
Roasting Nuts and Seeds
Roasting nuts and seeds in your crockpot is a great way to have a hot and tasty snack ready to go in a few hours, without needing to worry about watching your oven. This is a great option if you have company coming over in a few hours, or just want to treat yourself on a chilly day!
Donna Boyle Schwartz of Bobvila.com tells us how to make this tasty holiday snack right in your crockpot:
"For a special treat, roast your own nuts and seeds in your slow cooker—a perfect way to put pumpkin pie and jack-o'-lantern scraps to use. Grease the bottom of the cooker, and place a cup of raw seeds or nuts into the pot. Sprinkle in seasonings and toss to coat, then cook for three to four hours on high, or until the seeds "snap" when tested. Store in small plastic bags or glass jars for easy snacking."
Infusions
We think this unconventional use of your crockpot is genius. If you love the idea of infusing  your recipes with delicious syrups, flavored oils and butters, then this is a great tip for you. Plus, it's super simple to do and will make all the difference in your favourite recipe.
Stacey Ballis of AllRecipes.com recommends using your crockpot or slow cooker as an unexpected way to create infusions for your recipes:
"Flavored oils and butters or simple syrups can be wonderful ingredients. And even better, they're super easy to make in the slow cooker. Put your ingredients into sealed mason jars, place them in your slow cooker with water to come halfway up the sides of the jars, and set to high. After an hour, turn the heat to low. The longer they go, the more the flavors will infuse, so think two hours for a subtle flavor or up to four for more intensity. Then you can just strain and store."
Want to take a look at a takeout menu instead? We've got you covered. We provide dozens of top restaurant menus and their prices all in one place, making it easy to get what you want in a flash. Take a look at our selection here!