There is much debate amongst both home and professional chefs everywhere whether or not the "holiday bird" should be stuffed. Those who do prefer stuffing a turkey tend to be ride or die turkey stuffing fans, finding it far superior in taste to casserole stuffing, with an unparalleled flavor and texture. The juices are absorbed into the stuffing, which results in an unbeatable savory, moist and delicious mixture. However, stuffing your turkey isn't as simple as throwing the stuffing inside the turkey right before it goes in the oven – as with most culinary masterpieces, it comes with both technique and process! We're going to take a look at how to easily and safely stuff a turkey, so you can not only ensure that your stuffing is cooked to perfection, but that you are avoiding any possible culinary hazards.
Safety First
Stuffing a turkey requires extra culinary safety precautions. After all, you're not only dealing with a turkey that hasn't fully been cooked yet, but you're dealing with both wet and dry ingredients that go into the stuffing.
Marianne Gravely of the USDA's Food Safety and Inspection Service tells Huffingtonpost.ca how she safely prepares her stuffing before it goes inside the turkey:

"The stuffing mixture shouldn't be fully prepared in advance to reduce the risk of bacteria growth in the ingredients. Additionally, the wet and dry ingredients can be prepared and kept separately until it's time to stuff. Turkeys should be stuffed just before going into the oven, never ahead of time to prevent cross-contamination of ingredients and bacteria growth. Gravely said the USDA also doesn't recommend purchasing pre-stuffed turkeys for the same reasons."
Using a Cheesecloth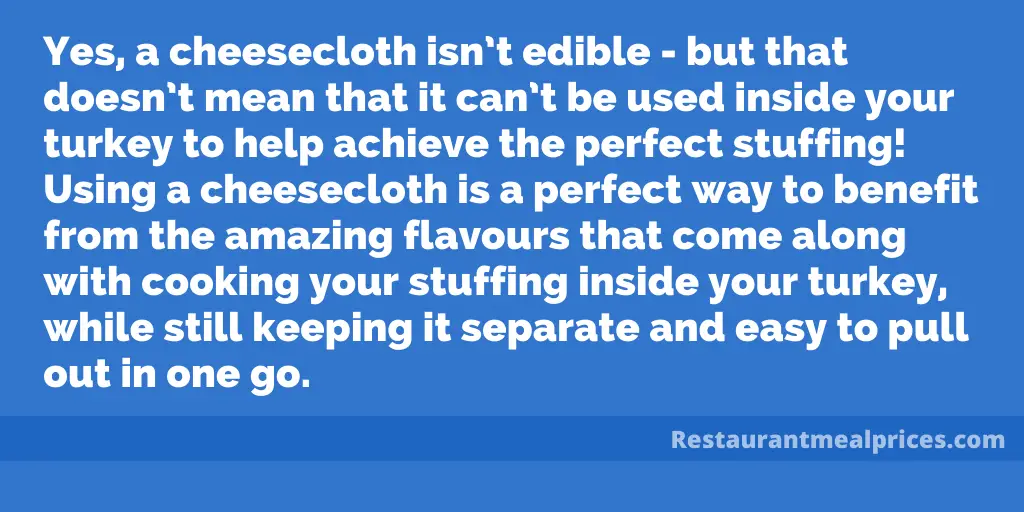 Yes, a cheesecloth isn't edible – but that doesn't mean that it can't be used inside your turkey to help achieve the perfect stuffing! Using a cheesecloth is a perfect way to benefit from the amazing flavours that come along with cooking your stuffing inside your turkey, while still keeping it separate and easy to pull out in one go.
Barbara Williams of DVO tells us why using a cheesecloth is her number one foolproof tip for stuffing a turkey:

"Line the turkey cavity first with a cheesecloth that's been folded in half, then fill it with stuffing. Then when the turkey is done, it is so easy to pull out the cheesecloth and all of the stuffing comes out in one quick motion. There are also cheese cloth bags that you can now purchase to place your stuffing in, that makes for stuffing the bird quite simple."
How To Tell If the Stuffing is Done
Since your stuffing is cooking inside of the turkey, how on earth are you supposed to tell when it's done? Is the stuffing considered done when the turkey is done? Or does it need to come out beforehand?
FoodNetwork.com gives us their tip on how to help make sure the stuffing is perfectly cooked:

"Give stuffing a head start by heating it up before placing inside the turkey. Like the turkey, stuffing needs to reach the 165 degree mark. If the bird is done before the stuffing, remove stuffing from the cavities and continue to cook in a baking dish."
If you're looking for more recipe inspiration or you want to see where you can have your turkey already cooked and stuffed for you at your favourite restaurant, check out our list of all restaurants to compare food menus.