The very first Texas Roadhouse was opened in 1993 in Clarksville, Indiana. Since then, Texas Roadhouse has expanded on the map due to its well-deserved popularity.
Texas Roadhouse brings that Texas spice you expect at the best Texan diners. The menu's full of Texas favorites that are sure to liven your taste buds and put a kick in your step.
We love their unique homemade green beans and could dig into these delicious green beans with any hearty meal.
So we're going to share with you our Homemade Texas Roadhouse Green Bean Copycat Recipe, plus the recipe for our favorite appetizer, their yummy fried pickles.
Homemade Texas Roadhouse Green Bean Copycat Recipe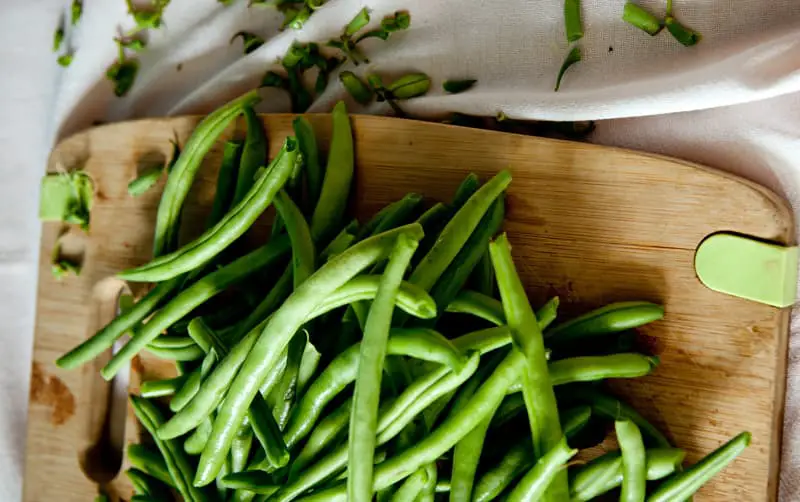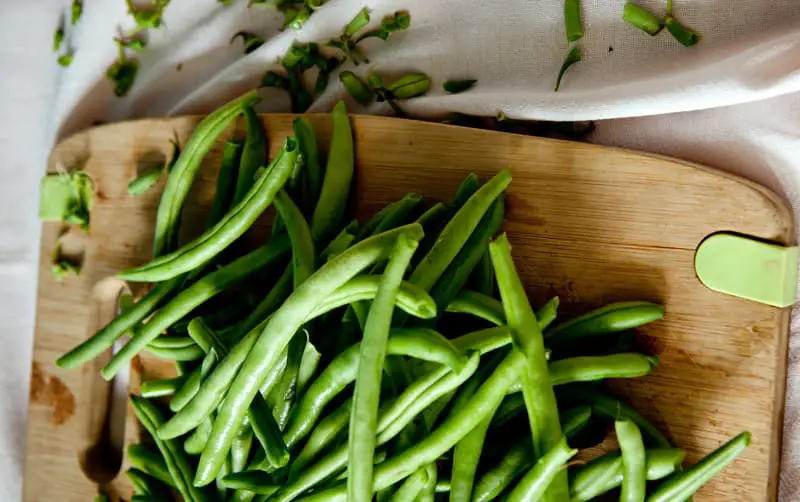 Ready to implement the tasty Texas Roadhouse green bean recipe into your dinner tonight? Here's our Homemade Texas Roadhouse Green Bean Copycat Recipe.
This green bean recipe takes very little time to prepare and takes only 20 to 25 minutes to cook.
It produces 8 servings. Each serving only has 100 calories. It also has only 3 grams of fat, 13 grams of carbs, 4 grams of sugar, and 6 grams of protein.
2 cans of 16 ounce green beans, water drained (you can substitute with about 2 cups of fresh or frozen green beans)
4 ounces of raw bacon, diced (or 4 ounces of raw ham, diced)
1/4 cup of onions, diced
2 cloves of garlic, minced (or 1 teaspoon of wet minced garlic)
1 tablespoon of sugar
1/2 teaspoon of black pepper
2 cups of chicken broth
1/4 cup of unsalted butter, melted or softened
1. First, on a sanitized cutting board or disinfected surface, dice the raw bacon or ham.
2. Preheat a skillet on medium-high heat. Once it's nice and hot, toss the bacon into the skillet. Stir the bacon (or ham) often, until the bacon is a nice crispy red color. This should take about five minutes.
3. When the bacon is finished cooking, drain the bacon grease from your skillet.
4. In a medium saucepan, mix the bacon, the drained green beans, onions, minced garlic, sugar, black pepper, chicken broth, and unsalted butter. The temperature should be on medium-high still. Stir the combo of ingredients often.
5. Once the chicken broth is boiling, turn the temperature down a little bit. Cover the pan with a lid. Let the combo simmer for about 15 to 20 minutes while continuing to stir on and off. The green beans will be super tender when fully cooked and the onions will be translucent. This is when it's time to take the pan off the stove.
6. Drain any extra fat and liquid. Let it cool and then serve as a side with your dinner.
Texas Roadhouse Fried Pickle Copycat Recipe
Another one of our favorite menu items at the Texas Roadhouse is their appetizer, fried pickles. These tasty pickles stand out on your taste buds.
We want to share with you our Fried Pickle Copycat Recipe so you can enjoy the fried deliciousness of this appetizer.
We've even thrown in the ingredients to the yummy dipping sauce that comes with at Texas Roadhouse.
Keep in mind, you'll either need a fryer or a deep frying pan to make these fried pickles.
This copycat recipe takes only about a half an hour to both prep and cook.
It makes about four to six servings. Each serving (minus the sauce) has 280 calories. It also has 19 grams of fat, 24 grams of carbs, less than 1 gram of sugar, and 3 grams of protein.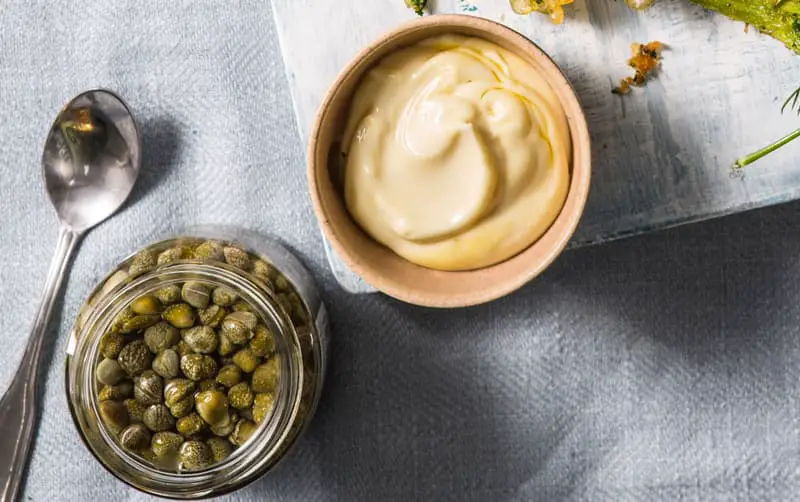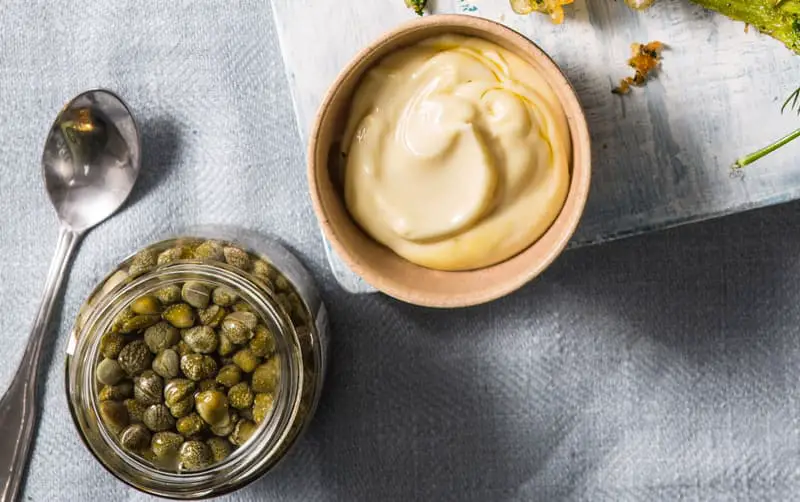 Texas Roadhouse Cajun Dipping Sauce Copycat Recipe
1/4 teaspoon of Cajun seasoning
1/4 cup of mayo
1 tablespoon of horseradish
1 1/2 teaspoons of ketchup
All you have to do is mix all the ingredients until they're fully combined. Set them off to the side until you're ready to dig into your fried pickles.
Texas Roadhouse Fried Pickle Copycat Recipe
2 cups of dill pickles, sliced
Peanut oil (you can substitute it with vegetable oil if you have a peanut allergy)
2 cups of all-purpose flour
1/4 teaspoon of cayenne pepper
1/4 teaspoon of oregano
1/4 teaspoon of basil
1 teaspoon of sugar
1 teaspoon of salt
1 teaspoon of black pepper
1. If you're using a fryer, preheat your fryer to 375 degrees with a decent amount of peanut oil.
2. If you're using a deep frying pan, fill your pan about half full with peanut oil. If you fill your frying pan too high, you can get splattered or burned while you're frying. Turn your stove on medium-high or high heat. Use a thermometer to monitor the oil as it heats up. It needs to be at least 375 degrees but not over 440 degrees.
3. If you don't have a probe thermometer, the best way to test the temperature of your oil is to drop just a small amount of water into the oil. If the water sizzles when the water hits the oil, you're good to go.
4. In a medium mixing bowl, combine the flour, cayenne pepper, oregano, basil, sugar, salt, and black pepper. Whisk until the ingredients are fully combined.
5. Drain your pickles but make sure they're still slightly damp so the flour combo will stick to them.
6. On a sanitized cutting board or surface, slice the pickles.
7. Completely coat each pickle slice with the flour combo. Shake off any extra batter from the pickles.
8. Slowly place each pickle into the oil. You don't want to just toss them in or the batter can fall off the pickle and you could be splashed with oil. Also, the pickles shouldn't be on top of each other. If you have too many pickles to fit into the pan, you'll have to fry them separately. It will take about three minutes to fully fry the pickles. They should be a golden brown color and they should be floating in the oil.
9. Remove the fried pickles from the oil and move them to a paper towel for a few minutes. This gives them time to cool enough to eat. The paper towel will also drain the excess oil from the fried pickles. Serve and enjoy.
The Bottom Line
Texas Roadhouse is a favorite food staple across the United States. There are so many tasty eating options to choose from.
However, our favorites by far are their unique green beans and their fun fried pickles.