Anytime we're sick, we can pretty much count on two things: our energy being low and our will to cook being pretty much as zero. With the ideal solution being that we have someone there to cook for us when we're not at our best, that's unfortunately not always the case. So what do we do? Of course, ordering takeout is an option (take a look at our selection of takeout menus here!) but sometimes we just want a home cooked meal. In that case, we have 5 quick and nourishing meals for you to make on a sick day, so you can get in all the comfort and nutrients that you need while still using up food that's in your own cupboard.
Veggie-Packed Cabbage Soup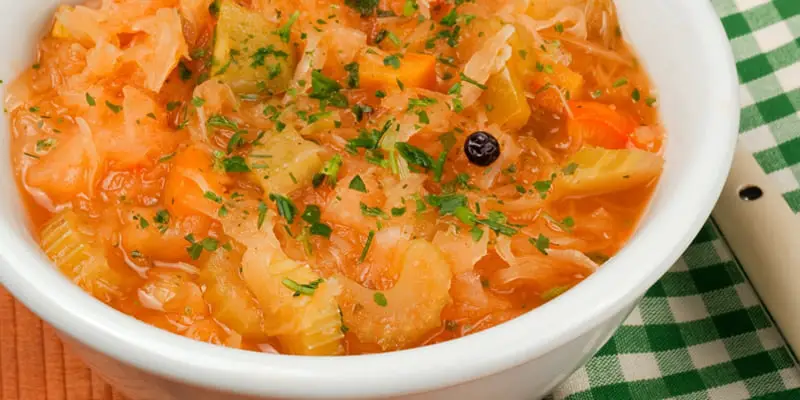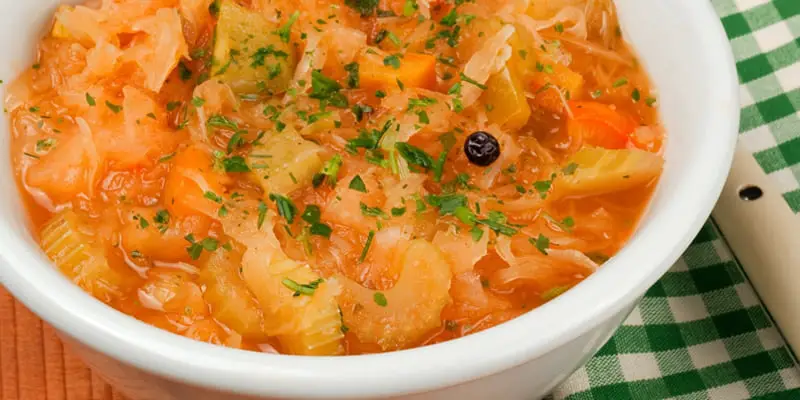 This delicious and nutritious soup by Kelli Foster of thekitchn.com is not only incredibly comforting, but you'll be able to make it with just a few fresh ingredients and some staples you already have in your pantry.
Ingredients
1 medium yellow onion
3 medium carrots
3 stalks celery
2 cloves garlic
1 small head green cabbage (about 1 1/4 pounds)
1 (15-ounce) can white beans
2 tablespoons olive oil
2 teaspoons dried Italian seasoning
1 1/2 teaspoons kosher salt
1/4 teaspoon freshly ground black pepper
1 (15-ounce) can fire-roasted diced tomatoes
6 cups low-sodium vegetable or chicken broth
1/4 cup fresh parsley leaves (optional)
Instructions
Prepare the vegetables. Prepare the following, placing them all in the same large bowl: Dice 1 medium yellow onion, peel and dice 3 medium carrots, dice 3 medium celery stalks, and mince 2 garlic cloves. Core 1 head green cabbage, chop the leaves into 1/2-inch pieces, and place in a separate bowl. Drain and rinse 1 can white beans.
Soften the aromatics. Heat 2 tablespoons olive oil in a 6-quart or larger Dutch oven or heavy-bottomed pot over medium heat until shimmering. Add the onion, carrot, celery, garlic, 2 teaspoons dried Italian seasoning, 1 1/2 teaspoons kosher salt, and 1/4 teaspoon black pepper. Cook, stirring occasionally, until softened, 6 to 8 minutes.
Add cabbage, beans, tomatoes, and broth. Stir in the cabbage, white beans, 1 can fire-roasted diced tomatoes and their juices, and 6 cups vegetable or chicken broth. Bring to a boil.
Simmer for 20 minutes. Reduce the heat to low and simmer uncovered until the cabbage is tender, about 20 minutes. Meanwhile, coarsely chop 1/4 cup fresh parsley leaves, if desired. Sprinkle the parsley on the soup before serving.
Kimchi Fried Rice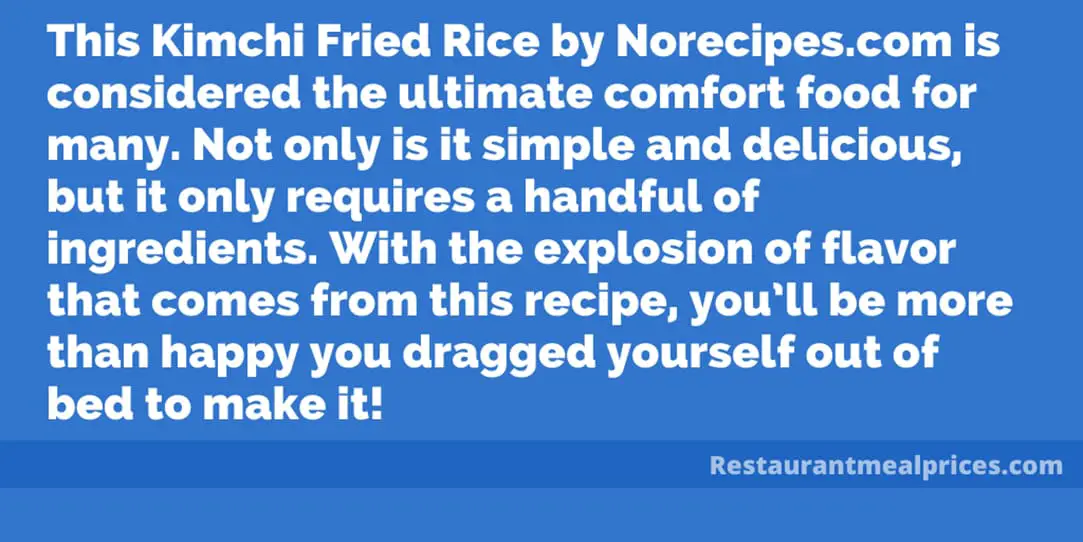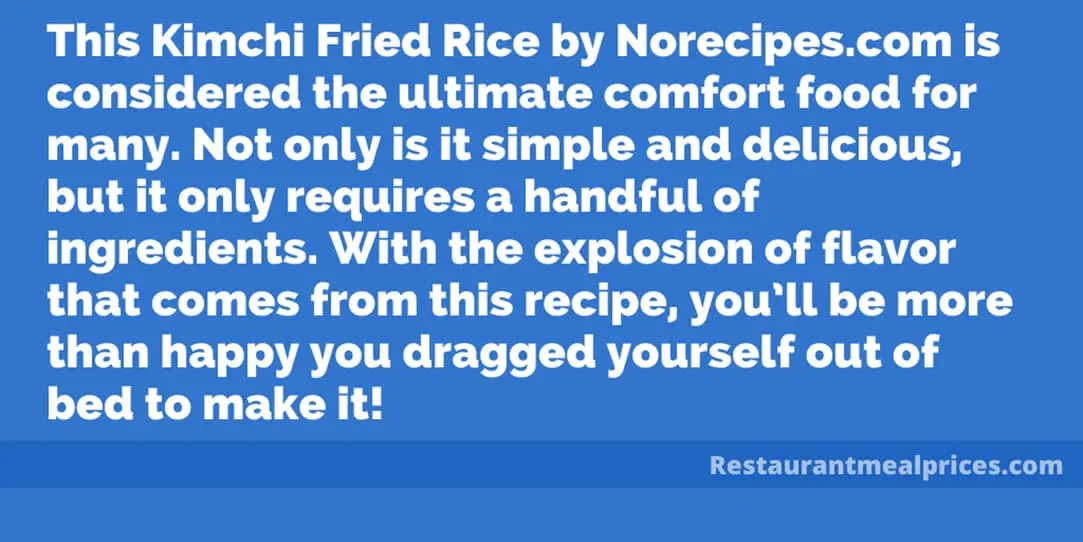 This Kimchi Fried Rice by Norecipes.com is considered the ultimate comfort food for many. Not only is it simple and delicious, but it only requires a handful of ingredients. With the explosion of flavor that comes from this recipe, you'll be more than happy you dragged yourself out of bed to make it!
Ingredients
115 grams kimchi (1/2 cup packed, chopped)
1/4 cup kimchi juice
2 teaspoons gochujang
1 teaspoon soy sauce
2 teaspoons toasted sesame oil
370 grams cooked short-grain rice (about 2 cups)
1 tablespoon vegetable oil
1 scallion (finely chopped)
2 sunny side up eggs
Instructions
Before you measure out the kimchi, squeeze the juice out of it into a liquid measuring cup, this liquid is the "kimchi juice."
Whisk the kimchi juice, gochujang and soy sauce together until the gochujang is completely dissolved.
Drizzle the sesame oil over the rice and use your hands to mix it, so each grain of rice is coated with oil, and there are big clumps.
Put the vegetable oil in a frying pan and heat over medium-high heat until hot. Add the chopped kimchi and stir-fry until the kimchi is starting to brown and is very fragrant.
Add the rice and stir-fry with a silicone spatula, pressing down on any clumps until the rice is uniform in color.
Pour the kimchi juice mixture over the rice, and turn up the heat to high. Stir-fry, tossing the rice occasionally until the rice starts to brown and doesn't stick together quite as much.
Since kimchi varies in saltiness, taste the kimchi bokkeumbap and season with more soy sauce if needed.
When the fried rice is done, add the scallions and then plate. Top each serving with a sunny-side-up egg.
Ingredients
1 can (13.6 fluid oz.) full fat coconut milk
1 cup water
3/4 cup orange juice
2 teaspoons vanilla extract
1/8 teaspoon sea salt
1 cup long grain basmati rice
2 tablespoons maple syrup, to taste (up to 4 tablespoons)
1 teaspoon cinnamon
1 teaspoon ground ginger
1 tablespoon orange zest
Instructions
Mix the coconut milk, water, orange juice, vanilla extract, salt, and rice in a medium-sized pot. Bring the mixture to a boil and reduce to a low simmer. Cover the pot, but leave the lid very slightly ajar to let steam escape.
Simmer the rice for 30 minutes, or until most of the liquid has absorbed. Stir in maple syrup, ginger, cinnamon, and zest. Continue cooking till rice is creamy and soft. If necessary, add a little more water or maple syrup.
Serve warm or cool, dusted with extra cinnamon if desired
Ingredients
2 kg | 2 1/2 lbs Roma tomatoes , halved lengthwise
600 g | 1 1/4 lbs Grape (or Cherry) tomatoes, halved lengthwise
8 whole cloves garlic , peeled and smashed with the back of a knife
3 tablespoons olive oil
Salt and freshly ground black pepper
1 large yellow onion, chopped (optional)
1 red bell pepper (capsicum), deseeded and diced
1 potato (100 g | 3 oz), diced
3 tablespoons tomato paste
4 cups vegetable broth
2 cups lightly packed fresh basil leaves , roughly torn
Instructions
Preheat oven to 430°F | 220°C. Place tomatoes on a baking tray with the garlic cloves. Drizzle with 2 tablespoons of oil, season with salt and pepper, and roast for about 25 minutes, or until soft and charred on the tops.
While tomatoes are roasting, heat 1 tablespoon of oil in a medium-sized pot/saucepan over medium-high heat. Add the onion, peppers (capsicum) and potato; cook while occasionally stirring, until the onion is transparent and the potato begin to crisp on the outer edges (about 6-7 minutes). Stir the tomato paste through the potatoes and onion; pour in the broth/stock; season with extra salt; cover and bring to a boil.
Reduce heat to low; simmer for about 15 minutes or until potato is just tender when tested with a fork. Add the tomatoes, garlic and basil to the broth (save 2 tablespoons of basil to use as garnish if you wish); continue to simmer until the basil is just soft (about 2 minutes). Blend soup using a stick blender until smooth.
Optional: Pour the soup through a strainer or colander to remove any skins and thick tomato pieces, for a smoother soup.
Sprinkle with extra basil, shaved parmesan cheese, and serve with cheesy garlic bread
One-Pot Garlic Parmesan Pasta
Looking for an incredibly easy recipe that literally only requires one pot? Sarah Jampel of Food52.com has the meal for you. Not only is it incredibly delicious, but you don't even need to dirty an extra pot for your sauce! 
Ingredients
1 tablespoon olive oil
4 cloves garlic, minced
2 cups vegetable broth (or chicken stock)
1 cup milk (more as needed)
2 tablespoons unsalted butter
8 ounces fettuccine or other long noodle
Salt and pepper, to taste
1/4 cup freshly grated Parmesan
Chopped parsley, for garnishing
Instructions
In a large, wide skillet over medium-high heat, heat the olive oil. Add the garlic and cook, stirring frequently, until fragrant, 1 to 2 minutes.
Stir in the broth, milk, butter, and dry pasta. Season with salt and pepper.
Bring to a boil, then reduce the heat to a simmer and cook, stirring occasionally, until the pasta is cooked through, 15 to 18 minutes.
Stir in the Parmesan and add additional milk if the sauce is too thick.
Garnish with parsley and serve immediately.
Still want to take a look at a takeout menu instead? We've got you covered. We provide dozens of top restaurant menus and their prices all in one place, making it easy to get what you want in a flash. Take a look at our selection here!