Let's face it, the Thanksgiving meal is essentially the superbowl of all holiday meals – having that said, that means there's a ton that goes along with it, and cooking a full Thanksgiving meal for a large family is not for the faint of heart. This is why we've gathered 3 easy Thanksgiving side dish recipes that not only look impressive, but are easy and quick to make, with little preparation. These recipes are all a slightly different take on the classic recipes that we all know and love, so you can start adding a new tradition to go with your perfectly cooked turkey.
Cast-Iron Hasselback Potatoes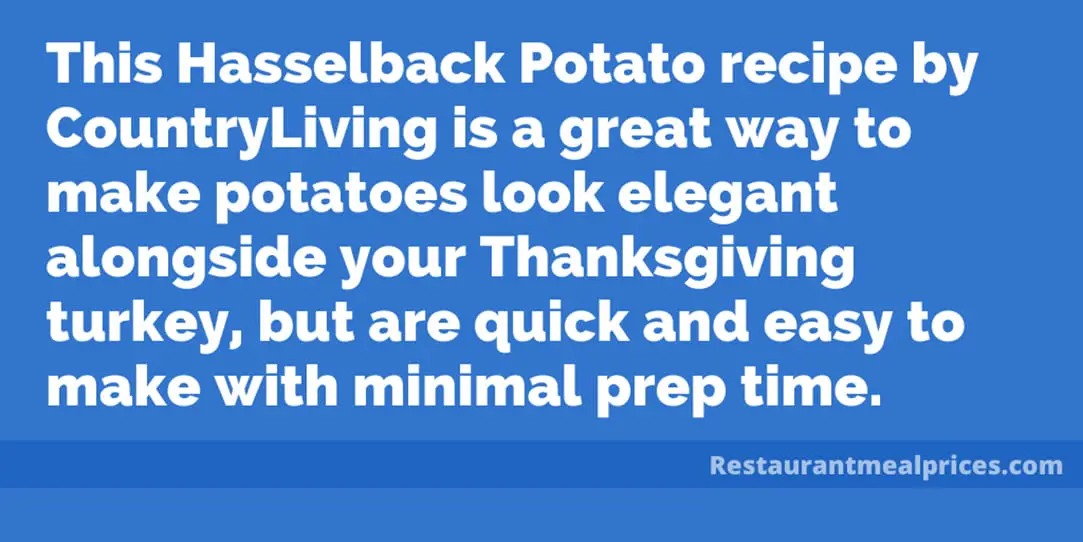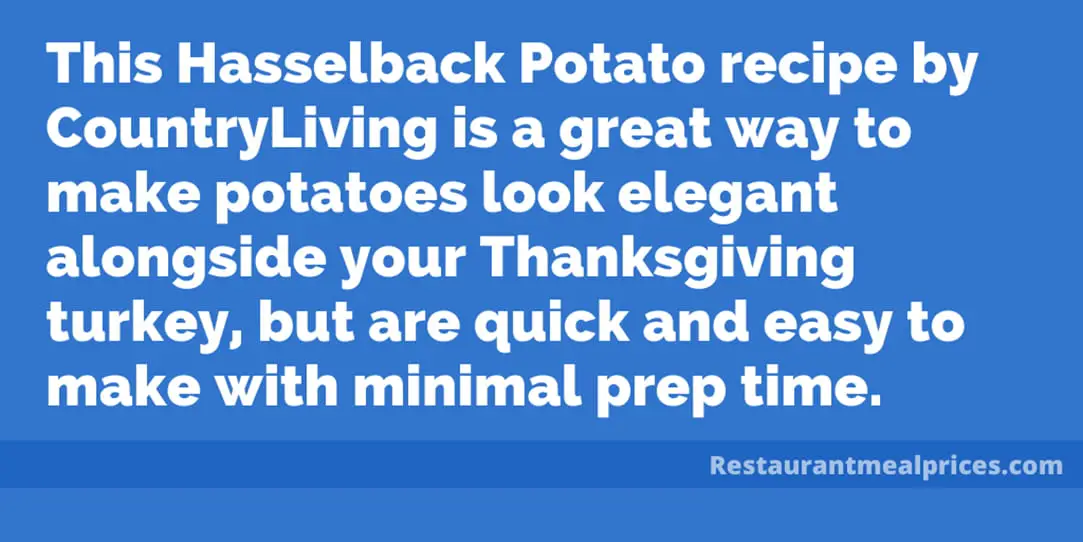 This Hasselback Potato recipe by CountryLiving is a great way to make potatoes look elegant alongside your Thanksgiving turkey, but are quick and easy to make with minimal prep time. Plus they're buttery, perfectly spiced and delicious, so you really can't go wrong any way you look at it. 
Ingredients
5 tbsp. unsalted butter, melted and divided, plus more for pan
6 medium russet or Yukon Gold potatoes (about 2 pounds)
2 tsp. M5 Spice Rub, divided
2 tbsp. chopped fresh flat-leaf parsley
Sour cream, for serving
Directions
Preheat oven to 425°F. Grease a 12-inch cast-iron pan with butter. Cut each potato crosswise into 1/8-inch-thick slices without cutting all the way through to bottom and leaving about 1/4 inch of potato intact (this will help them hold together). Arrange potatoes in pan 1 inch apart. Brush with 2 1/2 tablespoons butter. Sprinkle with 1 teaspoon spice rub.
Cover pan with aluminum foil and bake 30 minutes. Remove foil and drizzle potatoes (which should have opened up slightly) with remaining 2 1/2 tablespoons butter and 1 teaspoon spice rub. Bake, uncovered, until potatoes are crispy on edges and soft in the middle, 15 to 20 minutes. Garnish with parsley. Serve with sour cream alongside.
Classic Green Bean Casserole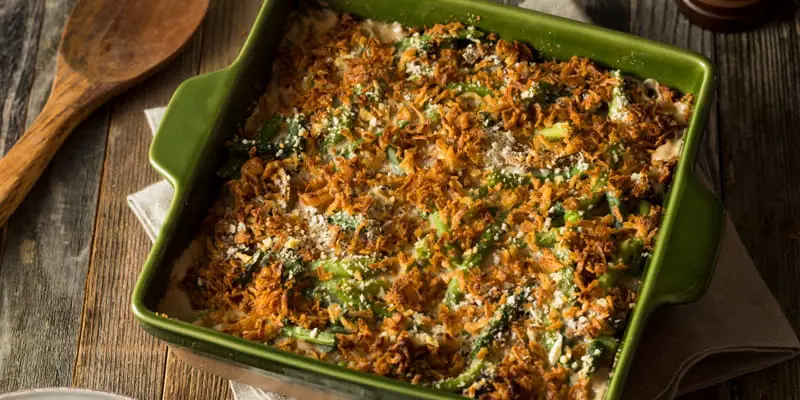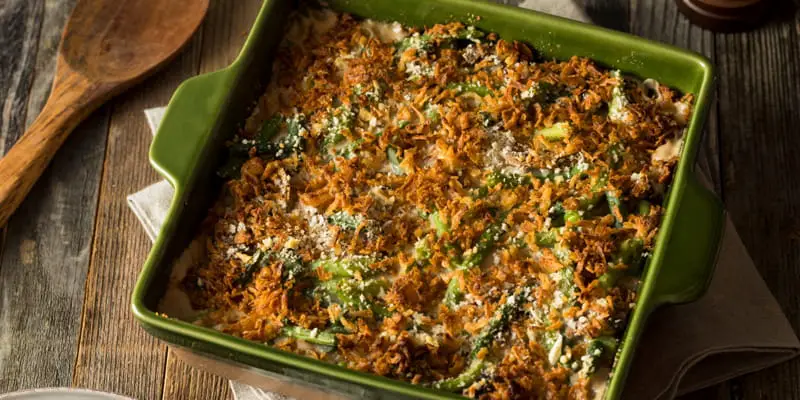 This Classic Green Bean Casserole by Lauren Miyashiro of Delish.com is truly the epitome of Thanksgiving side dishes. This dish ditches the canned cream of mushroom soup and opts for a simple make-it-yourself cream sauce and sautéed fresh mushrooms and looks absolutely delicious.
Ingredients
1 lb. green beans, trimmed
6 tbsp. butter, divided
1 onion, sliced into half moons
8 oz. sliced mushrooms
Kosher salt
Freshly ground black pepper
2 cloves garlic, minced
1/4 c. all-purpose flour
3 c. whole milk
1 1/2 c. French's fried onions
Directions
Preheat oven to 350°. Prepare an ice bath: In a large pot of boiling water, add green beans and cook until bright green, about 6 minutes. With a slotted spoon or tongs, quickly transfer green beans to ice bath to cool, then drain and transfer to a large bowl.
In a large ovenproof skillet over medium heat, melt 2 tablespoons butter. Add onion and cook, stirring occasionally, until tender, about 5 minutes. Add mushrooms and season with salt and pepper. Cook, stirring often, until mushrooms are golden, about 5 minutes more. Stir in garlic and cook until fragrant, 1 minute, then transfer mixture to green bean bowl.
In same skillet over medium heat, melt remaining 4 tablespoons butter. Whisk in flour and cook until golden, about 2 minutes. Gradually whisk in milk and season with salt and pepper. Bring to a simmer and cook until thickened, about 4 minutes. Remove from heat, then add green bean mixture and toss until even combined.
Bake until warmed through and bubbling, about 30 minutes. Top with fried onions and bake 5 minutes more.
Chef John's Candied Yams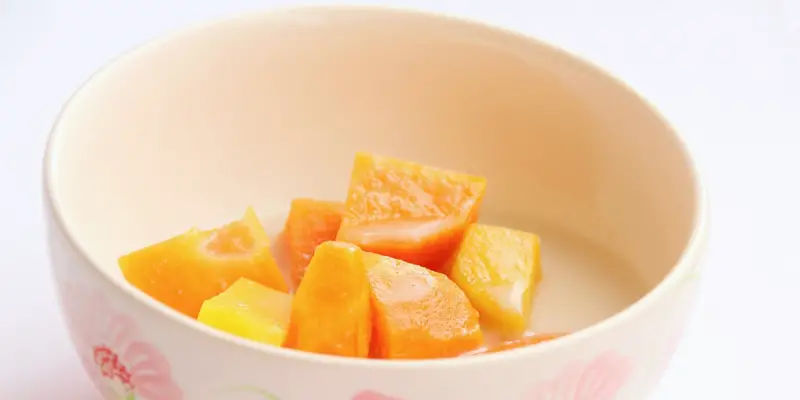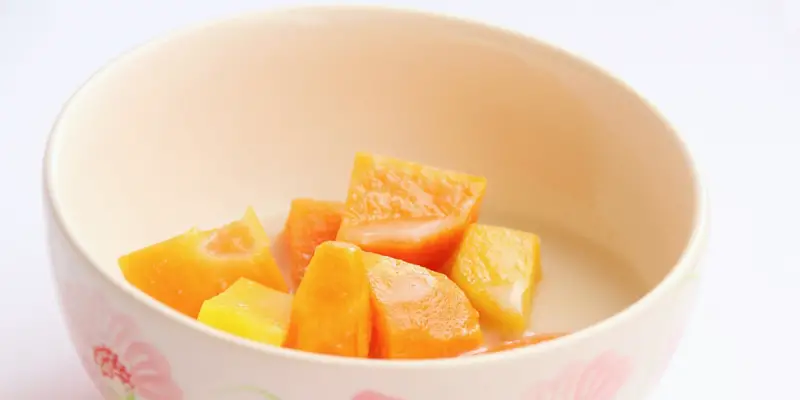 Yams are one of those Thanksgiving side dishes that you either absolutely love, or you skip every year with no regret. This year, why not try this fresh take on candied yams? Chef John of Allrecipes.com uses lemon instead of orange juice as a sweetener, making them just different and delicious enough to convert those yam non-believers.
Ingredients
Yams:
3 tablespoons kosher salt
2 quarts cold water
3 pounds orange-fleshed sweet potatoes, peeled and cut into 2-inch pieces
Glaze:
1 cup brown sugar
4 tablespoons unsalted butter
½ cup freshly squeezed lemon juice
¼ cup maple syrup
½ teaspoon ground ginger
¼ teaspoon ground cinnamon
1 pinch cayenne pepper
Salt to taste
Chopped pistachios, pecans, or walnuts for garnish
Directions
Stir salt into 2 quarts cold water in a large pot. Transfer sweet potato pieces to pot and place over high heat; bring to a simmer. Reduce heat to medium-low and simmer until potatoes are not quite tender but still cooked, 5 to 7 minutes. Use the tip of a knife to test for doneness. Drain.
Place brown sugar, butter, lemon juice, maple syrup, ginger, cinnamon, cayenne, and pinch of salt in a skillet. Place over medium-high heat, stirring until glaze ingredients melt and start bubbling. Continue cooking, stirring occasionally, until mixture begins to thicken up, 4 to 6 minutes.
Transfer drained sweet potatoes to skillet. Raise heat to high and cook and stir until potatoes are coated with glaze and very tender, and glaze has thickened, 5 to 8 minutes. Transfer to serving dish; garnish with chopped nuts.
If you're looking for more recipe inspiration or restaurant menu items, check out our list of all restaurants to compare food menus from your favorite restaurants.