The next time you drop by the Old Country Buffet don't be surprised if their menu has changed a bit and they're offering more. While classic and comfort food will always be there, today's food and beverage trend is all about creativity, so expect restaurants and casual diners to up the ante and offer you something different.
Tasting Only Menus
Multi-course tasting only menus are regular fares in pricy restaurants, but now many affordable diners are offering this option as well, giving their la carte menus a different look. These cost more than the usual fare you get in mid-tier restaurants, but keep in mind that it's a multi-course meal, so it's certainly worth a try.
Chicken is Big
There was a time when chicken was considered simply another menu option, but that's no longer the case as chefs and cooks are sprucing up the old favorite by adding more flavors and twists. Aside from the old favorite the chicken finger, it's no longer unusual for restaurants to serve the chicken with some foie gras, and that should give you an idea of how big it is today.
Fish is Back
Fish went out of favor some time back, but now it's back again, especially anchovies. Based on reports, anchovies are the most in demand, particularly the Spanish salted ones known as bocquerones. In addition, diners are also craving for more mackerel and sardines, testament to the growing popularity of fish.
Healthy Foods are In
If there's a common trend in US restaurants today, it's going green or healthy, and there's nothing surprising about that either. Once considered a fad, eating healthy has become a regular fixture in menu options and is going to stay there. Gluten free meals as well as vegetarian treats are now part of many casual diners' menu options.
Mideast Food is Coming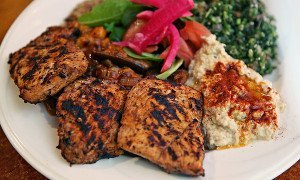 Cross cultural cuisine is nothing new in the US, but now there's growing interest in food from the Middle Eastern countries like Egypt, Iraq and Tunisia. There are more than a few Middle Eastern themed restaurants today, but expect the numbers to increase soon, and along with that the culinary offerings. And speaking of foreign food, Asian cuisine remains as popular as ever, and more flavors are coming out soon.
Beverage Trends
The biggest trend so far are DIY and homemade sodas, and it's something that industry observers say will continue as customers want more control over their beverages. Aside from soda, sour beer is becoming more popular. Sounds strange yes, but apparently drinkers are developing a taste for beers with a more acidic taste than usual. And there's also the ever popular pressed juice, and now they're no longer just for yoga fanatics as they've gone mainstream.
Whether you're eating at Perkins Restaurant or someplace else, you're bound to come across these foods and beverage treats. And don't think for a moment that new food trends will cost more, because thanks to competition you'll be able to savor them at prices you can afford.