It's no secret that in the last few years, Eggs Benedict has become one of the most popular breakfast/Sunday brunch foods of all time. I know it is certainly my go-to order at any possible opportunity. But what about when it comes to making it yourself? Eggs Florentine and Eggs Benedict can be difficult to perfect, but with a little practice, you'll be serving them up for Sunday brunch in no time.
Here are our tips for making the perfect egg breakfast:
Eggs Benedict
Before we get into the differences between Eggs Florentine vs Eggs Benedict, what exactly is Eggs Benedict in the first place? When ordering the traditional Eggs Benedict, it will always include toasted English muffin halves, two poached eggs, ham, and hollandaise sauce.
Eggs Benedict is one of the most popular breakfast/brunch foods in the United States, and some say this is due not only to its taste but also its history.
The History of Eggs Benedict
The history of Eggs Benedict has been told a handful of ways, but if you're interested, here is a quick summary of each of them:
Chef Charles Ranhofer of Delmonico's Restaurant, the very first restaurant ever opened in the United States, came up with the recipe himself in the 1860s. How did it get named Eggs Benedict? It was named after a regular customer of the restaurant, Mrs. LeGrand Benedict, who couldn't find anything she wanted to eat on the menu, and asked Chef Ranhofer to come up with something new. There is a recipe called Eggs a' la Benedick in his cookbook, The Epicurean, which was published in 1894.
In 1894, a Wall Street broker named Lemuel Benedict was looking for a hangover cure, and asked the Waldorf's esteemed chef, Oscar Tschirky for "some buttered toast, crisp bacon, two poached eggs, and a hooker of hollandaise sauce".Chef Tschirky was impressed with the combination, and put it on his breakfast and lunch menus. However, he chose to substitute Canadian bacon for crisp bacon and toasted English muffins instead of the toasted bread. Eggs Benedict was born!
Eggs Florentine
While Eggs Florentine is very similar to Eggs Benedict, there are certainly some differences. They both call for the same toasted English muffin and two poached eggs, but there are a couple of major variations. For starters, instead of ham, the Eggs Florentine has spinach instead. The second major difference is that a Mornay sauce is poured on top. However, many major restaurants continue to use the traditional hollandaise sauce of the Eggs Benedict. Technically, the traditional Eggs Florentine can also be made with a baked or scrambled egg instead of the poached egg, but I have yet to see it served this way in a mainstream restaurant. 
How to Make the Perfect Breakfast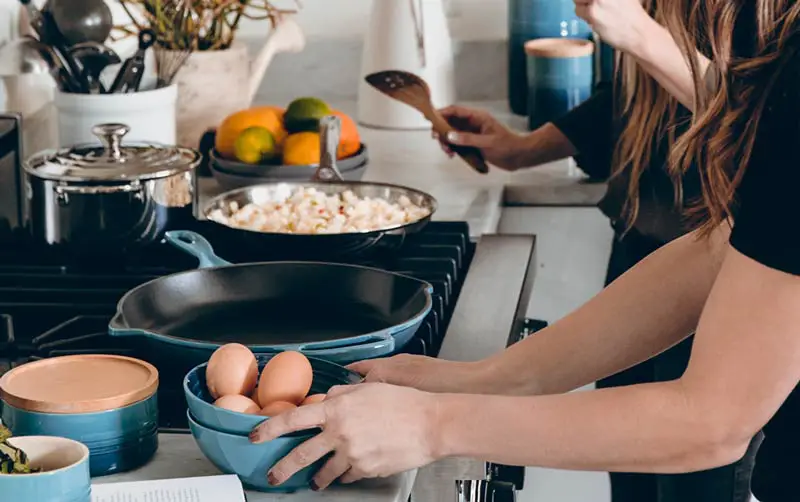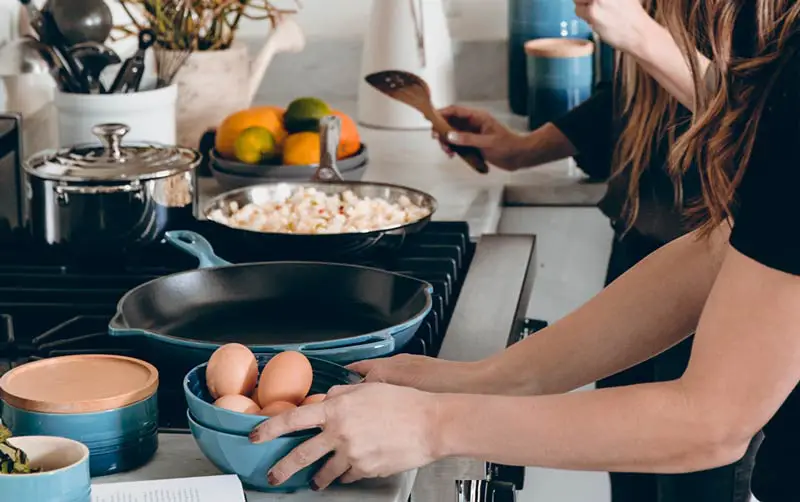 When it comes to Eggs Benedict and Eggs Florentine, it really comes down to the art of poaching an egg (which is nowhere near as easy to get right as it sounds), and an excellent hollandaise sauce. The whole process, once perfected, should really not take you more than 15 minutes.
The Hollandaise Sauce
While it may be easier to buy your sauce at your local grocery store (I understand you there), making your own from scratch is relatively easy, and is absolutely delicious. You can easily make hollandaise sauce in just a few minutes with an egg yolk, lemon juice, salt, cayenne pepper, and butter, and with nothing but a microwave and a blender (or a whisk) as your tools. Find the full details on how to make this recipe here.
How to Perfectly Poach an Egg
There are many slight variations on how to make a perfectly poached egg, but here is one easy way to master it:
Crack your large eggs into a bowl (this makes it easier to slide out onto your pan).
Add one drop of vinegar directly to the egg, or into the pan of water.
Prepare a pan of simmering water – this only has to be at least 5 cm deep.
Stir the water to create a subtle whirlpool – this is a step that's easy to get confused about, however it helps the egg white to wrap itself around the egg.
Slowly tip the egg into the center of the pan – the water should be simmering, not boiling, so there should only be small bubbles rising from the pan.
Cook for no more than 3-4 minutes, or until the white from the egg yolks has set.
Lift the egg out (preferably with a slotted spoon) and leave it to drain on a sheet of paper towel.
You will now have an egg that is perfectly poached!
Tip: Do not add any salt to your water; this will break up the egg white.
Assembly
If you're making classicEggs Benedict, start with placing your toasted English muffins onto a plate. Next comes your ham (or Canadian bacon, if you prefer). Slide your poached eggs on top, one per muffin half, and drizzle (or drown) in hollandaise sauce. Add salt and pepper, and parsley if you wish.
If you're making Eggs Florentine, the assembly is almost identical, with the exception of placing your steamed spinach on top of the toasted English muffins, followed by the poached eggs, and topped with the hollandaise or Mornay sauce. There are certainly many variations when it comes to Eggs Florentine, but this is the most basic.
Although there can be nothing better than finally mastering a recipe like Eggs Benedict, sometimes it can be just as good having someone make it for you. Looking for all you can eat Eggs Benedict for a very low price? Check out Golden Corral's buffet menu here. You can enjoy unlimited Eggs Benedict on Saturday and Sundays until 11:00am, which sounds just like heaven to us!