While there are hundreds of podcasts out there about food (and we love listening to them!) there aren't anywhere near as many for those who want to know what it's like to run a restaurant. And no matter what role you have in the restaurant industry, it can be hard to find the time to read up on how others are running their restaurants, and most importantly, how they are adapting to the COVID-19 pandemic. That's why we have compiled a list of the 5 best restaurant podcasts of 2020, so you can listen to them while you're rolling silverware or doing menial paperwork.
The Garnish
This informative and entertaining restaurant podcast can be found on Spotify, Apple Podcasts, Stitcher, RadioPublic, or on On the Line's podcast website. One of their most notable episodes discusses being a parent in the restaurant industry, featuring a sous chef, a pastry chef, a GM and a chef/owner.
On the Line gives the lowdown on their own restaurant podcast, The Garnish:
"The Garnish brings you stories and advice from restaurateurs, managers, chefs, servers, cooks, and everyone else who powers the restaurant industry. We re-launched the podcast in April 2019 and the format changes from episode to episode: some episodes weave together multiple interviews on one subject, and others are quick interviews with one guest. They range in length from 15-40 minutes, and cover topics like being a parent in the restaurant industry, addiction in restaurants, and how to retain your staff."
All in the Industry
This great show can be found on Apple Podcasts, Stitcher, or on the Heritage Radio website. It is part of the Heritage Radio Network, which is a Brooklyn-based radio station, broadcasting 35 different food radio shows. It focuses on conversations with "behind-the-scenes talents in the hospitality industry," which not only includes chefs and GMs, but guests like restaurant lawyers and food journalists.
Restaurant Unstoppable
This fantastic restaurant podcast was created by Hospitality and Marketing student Eric Cacciatore. It can be listened to on Spotify, Apple Podcasts, Stitcher, and the Restaurant Unstoppable website.
Marketing4Restaurants.com gives us one of their top picks for the best restaurant podcasts of 2020:
"Eric Cacciatore founded Unstoppable Podcast Restaurant as a platform for aspiring hospitality professionals or any professional in their career seeking personal development. He addresses topics of personal growth, leadership, management, marketing, and technology leveraging.  The powerhouse of the Best Restaurant Podcast 2020 list, Eric publishes twice a week."
Secret Sauce
Secret Sauce has made it their mission to help new restaurants get noticed in the food industry. This podcast gives advice on the best way to market your restaurant, giving you the low down on SEO, email marketing, Facebook ads, partnerships and more. You can find this show on Spotify, Apple Podcasts, and on Secret Sauce's website.
Restaurant Rockstars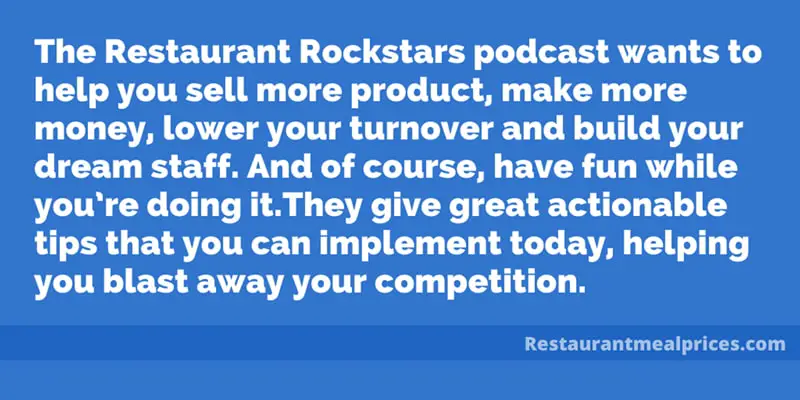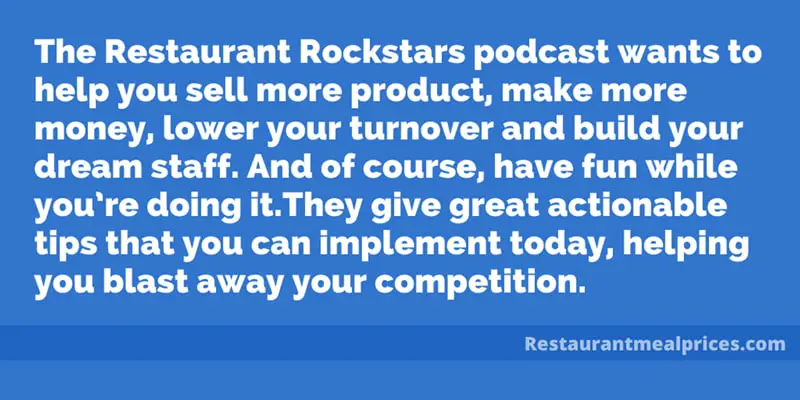 The Restaurant Rockstars podcast wants to help you sell more product, make more money, lower your turnover and build your dream staff. And of course, have fun while you're doing it.
They give great actionable tips that you can implement today, helping you blast away your competition.
Jackie Prange of Touch Bistro tells us why this restaurant podcast is seriously addictive:
"If you're looking for real-time tips from industry vets, the Restaurant Rockstars podcast is for you. Covering a range of topics, like customer service, marketing, and financial best practices, the Restaurant Rockstars podcast is made to help you implement better business practices." Check to see if restaurant menu pricing has changed, with favourites like Cici's Pizza, Golden Corral, and Cracker Barrel all here on our site. Check out our full list of all restaurants to compare more food menus.