It's not exactly a secret that we've all been spending plenty of time at home – and as a result, we've been using restaurant picker apps like crazy. Restaurant picker apps are a great way to see what's available in your area, whether that comes down to eating in, picking up or ordering right to your door. We're going to take a look at the best restaurant picker apps available, so you can start discovering restaurants in your area that you may not have known existed.
Zomato
Zomato, (previously known as Foodiebay), is one of India's biggest startup success stories. It was established by IIT Delhi alumnus, Deepinder Goyal and Pankaj Chaddah in 2008, as a way to fill the void in the food directory industry in India. It has now expanded to 24 countries, including India, Australia and the United States.
Makeuseof.com tells us why Zomato makes choosing a restaurant easy:
"Zomato doesn't require you to create an account to use it. Just launch the app, select your location, and the home screen will provide themed and popular recommendations by default. By tapping on filters, you can change your sort options using other common factors such as rating, cost, and distance. You can further filter your results by specific cuisine types, ratings, the cost for two, and more. Zomato also offers its users one-touch filters such as nearest to me, rating (4.5+), book a table, cafés, open now, and fine dining. So whether you have time to meticulously research or need to find somewhere quick, Zomato helps you out."
Yelp
If you are a part of the internet community, there's a good chance you've heard of Yelp and have used it yourself at least once or twice. Yelp has been around since 2004, when it was founded by former PayPal employees Russel Simmons and Jeremy Stoppelman. Yelp steadily grew in the following years, reaching $30 million in revenue by 2010 and over 4.5 million crowd-sourced reviews.
Paste Magazine explains why the popular Yelp is one of their favorites when it comes to selecting a restaurant: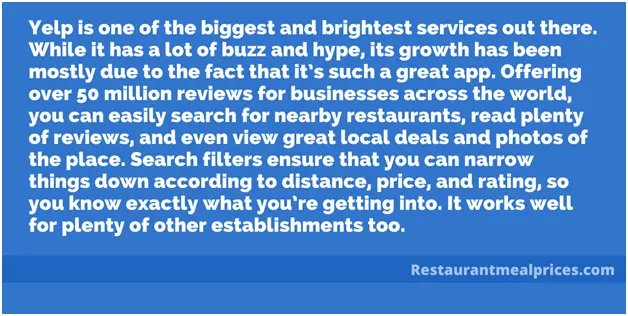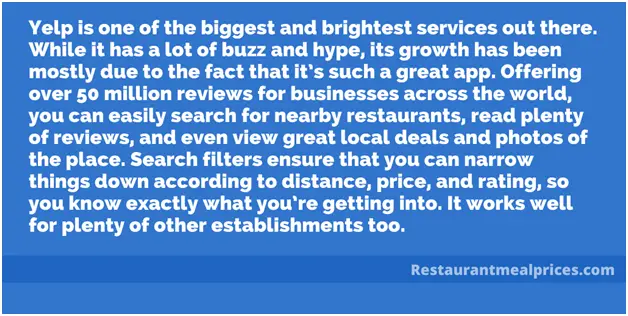 OpenTable
OpenTable has been around since 1998, when it was founded by Chuck Templeton. Now, it seats more than 23 million diners a month in 43,000 restaurants worldwide. It also acquired popular food photography app FoodSpotting in 2013, adding to its personalized experience.
Foodwellsaid.com tells us why OpenTable is great for not only finding new restaurants, but sharing the dishes you enjoy:
"If you want rewards for your restaurant escapades, OpenTable is the perfect app for you. Apart from being easy to use, users get points they can redeem for future dining experiences. Again, you can use the app to locate a restaurant, find your favorite cuisines, and make price comparisons. When something urgent pops up, you can cancel or change reservations and reorder later." Do you already know which restaurant you would prefer, or can't find the full menu online? We got you covered. We provide dozens of top restaurant menus and their prices all in one place, making it easy to plan ahead. Take a look at our selection here!