With 704 Red Lobster locations all across North America, you've likely enjoyed a Seaside Shrimp Trio and a Cheddar Bay Biscuit at some point in your life. While customers love coming to Red Lobster for its family-friendly atmosphere and great service, the real reason you come to a restaurant is for the contents of its menu. In this article, we uncover 5 things about Red Lobster that make it so fantastic, with many of these facts coming from employees themselves.
The best appetizer has just 130 calories
You might think to avoid Red Lobster if you're looking for a low-calorie meal. However, did you know that the best appetizer on the menu has only 130 calories? 
EatThis,NotThat! tells us which appetizer you should go for if you're looking for a low-calorie treat:

"Next time you find yourself at Red Lobster and you're totally starving, resist the urge to eat an entire basket of those delicious biscuits. The best way to tame your hunger is by ordering the shrimp cocktail, says Kari Ikemoto, RD. "It's low in carbs, calories, sodium, and fat and is rich in protein. Protein-rich foods promote satiety, which means you're less apt to overeat when you receive your entree," she says."
They have high standards for their seafood
If you've heard that most of Red Lobster's seafood is frozen, you're absolutely correct. However, Red Lobster is known to have some of the highest standards in the seafood industry, and will only take the best quality items from their supplier.
When they say 'endless,' they mean it
In the market for a ton of seafood at a reasonable price? Then consider heading over to Red Lobster for their Endless Shrimp Festival. You can gorge all you can eat shrimp for a reasonable price and get a seafood fix that will last you for weeks to come.
Delish.com tells us more about Red Lobster's Endless Shrimp Festival:

"Some customers have been known to eat more than 150 shrimp in one sitting during the "Endless Shrimp" festival. And yes, RL will keep on dishing 'em up as long as you keep asking. It's a pretty great deal, too. One diner asked an ex-employee if the Endless Shrimp deal was really that great, and they confirmed, saying if you crunch the numbers, it only takes eating two more shrimp than come with the meal, to get your money's worth."
The crab legs are a healthy choice
Looking for another healthy menu option? Opt for the crab legs. Of course, this doesn't include choosing to slather them with butter, but all in all, the crab legs are an excellent choice for a healthy, low-calorie meal.
You can never go wrong with Cheddar Bay Biscuits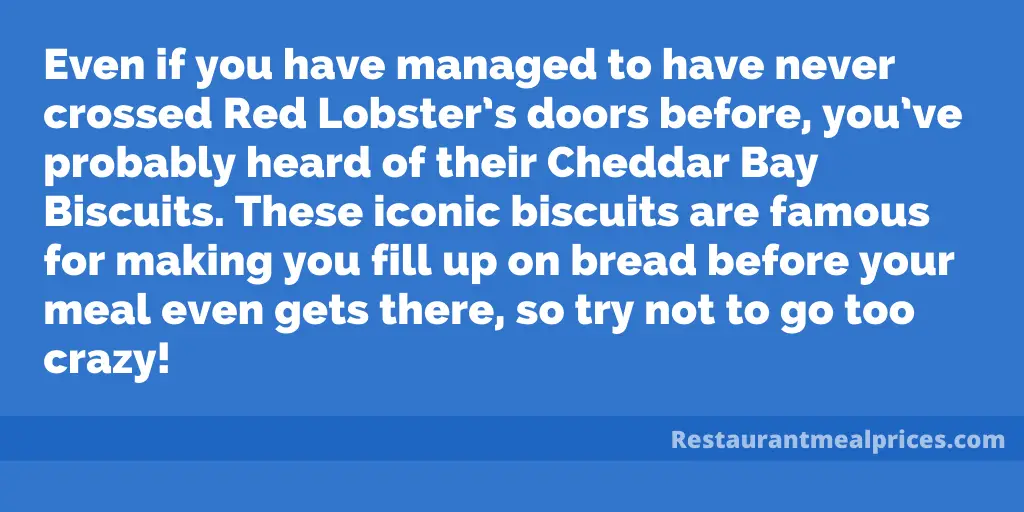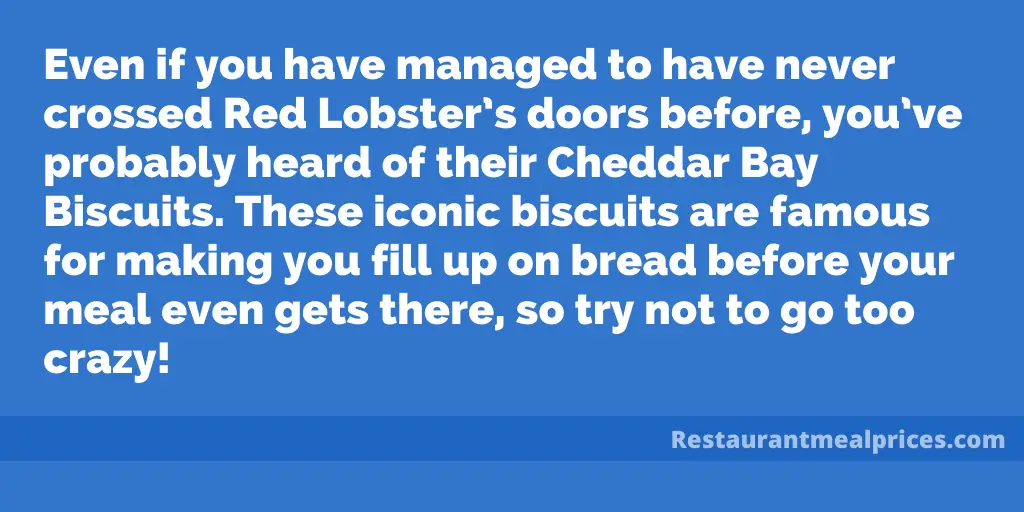 Even if you have managed to have never crossed Red Lobster's doors before, you've probably heard of their Cheddar Bay Biscuits. These iconic biscuits are famous for making you fill up on bread before your meal even gets there, so try not to go too crazy!
The Travel explains why you can never go wrong with Cheddar Bay Biscuits:

"The Cheddar Bay biscuits are one of Red Lobster's signature entrée. They are the equivalent to Olive Garden's bread sticks, however, they come warm and gooey and with fresh sharp cheddar cheese. What makes these little puffs of heaven even better is the melted garlic butter that is poured on top, once the biscuits come out of the oven."
Want to check out Red Lobster's menu for yourself? Check out their menu here, or have a look at all restaurants to compare food menus.