You have landed on the best page for the latest Zinburger menu prices. Zinburger Wine & Burger Bar is a casual sit-down restaurant chain best known for their certified Angus burger and hand cut truffle fries, sweet potatoes, and zucchinis. In addition to their gourmet burgers, Zinburger also offers fresh salads & sides, decadent shakes, and numerous desserts.
The menu in Zinburger is modestly priced, with the Zinburger pegged at ten bucks and the Ringer around the same price range. Their salads are also quite cheap and the Napa is sumptuous, and the Seared Ahi has become very popular with fish lovers. If you want to add some sides, there's the Hand Cut Fries or the Zucchini Fries, and you can also order a strawberry cheesecake to finish off your meal.
Below are the latest Zinburger menu prices.
Food
Price

Burgers

Zinburger
$10.50
Samburger
$11.50
Breakfast Burger
$12.50
The Double
$10.50
Kobe Burger
$15.50
Clint's "Almost Famous" Veggie Burger
$9.50
Seared Ahi Sandwich
$15.50
"Z" Best Chili
$9.50
The Plain & Simple Burger
$9.50
Turkey Burger
$10.50
El Diablo
$11.50
Southwest Chicken Sandwich
$10.50
The French Dip
$15.75
Big Bad Blue
$12.50
The Ringer
$11.50
No Buns
$10.50
Buffalo Chicken Sandwich
$10.50
The Nitro Burger
$13.50
Blanco Burger
$11.50
Build Your Own
$1.25 each topping

Greens

Chopped Wedge (small)
$5.50
Chopped Wedge (regular)
$8.50
The Napa (small)
$6.50
The Napa (regular)
$9.50
Farm (small)
$6.50
Farm (regular)
$9.50
Salmon Salad
$13.50
Seared Ahi
$15.50
Chinese Chicken
$12.50

Sides & Fries

Hand Cut Fries
$5.00
Sweet Potato Waffle Fries
$6.00
"Loaded" Fries
$7.00
Tater Tots
$6.00
Spicy Green Chili Fries
$7.00
Mac & Cheese
$5.00
House Made Onion Rings
$6.00
Double Truffle Fries
$6.00
Zucchini Fries
$6.00
Wasabi Coleslaw
$3.00
Cottage Cheese
$3.00

Shakes & Floats

Make It a Malt
$1.00
Creme Brulee
$6.00
Salted Caramel
$6.00
Strawberry Cheesecake
$6.00
Double Chocolate
$6.00
Bars of Zin
$6.00
Cookies & Cream
$6.00
Bananas Royale
$6.00
The Chocolate Covered Pretzel
$6.00
Butterfinger
$6.00
Chocolate Mint
$6.00
Black Cow Float
$6.00
50/50 Float
$6.00

Pies

Fresh Banana Cream
$5.00
Rich Chocolate Cream
$5.00

Kids

Hamburger
$7.00
Turkey Burger
$7.00
Chicken Strips
$7.00
Grilled Cheese
$7.00
PB & J
$5.00
Veggie Burger
$7.00
Grilled Chicken Sandwich
$7.00
Mac & Cheese
$5.00
Ever since Zinburger was founded the restaurant has been well-known for its exceptional menu selection as well as the ambiance of its diners. Apart from its famed open-air atmosphere, the restaurant also offers patio seating and a bar, the perfect place to eat some burgers and enjoy a float.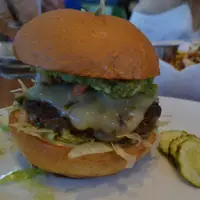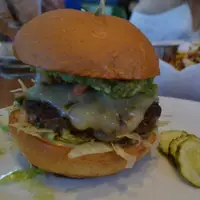 Apart from the menu mentioned earlier, Zinburger also offers American Cheese & Thousand Island Dressing, The Samburger with Nueske's Maple Bacon and the Manchego Cheese & Zinfandel Braised Onions.
For more information about Zinburger, please visit their official website.
Frequently Asked Questions
Can you order Zinburger to go?
The complete Zinburger menu is available for take-out.
Where did Zinburger open its first location?
Zinburger opened its first location in Clifton, NJ in The Promenade Shops on December 12, 2010?
What time does Zinburger open and close?
Hours of operation are 11 am – 10 pm Sunday-Thursday
11 am – 11 pm Friday- Saturday
What time is Zinburger Happy Hour?
Happy Hour times are Monday-Friday 3 pm- 6 pm.
Late night Happy Hour is daily from 9 pm- Close.