Umami Burger menu prices are here. Umami Burger is more the fast-casual dine-in choice for its headliners: hearty burgers, cocktails and craft beers. Unlike most hamburger restaurants, Umami (Japanese for "savory" owing to the suspected MSG seasoning) has waiter service and the majority of locations have a full bar.  The company was founded by Adam Fleischman in 2009 after starting up a wine bar in Los Angeles.
Below are the latest Umami Burger menu prices.
Food
Price

Greens

Umami Caesar
$8.00
Roasted Portobello
$11.00
Truffled Beet
$7.00
Seared Ahi
$12.00
Add Chicken
$3.00
Add Sesame-Crusted Ahi
$6.00

Sides

Maple Bacon Fries
$6.00
Truffle Fries
$5.50
Tempura Fries
$5.50
House Pickle Plate
$4.00

Burgers

Umami
$11.50
Truffle
$12.00
Throwback
$8.00
Sunny Side
$13.00
K-BBQ
$13.00
Manly
$12.00
Hatch
$10.50
Cali
$10.50
Ahi Tuna
$15.00
Greenbird
$12.50
Black Bean
$10.00
Add Thin Fries (Small)
$2.00
Add Thin Fries (Large)
$4.00
Sweet Potato Fries (Small)
$3.00
Sweet Potato Fries (Large)
$5.00
A Side Salad
$4.00

Kids Selections

U-Mini Cheeseburger Sliders
$8.00
All U-American Grilled Cheese
$8.00

All Kids

A Small Drink (milk or lemonade)
$0.00
A a Choice of Small Fries (thin or sweet)
$0.00
More information about Umami Burger
The burger menu includes: Umami (with Parmesan, shiitake mushroom, grilled tomato, caramelized onions, ketchup on the side), Truffle (truffled aioli, house truffled cheese, truffled glaze), Throwback (two 3.5 ounce seared beef patties, white cheddar cheese, miso mustard, soy pickles and minced opnions), Sunny Side (Parmesan crisps, friend egg, compounded truffle-thyme butter, truffled arugula, and truffled aioli), K-BBQ (Korean-style gochujang glaze, caramelized kimchi, sesame aioli, Korean ketchup and scallion-cilantro salad on the side), Manly (cheddar cheese, bacon, mixed with lardons [the small strip or cube of pork fat used to flavor the patty], smoked-salt onion strings, mustard spread, Umami house ketchup, mustard and house beer on the side)
Ersatz Patties and Specials: Hatch (roasted hatch chilies, house Cali cheese, roasted garlic aioli), Cali (butter lettuce, grilled tomato, caramelized onions, house spread, and house Cali cheese), Ahi Tuna (seared Ahi patty, daikon radish sprouts, crushed avocado, gingered carrots, wasabi flake, and wasabi tartar), Greenbird (turkey patty, crushed avocado, green cheese, buttered lettuce, sprouts, and green goddess salad dressing, containing mayonnaise, sour cream, chervil, chives, anchovy, tarragon, lemon juice, and pepper) and Black Bean (chipotle black bean patty, hard queso cotija cheese, guacamole, street cart pickles and cilantro).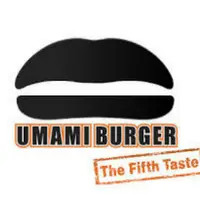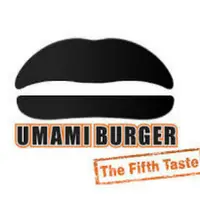 Other items on the menu are bourbon, craft beer and the usual sides of salads, fries, and onion rings.
Though a Southern California start-up (and 15 branches altogether in that part of the state), Umami has since expanded to New York (3 locations) and points west: Chicago, Illinois, Nevada, and Northern California (4) for a total of 24.
For more information about Umami Burger, visit their official website.