Taybarns is an English all-you-can-eat restaurant chain that started in 2007 at Swansea by Whitbread PLC, which is also a Multinational Hotel. Taybarns announced that it was going to expand to 30 locations on its second year but at present date, they are still managing only six other locations found in Barnsley, Coventry, Newcastle-under-Lyme, Gateshead, South Shields, and Wigan.
Below are the latest Taybarns menu prices.
Food
Price

Weekdays

11.30am 'till 6.00pm
£5.99
6.00pm 'till late
£7.99

Weekends

11.30am 'till late
£9.99

Kids

Kids 12 and under

All day every day!
£4.40

Soft & Hot Drinks

Bottomless Softs

Pay One Price And Then Refill Your Glass As Many Times As You Like

Pepsi
£2.49
Diet Pepsi
£2.49
R Whites Lemonade
£2.49
Tango Orange
£2.49
Tango Apple
£2.49

J20

Apple & Mango
£1.80
Orange & Passsion Fruit
£1.80
Apple & Blueberry
£1.80
Robinsons Fruit Shoot
£1.30
Orange, Apple & Blackcurrant Robinsons Fruit Shoot H20
£1.30
Orange or Blackcurrant Decante Sparkling
£1.40
Decante Still
£1.40

Hot Drinks

Unlimited Refills

Americano
£2.49
Cappuccino
£2.49
Caffè Latte
£2.49
Espresso
£2.49
Hot chocolate
£2.49
Freshly Brewed Tea
£2.49
Taybarns is a low cost all-you-can-eat restaurant that is modeled from the Golden Corral chain of the Unites States. Declared as the "Ultimate Eatery", Taybarns boasts of its 34-meter food counter that contains freshly-baked pizzas served straight from the ovens, Chinese dishes cooked in woks, freshly cooked joints of meat with all the trimmings, delicious rotisserie chickens that you can acutaully see being roasted in the rotisseries, plus tasty pastas and crisp healthy salads at the salad section.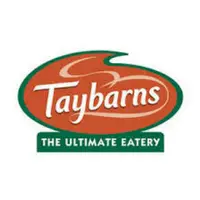 There is no secret to Taybarns popularity. They serve the food that everyone loves. They cook and prepare all these cuisines right in front of the customers. And, they serve all of them under one roof for one simple low price. For anyone who would like to eat the most adorned foods in the world, you simply have to go to a Taybarns eat-all-you-can restaurant and indulge yourself to all of these delicious treats.
For more information about Taybarns, visit their official website.