The page for Rock Bottom menu prices. Rock Bottom specializes in offering guests handcrafted beer and made-from-scratch dishes at over 30 locations across the US. Rock Bottom's menu consists of traditional pub fares like burgers, sandwiches, and pizza. Guests can also enjoy other items such as appetizers, salads, steaks, and specialty created entrées.
Each Rock Bottom location serves a variety of locally crafted beers made in small batches and served on tap.
Below are the latest Rock Bottom menu prices.
Food
Price

Starters

Asiago Artichoke and Crab Dip
$10.79
Jalapeno Pretzel Stix

$8.29
Bacon Jalapeno Poppers
$10.99
Ball Park Pretzels
$8.79
Southwest Egg Rolls
$9.99
Crispy Chicken FIngers
$8.99
Firecracker Shrimp
$10.99
Fried Pickles
$7.59
Guacamole Made-to-Order
$9.09
Grilled Chicken Quesadillas
$10.99
Grilled Veggie Quesadilla (Vegetarian)
$9.99
Wings - Regular
$10.29
Wings - Large
$15.29
Brewery Nachos
$9.99
Brewery Nachos with Chicken
+$2.49
Brewery Nachos with Beef
+$2.69
Brewery Nachos with Guacamole
+$1.49

Salads & Soups

Santa Fe Ranch Chicken Salad
$13.29
Chicken Waldorf Salad
$12.79
Grilled Steak & Portobello Salad
$15.99
Brewer's Cobb Salad
$12.79
Chopped BBQ Chicken Salad
$11.19
Greenhouse Salad
$4.29
Classic Wedge
$6.99
Chicken Tortilla Soup - Cup
$3.59
Chicken Tortilla Soup - Bowl
$5.59

Crafted Entrées

Bacon Chicken Mac 'N Cheese
$14.99
Classic Mac 'N Chicken
$13.99
Veggie Mac 'N Cheese
$12.49
Pretzel-Crusted Chicken
$14.79
Sizzling Stuffed Peppers
$12.49
Mango Jabanero Chicken
$14.99
Chicken Fried Chicken
$14.49
Lobster & Shrimp Enchiladas
$15.49
Fish & Chips
$14.29
Jambalaya
$13.99
Cajun Pasta
14.29
Blackened Creole Salmon
$18.49

Housemade Tacos

Cajun Fish
$13.99
Veggie
$12.49

Lighter Choices

Grilled Beer-Glazed Chicken
$13.79
Smoked Chicken Tostada
$12.79
Smoked Chicken Tacos
$11.99

Hot Off the Grill

USDA Choice Top Sirloin - 10 oz
$18.99
Texas Fire Ribeye - 12 oz
$22.49
USDA Choice Ribeye - 12 oz
$22.49

Burgers

3/4 LB. Fireman's Burger
$13.79
Bacon Cheddar Burger
$10.99
Maker's Mark® Bourbonzola Burger
$11.29
Rock Bottom's Classic Burger
$9.99
Pub Burger
$11.99
2:00 A.M. Burger
$11.49
Veggie Burger
$9.49

Sandwiches & Pizzas

Avocado Chicken Sandwich
$11.29
Pulled BBQ Pork Sandwich
$10.49
Brewer's Club Sandwich
$10.79
Hickory Bacon Chicken Sandwich
$9.99
Baja Chicken Sandwich
$10.49
Pepperoni Pizza
$11.49
Margherita Pizza
$10.49
The Italian Pizza
$11.79

Desserts

Carrot Cake
$7.29
Fudge Brownie
$6.79
New York-Style Cheesecake
$6.99
Bourbon Pecan Pie
$6.99
Salted Caramel Toffee
$6.99

Lunch Specials

Available Mon.-Fri. 11 am - 2 pm

Smashed Burger
$5.00
Crispy Baja Chicken Sandwich
$5.00
Soup & Salad
$5.00
Soup & Wedge Salad
$7.00
Pizza - Margherita or Pepperoni
$8.00
More information about Rock Bottom Brewery
Rock Rewards Loyalty Program
Go there often? Join the Rock Rewards loyalty program where you will be treated like a ROCK star. Regulars earn points for ever dollar spent at Rock Bottom. Every hundred points earned qualified for a $10 credit on the next visit. 
Want to share your excitement for Rock Bottom? Purchase gift cards to give to family and friends.
This restaurant has received good reviews for their beer and dishes like the avocado chicken sandwich with hickory bacon and the Smashed and Stacked Burger.  These items are good with a huge serving of fries and onion rings.  Other diners like the rib eye steak with bourbon glaze, gorgonzola cheese, and crispy onion straws.  Rock Bottom's beers go well with hand twisted pretzels with jalapeño spinach cheese dip.
They also serve cocktails and the Brewery Platter appetizer, which is a tray of crispy nacho chips with loads of creamy dip.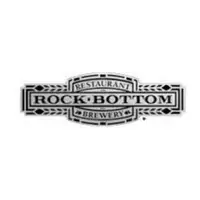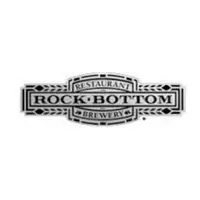 Rock Bottom's beer is so excellent that they have received numerous awards over the years.  Their La Jolla and San Diego Locations each won a medal at the Great American Beer Festival in 2009.  In 2012, Rock Bottom won the Brew Pub Group Brewer of the Year" award.  Many beer enthusiasts go to this brewery for the beer and comfortable laid-back atmosphere.
For more information about Rock Bottom, please visit their website.
Frequently Asked Questions
Does ROck Bottom accept reservations?
Yes, Rock Bottom does accept reservations via phone or on their website through a third-party app.