Marlow's Tavern menu prices at your fingertips. Marlow's Tavern is a bar & grille chain that offers a classic setting for an American pub fare & sports on TV. Marlow's Tavern features the "Best of the Best" in American tavern fare served in a modern atmosphere.
The menu offers a diverse combination of classic dishes that are updated and elevated to a higher level. Marlow's Tavern has a warm neighborhood yet contemporary feel. It currently has 6 locations in Florida and 17 locations in Georgia.
Below are the latest Marlow's Tavern menu prices.
Food
Price

Start | Snack | Share

(Winter-Menu)

Chicken Queso Soup
$6.00
Truffled Parmesan Fries
$4.50
J.T.'s Kettle Chips
$8.50
Shrimp & Crab "Nacho" Plate
$10.50
Hot & Sweet Wings
$12.00
Wild Mushroom Toast
$12.00
Firecracker Shrimp
$11.00
Lump Crab Cake
$13.00
Smoked Trout Dip
$8.00
Ahi Tuna Poke
$12.00
Killer Calamari
$10.50
Asparagus Fries
$5.50
Marlow's Famous Hummus
$6.50
Handcrafted Flatbread
Varies

Tavern Favorites

Crispy Chicken Stack
$14.00
Pan Seared Snapper
$18.00
Grilled "Center Cut" Filet
$20.00
Shrimp & Grits
$16.00
Crispy Short Rib
$17.50
Grilled Salmon
$17.00

Classic Tavern Burgers

Come with "Hand-Cut" Tavern Fries

Tavern Burger
$9.00
Burger Lettuce Wrap
$9.00
Grilled Chicken
$8.50
"House-Made" Black Bean Veggie Burger
$8.00
Black And Blue Burger
$11.50
Royale With Cheese
$14.50
Tavern "Double Cheese" Cheeseburger
$10.00

Crisp | Cool Salads

Tavern
$6.00
Black & Blue Steak
$13.00
BBQ Blazed Lamb
$15.50
Asian Ahi Tuna
$15.00
Baby Kale Caesar
$6.00

Big Bar Sandwiches

Come with Choice of a Side Bar Selection

"Infamous" Fish Tacos
$10.50
Roast Turkey Club
$12.00
Prime Rib French Dip
$15.50
Grilled Chicken Panini Stack
$11.70
Buffalo Chicken Wrap
$9.50

Sweet Stuff

Classic Creme Brûlée
$6.00
Lemon Olive Oil Cake
$6.00
Warm Chocolate Cake
$6.00

Kid's-Fun Foods

Pita Pizza
$5.00
Tavern-Style Chicken Fingers (Grilled)
$5.00
Tavern-Style Chicken Fingers (Fried)
$5.00
Crazy Cheese Quesadilla (Fried)
$5.00
Crazy Cheese Quesadilla (Grilled)
$7.00
Big Kid Steak
$9.50
Captain Marlow's Fish Sticks
$5.00
Surf & Turf
$6.00
Two Tiny Burgers
$5.00
The Cheesiest Mac & Cheese
$5.00
More information about Marlow's Tavern
Marlow's Tavern Insider Club
Fans of Marlow's can sign up to receive regular updates regarding offers, promotions, events and special invitations. Sign-up is free and can be completed on Marlow's website.
Marlow's Community Support
Each Marlow's location works to give back to their local community by supporting artists, farmers, and causes. Organizations such as Speical Olympics and American Cancer Society have benefited from Marlow's support.
Marlow's Tavern has a complete set of meals that cover light and creative starters, crisp cool salads, big bar sandwiches, classic tavern burgers, tavern favorites comprising of chicken and seafood entrees, sidebars, kids' meal and sweet desserts.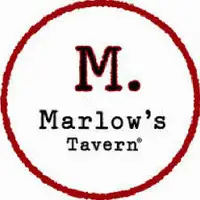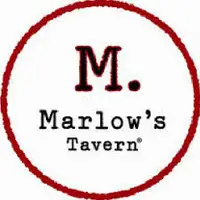 Marlow's Tavern utilizes a black and white motif to create a sleek fashionable look that is accented by black and white photographs and Chicago-style brick walls. A neighborhood "feel" is accomplished through an open kitchen that invites customers to observe the chefs at work. Communal tables in the bar and large cozy booths are in place to create a bar setting. Several flat screen plasma TVs are discreetly incorporated to allow guests to enjoy a variety of shows while they dine. Marlow's is a meeting place for all seasons with spacious patios that are open all year round to allow guests to enjoy cocktails and tavern specials under the stars.
For more information about Marlow's Tavern, visit their official website.