John's Incredible Pizza is a famous pizza chain that offers a mix of great tasting pizza and other food items with indoor games and rides resulting in the ultimate FUN environment in one location. The all-you-can-eat buffet concept at John's Incredible Pizza includes pizza, pasta, soup, fried chicken, salad and an assortment of sides.
Along with great food, each location offers over 100 games, amusement park rides, and themed dining rooms. John's Incredible Pizza is the perfect location for a birthday party or a family night out.
Below are the latest John's Incredible Pizza menu prices.
Food
Price

Admission

Includes our All You Can Eat Buffet

Pizza * Pasta * Chicken * Soup * Salad * Dessert

Adults

Ages 13+
$10.49

Seniors

Ages 55+
$9.49

Weekday Lunch Special

(Monday - Friday, 11am - 3pm)

Adults
$7.49
Seniors
67.49

Kids

2 & Under (with paying adults)
FREE
Ages 3-6
$4.99
Ages 7-12
$6.49

Unlimited Beverages

Soft Drinks * Ice * Iced Teas * Coffee * Hot Chocolate * French Vanilla & Caramel Cappuccinos

All You Can Drink (All Ages)
$1.99

Beer & Wine

Beer - Domestic (Regular)
$3.99
Beer Light * Coors Light (Large)
$5.99
Beer - Premium (Regular)
$4.99
Dos Equis Lager * Firestone 805 * Shock Top
$6.99

Wine - By The Glass

Robert Mondavi: Chardonnay * Merlot * White Zinfandel
$7.49

Extras

Gluten-Free Pizza 10" (Per Pizza, Cheese/Pepperoni Only)
$2.49

John's Military Discount

All military service members and their spouse and children receive 10% off their buffet & beverage purchase with valid/active Military ID Card (tan, red, green or blue).

FunCard Pricing

FunCard Special (75 Credits) - Save $3.75
$14.99
FunCard Special (100 Credits) - Save $7.50
$19.99
FunCard Special (125 Credits) - Save $11.25
$24.99
1 Credit
$0.25
New Card Activation Reload your FunCard and save!
$0.25
More information about John's Incredible Pizza
Theme Rooms 
Curious about the theme rooms. Search no more. Each location houses 5-6 different theme rooms. Stay and relax in the Cabin Fever room. If you love sports, claim your table in the Hall of Fame room. Like watching extreme sports athletes defy gravity? Check out the Vertical Room. Everybody likes watching and dancing to music videos. Head over to the Fusion Room. Adults need their own special place. The Veranda Room is for them. For those guests that enjoy watching cartoons on TV, the Toon Time Theater is the place to be.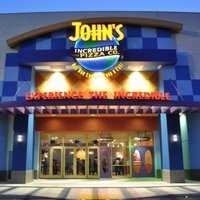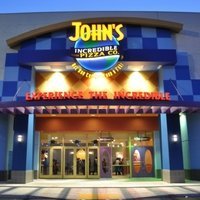 Employment
John's Incredible Pizza is always looking to add hard-working, outgoing team members that thrive in working in a fast-paced, fun environment. Future team members can view all current openings on the John's Incredible Pizza Employment page online.
History
In 1997, founder John Parlet opened the first John's Incredible Pizza in Victorville, California. Today, there are 11 John's Incredible Pizza locations, mainly on the West Coast. The company is privately held and headquartered in Rancho Santa Margarita, California
For more information about John's Incredible Pizza, visit their official website.
Frequently Asked Questions
What are the typical hours of operation for John's Incredible Pizza?
Operating hours vary by location. Typical hours are:
Monday – Thursday: 10:00 am – 10:00 pm
Friday – Saturday: 10:00 am – 11:00 pm
Sunday: 11:00 am – 9:00 pm
Does John's Incredible Pizza serve alcohol?
John's Incredible Pizza does offer beer, wine, and margaritas.