With the start of fall comes changing leaves, pumpkin spice lattes, and sweater season. Unfortunately for restaurants trying to stay afloat during the pandemic, it also comes with cooler weather – and cooler weather signals the limited amount of time left in patio season, for those states who experience the cooler weather that accompanies fall and winter. In this article, we take a look at what restaurants are doing to prepare for the winter season, and how they will enable physical distancing as outdoor dining declines.
Keeping Outdoor Spaces Inviting
While they are still free of snow and frost, local restaurants have started to become creative in planning alternatives to keep outdoor spaces warm and inviting in the fall months. While the weather is still a comfortable enough temperature to sit outside, restaurants are investing in replacing furniture and adding additional touches in order to generate some heat.
Heather Lalley of Restaurant Business talks about how a local California business plans to keep their patio inviting as much of the country prepares for the cold weather to rush in.
"Servino Ristorante, which sits on the waterfront just north of the Golden Gate Bridge, has two patios decked out with built-in heating systems. Since then, though, the restaurant has added other enhancements to keep diners comfortable in cooler weather, Servino said:
Replacing metal outdoor furniture with tables and chairs made from materials that feel warmer to the touch
Adding greenery and shrubbery to not only help provide physical distance between tables but to also serve as a shield from wind whipping in off the water
Offering blankets that are laundered between each use"
Adding New Revenue Streams
Restaurants have accepted that simply offering takeaway may not be enough. Adding a delivery service for their dishes may be a start (if they don't have one already), however restaurants are considering how they will add additional revenue streams on top of it.
Shirin Rajaee of Fox 5 DC tells us how local businesses have accepted that they may need to come up with new ways to add to their revenue streams.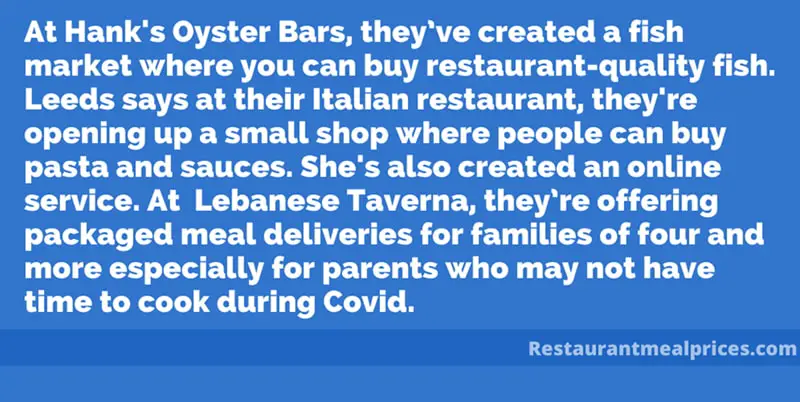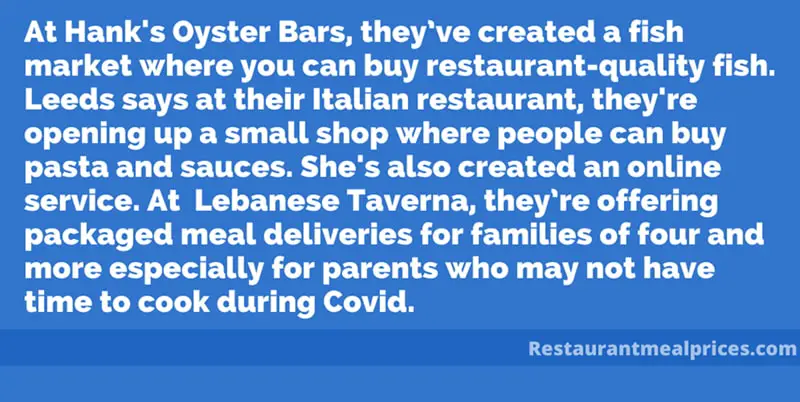 Partial Enclosures
For states that experience the snow and harshness of winter, adding a few changes to their outdoor decor won't be enough for the coldest months of the year. This is why restaurants are exploring the idea of investing in partial enclosures of outdoor areas in order to be able to maintain some sort of indoor seating for their customers.
Sari Lesk of Bizjournals.com tells us how President and Chief Executive Officer of the Wisconsin Restaurant Association David Marcus anticipates restaurants in colder climates will handle the weather change:
"Come winter, though, Marcus said restaurants will be back at their interior capacity unless they develop creative solutions. For properties in Hospitality Democracy's portfolio, Marcus said the company wants to partially enclose some of its outdoor areas and add heaters to maintain some of its spaced outdoor seating when the weather turns." Check to see if restaurant menu pricing has changed, with favourites like Cici's Pizza, Golden Corral, and Cracker Barrel all here on our site. Check out our full list of all restaurants to compare more food menus.