Game on for Gameworks menu prices. GameWorks is a unique place to create and celebrate memorable experiences because it is an entertainment center where people can enjoy delicious food, friendly games, and fun sports for the entire family.
The center's goal is to provide a safe gaming experience with wholesome activities that everyone will enjoy, from adults, kids, and teenagers. There are seven locations across the United States that offer classic and trendy arcade games, American comfort food, and a wide range of cocktails, craft beers, and beverages.
Below are the latest Gameworks menu prices.
Food
Price

Sharable

GameWorks Chicken Wings
$12.00
GameWorks Nachos
$12.00
Philly Cheese Steak Egg Rolls
$10.00
Classic Chicken Quesadilla
$10.00
Meatball Slider Trio
$11.00
Loaded Fries
$10.00
Slider Trio
$10.00
Chicken Tenders
$11.00
Veggie Rangoon
$9.00
Mac and Cheese Balls
$9.00
Spinach and Artichoke Dip
$10.00
Golden Fried Calamari
$11.00
Mozzarella Sticks
$9.00
Sweet Thai Chicken Quesadilla
$10.00

Pizzas

Cheese
$10.50
Pepperoni
$11.00
Sausage and Pepper Rustica
$11.50
Pizza Margherita
$10.00
Pizza Bianchi
$12.00
Stromboli
$9.00

Salads

Chicken Caesar Salad
$10.00
Classic Cobb Salad
$11.00
Iceberg Wedge Steak Salad
$12.00
House Salad
$8.00

Sandwiches

GameWorks Burger
$12.00
Buffalo Chicken Wrap
$9.00
California Chicken Club
$10.00
Philly Cheese Steak
$13.00
Turkey Club
$13.00
Triple Decker B.L.A.T.
$10.00
Sweet Thai Chicken Sandwich
$11.00
Chicken Caesar Wrap
$9.00
French Dip
$14.00

Entrees

Fettuccine Alfredo
$10.00
Penne Pasta
$14.00
Chicken Marsala
$14.00
Seared Salmon (8oz.)
$16.00
Fish & Chips
$14.50
Short Ribs
$17.00
Steak and Waffle Fries (8oz.)
$18.00

Desserts

Four Layer Double Chocolate Cake
$7.00
Molten Bolten Brownie
$7.00
Classic Root Beer Float
$7.00

Deals

Dine & Play Combo (Everyday)

Select Entrée and 1-hr. Video Game Card
$14.99
Select Entrée and 2-hr. Video Game Card
$21.99

Sunday Family 4-Pack

Family of 4-Pack Combo
$9.99/person
Large 16" 1-Topping Pizza and (4) 1-hr. Video Game Cards

Play Your Way Thursday (Thursdays, 5pm - close)

All Video Games for Only
$10.00

Happy Hour! (Monday thru Friday, 3pm-7pm)
More information about Gameworks
The concept of creating an entertainment center such as GameWorks is from the joint venture of Sega, DreamWorks SKG, and Universal Studios. While it has not been a smooth sailing business adventure for the establishment, through the help of an investment group in 2011, GameWorks was able to bounce back, even acquiring several assets of Jillian's Billiards Clubs from the states of California, Virginia, and Washington, and branching out internationally to make them well-known worldwide.
Gameworks Gameperks Rewards Program
Regulars of Gameworks can sign up to be a part of the GamePerks rewards program. Members get rewarded for every time they visit a Gameworks location. Members also receive regular emails about special promotions, offers, and upcoming events.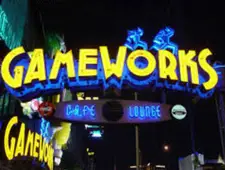 GameWorks provide classic American dishes, which include affordable sandwiches, pasta entrees, and family combos, all for the cost of not higher than $20.00. Family and friends can feel at home while chilling in the dining room or watching the latest football game drinking iced cold beers. The place also offers a Happy Hour from Monday to Friday to make sure guests have the time of their lives.
For more information about Gameworks, visit their official website.
Frequently Asked Questions
What time is Happy Hour at Gameworks?
Happy Hour is between 3:00 pm – 7:00 pm, Monday – Friday.