Look no further for Fleming's menu prices. When guests visit Fleming's Steakhouse, they quickly realize that their obsession to detail ensures that a steak dinner is delivered with perfection. Fleming's only uses USDA Prime Beef which is either wet- or dry-aged for a specific number of days.
Fleming's steak expertise is paired with its top-rated wines from around the world plus unique local wine selections. The perfect wine enhances the steak dinner. Fleming's helps guests select the perfect wine to accompany their dinner on a tableside custom app that chooses a wine based on the guest's meal or mood.
Below are the latest Fleming's menu prices.
Food
Price

Appetizers

French Onion Soup
$10.95
Roasted Mushroom Ravioli
$13.50
Baked Brie
$12.50
Tenderloin Carpaccio'
$15.95
Pan-Crisped Pork Belly
$16.50
Sweet Chile Calamari
$14.95
French Quarter Barbecue Shrimp
$16.50
Shrimp Cocktail
$17.95
Jumbo Lump Crab Cakes
$18.50
Chilled Seafood Tower
Market Price

Small Plates

Sliced Filet Mignon
$20.95
Colossal Shrimp Skewers
$19.50
New Zealand Petite Lamb Chops
$21.95
Braised Short Ribs Of Beef
$18.50
Seared Ahi Tuna
$17.95
New Bedford Scallops
$21.95
Fleming's Lobster Tempura
$24.95

Salads

Fleming's Salad
$9.50
The New Wedge
$9.95
Heirloom Tomato & Housemade Burrata
$10.50
Modern Caesar
$9.50

Entrees

Barbecue Scottish Salmon Fillet
$35.50
Broiled Pacific Swordfish
$32.95
Alaskan King Crab Legs
$43.95
North Atlantic Lobster Tails
$51.95
Double-Thick Pork Rib Chop
$33.95
Double Breast Of Chicken
$30.95

Sides

Fleming's Potatoes
$10.95
Baked Potatoes
$9.95
Mashed Potatoes
$9.50
Double-Cut French Fries
$9.95
Signature Onion Rings
$9.95
Chipotle Cheddar Macaroni & Cheese
$9.95
Sautéed Mushrooms
$10.50
Rosemary & Garlic Cipollini Onions
$8.95
Sautéed or Creamed Corn
$9.50
Sautéed or Creamed Spinach
$9.50
Sautéed French Green Beans
$9.95
Grilled High Country Asparagus
$10.95

Steaks

Main Filet Mignon
$44.50
Petite Filet Mignon
$40.95
Newport Filet Mignon
$37.95
Prime Ribeye
$49.50
Prime Bone-In Ribeye
$51.95
Prime New York Strip
$50.95
Prime Bone-In New York Strip
$52.50

Dry-Ages Steaks

(Limited Availability) offers a rich, bold flavor with a distinctive nutty note.

Prime Ribeye
$55.50
Prime New York Strip
$56.95

Fleming's New Classics

Porcini-Rubbed Filet Mignon
$42.95
Peppercorn Steak
$45.50

Steak Companions

Truffle-Poached Lobster
$12.50
Diablo Shrimp
$10.50
King Crab With Herb Butter
$11.95
Flavor Trio
$3.95

Three steak spreads - gorgonzola and mascarpone brûlée, sweet onion bacon jam and cabernet-mustard.

Complimentary Sauced Upon Request

Peppercon, bearnaise, chimichurri

Prime Rib Dinner
$39.95

Only Available on Sunday served with a trio of sauces, includes your choice of The New Wedge, Modern Caesar of Fleming's Salad, one side dish and dessert.
Additional Information about Fleming's Steakhouse
Friend of Fleming's
Friend of Fleming's is an email subscription newsletter that guests can sign up to receive. By signing up, guests will receive exclusive offers, the latest news at Fleming's, and a special gift on their birthday. Sign up is accomplished online via Fleming's website.
History of Fleming's Steakhouse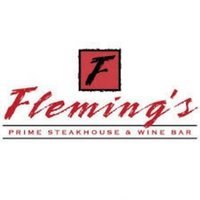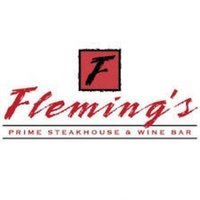 In 1998, restaurateur Paul Fleming and Bill Allen opened the very first Fleming's in Newport Beach, CA. As of 2017, there are 69 locations across the US. Fleming's Steakhouse is a wholly-owned subsidiary of Bloomin' Brands International and is headquartered in Tampa, FL.
For more information about Fleming's, visit their official website.
Frequently Asked Questions
What are the dining room hours at Fleming's Steakhouse?
Dining room hours will vary by location. Please contact nearest Fleming's Steakhouse to confirm.
Monday – Thursday: 5:00 pm – 10:00 pm
Friday – Saturday: 5:00 pm – 11:00 pm
Sunday: 4:00 pm – 9:00 pm
Does Fleming's Steakhouse accept reservations?
Fleming's Steakhouse strongly suggests that guests make reservations. Reservations can be made directly on Fleming's website or by phoning the nearest location.
Does Fleming's Steakhouse sell gift cards?
Yes, Fleming's does offer gift cards. Guests can purchase online at Fleming's website and send them digitally or via postal service.
Does Fleming's Steakhouse offer rooms for private dining?
Yes, Fleming's does offer private dining rooms with special menus. Guests should check with the nearest Fleming's location to check for size and availability of rooms.