Look no further for Chuy's menu prices! Chuy's is a fun and funky Tex-Mex restaurant chain serving fresh and authentic foods. Chuy's Tex-Mex menu items consist of flavors and ingredients predominantly from the Southwest US. Each Chuy's Tex-Mex location offers guests an upbeat, fun, family-friendly experience in an eclectic atmosphere. 
Chuy's sets itself apart from the competition with their fresh hand-rolled tortillas, green chiles, 10 signature sauces, roasted hand-pulled all white meat chicken and freshly squeezed lime juice.
Below are the latest Chuy's menu prices.
Food
Price

Appetizers

Chile Con Queso
$7.89
Queso Compuesto
$8.79
Guacamole
$7.29
Nachos
$8.99
Special Nachos
$9.99
Panchos
$11.19
Quesadillas
$8.99
Deluxe Quesadillas
$10.39
Appetizer Plate
$11.99

Famous "Big As Yo' Face" Burritos

Bean & Cheese
$9.99
Seasoned Ground Sirloin
$10.29
Fresh, Oven-Roasted Chicken
$11.29
Fajita Chicken or Fajita Beef
$11.99

Salads & Soups

Taco Salad
$10.49
Grilled Chicken Salad
$10.99
Mexi-Cobb Salad
$11.49
Large Dinner Salad
$5.99
Tortilla Soup (Small)
$5.89
Tortilla Soup (Large)
$8.89
Tex-Mex Salad Combinations
$10.89

Tacos

Soft Tacos
$10.49
Crispy Tacos
$10.29
Tacos Al Carbon
$11.79
Baja Tacos
$11.49

House Specialties

Chile Rellenos-Cheese
$10.99
Chile Rellenos-Seasoned Ground Sirloin
$11.29
Chile Rellenos-Fresh, Oven-Roasted Chicken & Cheese
$11.79
Chile Rellenos-Shrimp & Cheese
$11.99
Chuychanga
$11.89
Steak Burrito
$12.49
Chicken Flautas
$10.29
Elvis Green Chile Fried Chicken
$12.29

Enchiladas

Add a crispy taco & guacamole to any entrée for an additional
$3.99
Stacked Enchiladas
$10.89
Classic Tex-Mex
$10.79
Chicka-Chicka Boom-Boom
$12.29
Veggie
$10.29
Deluxe Chicken
$11.29
Southwestern
$11.49
Custom Enchiladas
$11.29

Fajitas

For One

Beef
$16.29
Chicken
$16.29
Combo
$16.29

For Two

Beef
$29.99
Chicken
$29.99
Combo
$29.99

Combinations

Comida Deluxe
$12.29
The Elvis Presley Memorial Combo
$12.99
Taco & Enchilada
$10.49
Relleno & Enchilada
$11.19
Chalupa & Enchilada
$10.79
Enchilada, Taco & Chalupa
$11.99
Vegetarian Combo
$10.49

LITE COMBOS

Chuy's Lite Plate
$8.19
Chicken Combo
$10.19

Kids Menu

Kid Cheese Dillas
$5.99
Kid Cheeseburger
$5.99
Mini Kid Burrito
$5.99
Chicken Nuggets
$5.99
Mini Crispy Tacos
$5.99
Kid Enchilada
$5.99

Chuy's Happy Hour

Mon – Fri 4.pm. to 7p.m.

House Margaritas
$5.00
House Texas Martinis
$8.50
Domestic Beers
$3.25

Drinks

Signature Margaritas

Chuy's Famous Ritas
$7.75
Father Agave
$10.95
The Perfect Margarita
$10.50
Chuy's Deluxe Rita
$13.95
Grand Ma's Rockin' Rita
$10.95

Floaters

Top your margarita with a floater
$7.50

Barefoot Wines

By the Glass
$5.25

Beer

Domestics
$4.00
Premiums
$4.50

Texas Martinis

The Original
$10.75
New Mexican
$10.95
Spicy Cucumber
$10.95
New Mexican Martini
$9.75

Chuy's Classics

Sangria
$5.95
The Classic Mojito
$7.25
Tito's Bloody Mary
$5.75
More information about Chuy's
Chuy's Special Events 
Every year, on Elvis Presley's birthday (January 8), most Chuy's locations host the "Elvis' Birthday Bash", where an Elvis impersonator visits and performs in the restaurant. Chuy's also hosts an annual "Green Chile Festival" at its locations, celebrating the harvest of the Hatch Green Chiles from Hatch, New Mexico.
Chuy's Charitable Giving 
Chuy's believes in giving back to the community it serves. Chuy's partners with local charities, schools or little league teams to fundraise and volunteer. Groups can contact their local Chuy's location for more info or in-kind donations.
Shop Chuy's Gear 
Want some Chuy's swag? T-Shirts and caps can be purchased on the official website. Can't wait for your order. Just visit your local Chuy's location to purchase what you need.
Chuy's Gift Cards
Let your family and friends experience by giving them the gift of a Chuy's Gift Card. Chuy's offers traditional plastic gift cards or guests can send e-gift cards. Traditional gift cards can be purchased online or in store. E-gift cards can be purchased online and sent via email.
Chuy's Newsletter
Chuy's fans can sign-up to receive the latest news and special offers. Guests just need to provide their email address on the Chuy's website.
Chuy's Careers 
Do you like to have FUN when you are at work? Chuy's is always looking for unique, outgoing team members to join their organization. Chuy's offers competitive wages and benefits. Interested candidates can learn more about Chuy's and current openings on the official Chuy's website.
History of Chuy's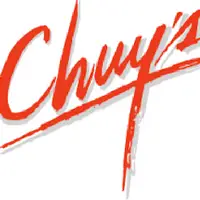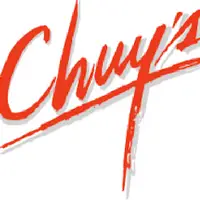 Mike Young and John Zapp opened the first Chuy's in 1982 in an old abandoned Texas barbecue joint in Austin, Texas. Today, Chuy's is a publicly traded company with more than 80 locations in 14 states and is still headquartered in Austin, Texas. 
Fans of Chuy's can keep up with the latest news on social media or visit their official website.