Cheddar's prices at your fingertips! Cheddar's Scratch Kitchen is a casual dining restaurant chain specializing in American comfort food favorites. Patrons can choose from an extensive menu that includes appetizers, sandwiches, burgers salads, ribs, steaks, fish, and desserts.  The menu also includes several low-calorie options. Kids are treated to their own menu favorites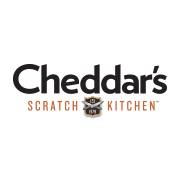 Don't forget to quench your thirst with hand-crafted margaritas and specialty cocktails. Cheddar's scratch kitchen prepares all menu items in the restaurant by hand. You can enjoy all of the favorites for lunch or dinner.
Table of Contents
Cheddar's Prices
Food
Price

Appetizers

Chips & Homemade Queso
$4.79
Santa Fe Spinach Dip
$5.79
Homemade Onion Rings
$5.49
Cheddar's Cheese Fries
$5.79
Triple Treat Sampler
$7.59
Chicken Tender Sampler (6 Pieces)
$8.79
Loaded Russet Potato Skins
$7.49
Chicken Fajita Quesadilla
$8.79
Ultimate Nachos
$8.79
Wisconsin Cheese Bites
$6.99

Soups & Salads

Chicken Caesar Pasta Salad
$8.49
Crispy Chicken Tender Salad
$8.79
Grilled Chicken Pecan Salad
$8.99
Signature Shrimp & Chicken Salad
$10.29
Homemade Chicken Tortilla Soup (Cup)
$2.99
Homemade Chicken Tortilla Soup (Bowl)
$3.99
Homemade Baked Potato Soup (Cup)
$2.99
Homemade Baked Potato Soup (Bowl)
$3.99

Lunch Combinations

$6.79 Classic Lunch Combo. Select two from the following

Half Cheddar's Club, Half Monte Cristo, Bowl of Soup, House Salad, Caesar Salad, Loaded Baked Potato, Baked Sweet Potato

$9.29 Select Lunch Combo. Select one item from Classic Lunch Combo plus one of the following:

Half Signature Shrimp Salad, Half Chicken Caesar Pasta Salad, Half Blackened Shrimp Alfredo, Half Buffalo Chicken Wrapper, The Original Cheeseburger

Sandwiches

Maple Bacon Chicken Sandwich
$8.29
Buffalo Chicken Wrapper
$8.99
Cheddar's Club
$7.99
Double Decker Club
$6.79
Monte Cristo
$8.99
Philly Cheesesteak
$8.99
Blackened Redfish Sandwich
$9.99

Combinations

Chicken Tenders & Shrimp
$10.99
Top Sirloin Steak & Chicken Tenders
$13.49
Top Sirloin Steak & Ribs
$14.79
Half Rack of Ribs & Shrimp
$14.49
BBQ Chicken & Half Rack of Ribs
$13.99
Top Sirloin Steak & Shrimp
$13.99
Half Rack of Ribs & Chicken Tenders
$14.29

Favorites

Country Fried Steak
$9.49
New Orleans Pasta
$10.99
Key West Chicken & Shrimp
$9.99
Gigi's Baked Spasagna
$9.49
Vegetable Plate
$7.49
Bourbon Glazed Pork Chop
$10.99

Steaks

6 oz. Top Sirloin Steak
$9.99
8 oz. Top Sirloin Steak
$11.49
Ribeye 12 oz.
$14.99
Bone-in Ribeye 20 oz.
$19.99

Scratch Burgers

The Original Burger
$5.99
Bacon Cheeseburger
$7.29
Smokehouse Burger
$6.99

House Smoked Baby Back Ribs

Half Rack of Baby Back Ribs
$10.99
Full Rack of Baby Back Ribs
$15.99

Chicken Selections

Chicken Tender Platter
$8.99
BBQ Chicken Platter
$8.99
Homemade Chicken Pot Pie
$7.99
Dijon Chicken & Mushrooms
$9.79
Lemon Pepper Chicken
$8.99
Grilled Chicken Alfredo
$9.79
Country Fried Chicken
$10.99

Fish Selections

Blackened Redfish with Crab Sauce
$14.29
Grilled Salmon
$11.29
Cornmeal White Fish
$10.29
Grilled White Fish
$10.29
Grilled Tilapia and Shrimp with Mango Salsa
$9.99
Beer-Battered Fried Shrimp
$10.99

Lighter Side

Lemon Pepper White Fish
$8.49
Grilled Baja Chicken
$8.99
Citrus Miso Glazed Salmon
$8.99
Sweet Heat Chicken & Shrimp
$8.99

Made-From-Scratch Sides

Steamed Fresh Broccoli
$2.49
Seasoned Rice
$2.49
Buttered Off-The-Cob Corn
$2.49
Sweet Baby Carrots
$2.49
Freshly Made Coleslaw
$2.49
French Fries
$2.49
Idaho Mashed Potatoes
$2.49
Loaded Baked Potato
$2.49
Broccoli Cheese Casserole
$2.49
Southern Green Beans
$2.49
Homemade Black Beans
$2.49
Mac & Cheese
$2.49
Baked Sweet Potato
$2.49
Honey Butter Croissants
$2.99

Desserts

Seasonal Crisp A La Mode
$4.99
Hot Fudge Cake Sundae
$5.49
Cheddar's Legendary Monster Cookie
$4.99
Dessert Minis
$1.49

Kids Meals

Grilled Cheese Sandwich
$4.99
Chicken Tenders
$4.99
Junior Burger
$4.99
Grilled Chicken
$4.99
Penne Pasta Marinara
$4.99
Mac & Cheese
$4.99
More information about Cheddar's Scratch Kitchen
Gift Cards
Not only is your meal made to order but you can also customize the Cheddar's gift card. It is simple. Go to the Cheddar's website, pick an e-gift card design, customize it with your own special message, select a dollar value and type in the recipient's contact info & email address. The last step is the easiest, press SEND. Within minutes your e-gift card will be delivered.
Cheddar's E Club Newsletter
Joining is simple, the benefits are delicious. Sign up is free and only takes a few minutes. Once a member, you will get the latest news on Cheddar's and be the first to know about any new menu items. Just for signing up you will get a free order of chips and queso. Get all the details on the Cheddar's official website.
Careers
Cheddar's is always searching for team members that enjoy working with the public, have a positive attitude and care about serving quality homemade-style dishes. If that describes you, check out the Career page on the Cheddar's website to learn more about the company, the culture and the list of current openings.
History
Cheddar's was founded by Doug Rogers and Aubrey Good in 1979 and located in Arlington, Texas. From the beginning, the commitment has been to serve quality food prepared from scratch. That philosophy has resulted in a concept that currently has 135 locations in 15 states. Today, Cheddar's is headquartered in Irving, Texas.
For more information about Cheddar's, visit their official website.
Cheddar's Frequently Asked Questions
What are Cheddar's hours?
Typical hours of operation for Cheddar's restaurant are:
Sunday -Thursday: 11:00 am – 10:00 pm
Friday – Saturday: 11:00 am – 11:00 pm
Find a Cheddar's near me?
Guests can click here, to find the nearest Cheddar's location.