Look no further for Cattleman's Steakhouse menu prices. Cattlemen's is a legendary Texas steakhouse serving Lone Star state size portions. Along with great food, guests can take in the desert scenery, spectacular sunsets, and walk the working ranch. Besides steaks, the menu also includes BBQ, seafood, and sausages.
Below are the latest Cattleman's Steakhouse menu prices.
Food
Price

Appetizers

Shrimp Cocktail
$8.95
BBQ Beef Ribs
$6.80
BBQ Beef Cubes
$7.30
Tempura Battered Shrimp
$6.65
Fire-Grilled Sausage
$3.95

Steaks

The Cowboy 2lb.
$47.25
The Cowgirl 1/2lb.
$39.50
The Wagon Master
$34.00
Rib Eye 10oz/14oz
$29.75/$34.00
New York Strip 10oz/14oz
$29.00/$33.50
Filet Mignon 10oz
$37.50
Beef-K-Bob
$28.25
Top Sirloin 10oz/14oz
$26.00/$31.75
The Royale 12oz
$17.50

B B Que

Beef and Ribs
$27.75
Beef
$22.75
Ribs (full rack)
$29.75

Seafood

Orange Roughy
$26.50
Shrimp Scampi (10 jumbo shrimp)
$28.25
Shrimp & Steak
$35.25
Lobster (10-12oz)
Market Price
Steak & Lobster
Market Price
Grilled Atlantic Salmon
$27.25
Hand Battered Shrimp (10 large shrimp)
$26.25

Chicken & Sausage

Fire-Grilled Kielbasa Sausage
$17.25
Mesquite-Grilled Chicken
$20.75

For the Small Appetite

The Little Wrangler
$21.00
The Lady's Filet
$26.25
The Ranch Burger
$14.75
Shrimp-Filet Kabob
$25.50

Side Orders

Rice
$2.85
Green Chili Strips
$0.95
Mushrooms
$5.50
Herbed Butter
$1.50
Baked Potato
$3.95
Corn on the Cob
$3.65
French Fries
$2.25
Grated Cheese
$0.75
Tampiquena Topping
$3.25
Jalapenos
No Charge

Desserts

Assorted Ice Cream or Sherbert
$2.50
Cheesecake
$4.85
Queen of Sheba
$5.45
Chocolate Mousse
$4.45
Apple Pie
$5.80
Apple Pie a la Mode
$6.95
Pecan Pie
$5.95
Irish Coffee Cappuccino
$5.70
Kioki Coffee
$5.70
Chocolate Layer Cake
$6.95
Raspberry Cheese Cake
$7.45
Additional Information on Cattleman's Steakhouse
Indian Cliffs Ranch
Cattleman's Steakhouse is located on Indian Cliffs Ranch, 33,000 acres operating ranch consisting of wild animals, a lake, a zoo, a maze, a children's playground, and an aviary. Many movies have been filmed at the ranch. Couples looking for a unique wedding ceremony should also consider Indian Cliffs Ranch.
Cattleman's Gift Shop
Guests interested in Western-style gifts or memorabilia can visit the on-site gift shop that includes unique items such as handmade jewelry, southwestern style purses, and wallets, and rocks. Many of the souvenirs are made in the US, Peru, or Mexico.
History of Cattleman's Steakhouse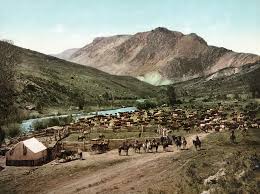 After emigrating from Germany in 1968, Dieter Gerzymisch opened the Cattleman's Steakhouse in 1973. The original 50 seat restaurant has been expanded over the years to accommodate the growth in customers to the steakhouse and ranch.
For more information about Cattleman's Steakhouse, visit their official website.
Frequently Asked Questions
Where is Cattleman's Steakhouse located?
Cattleman's Steakhouse is located approximately 25 miles Southeast of El Paso, Texas.
What are the hours of operation for Cattleman's Steakhouse?
Hours of operation are:
Monday – Friday: 5:00 pm – 10:00 pm
Saturday – Sunday: 12:30 pm – 10:00 pm
Does Cattleman's Steakhouse have banquet facilities?
Yes, Cattleman's does have banquet facilities that can host company functions, weddings, or picnics.