Whether you're constantly looking for new recipes, or if you just need to look up the best way to boil an egg, everyone has their favorite recipe website. It may have become your "go-to" due to the fact that it always pops up first in search engines, or because it contains a great amount of visual aids such as videos and pictures. Either way, online recipe search tools can be incredibly helpful. In case you feel like you could do with branching out from your usual favorite, we're going to take you through 3 of the most popular online recipe search tools in 2020. We know that it may be impossible to replace your favorite search tool that has pulled through time and time again, but what have you got to lose?
AllRecipes.com
Originally CookieRecipe.com, AllRecipes.com was founded in 1997, inspired by co-founder Tim Hunt's trouble in finding his favorite cookie recipe online. If you've been researching recipes on the internet for any period of time, AllRecipes.com is likely the first (and possibly the only) recipe search tool you checked out, with tens of thousands of home cooked recipes available.
Kitchenaria tells us why the popular Allrecipes.com is still number one in their eyes:
"The number one recipe website literally blows all the other away. Allrecipes.com has an astonishing 25 million unique visitors each month! They are also in competition to be one of the most visited sites on the internet coming in the top 100. The website is very easy to use and you will be able to find literally any recipe you need and then some. The site allows you to search for recipes, videos and how-to do's on just about anything food related. It also allows you to create a profile and share your recipes with the rest of the world. Others can rate the recipes and write reviews to help seed through the duds. 9 times out of ten, when you search for a recipe, allrecipes.com will likely be in the first slot on google search."
Epicurious
In case you didn't already know, Epicurious has been in existence longer than AllRecipes.com, having been created in 1995 by Condé Nast, and is part of the publisher's Food Innovation Group. Epicurious contains over 33,000 recipes and also contains daily kitchen tips and fun cooking videos.
Lifehacker.com explains why Epicurious is one of their top picks: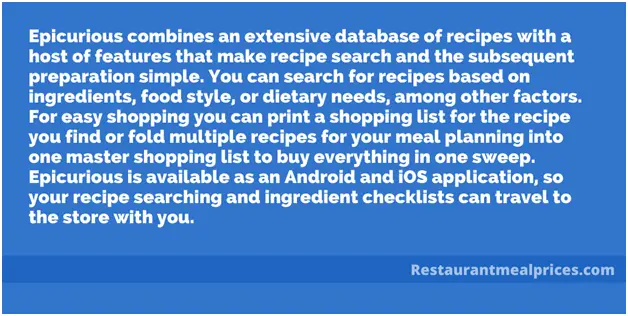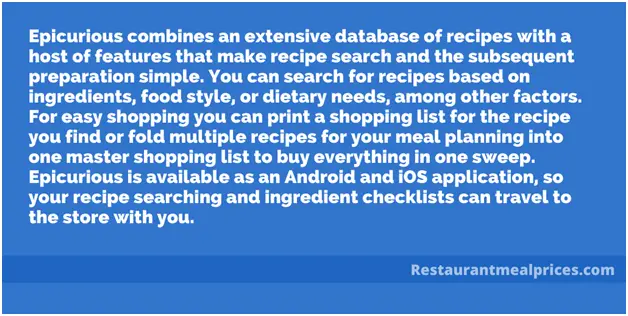 FoodNetwork.com
While The Food Network began as a television program, it has branched out to become one of the most popular websites around for recipes, being a go to for many aspiring chefs and home cooks. FoodNetwork.com contains the popular "My Recipe Box" feature, where you can save recipes, rate recipes and submit recipe reviews once registered.
RapidAPI tells us what the popular FoodNetwork.com has to offer:
"Another outstanding player in the culinary game is The Food Network. Established in 1993, the network boasts a religious following since it reaches its followers via several mediums, including the website, television, radio, magazines, and podcasts. The site boasts an outstanding database of recipes and videos, as well as clips and episodes of past televised Food Network shows." As fantastic as it is to be able to look up thousands of recipes at the click of a button, we understand that sometimes you just want someone else to make your food for you. We provide dozens of top restaurant menus and their prices all in one place, making it easy to plan ahead. Take a look at our selection here!