Bella Italia is a UK-based Italian restaurant that traces its roots all the way back to the 1970s when they started out as Pizzaland which was the first establishment that introduced the US-style pizza chain in the UK. In December of 2002, the name Bella Italia was adopted to reflect the wide range of Italian inspired food that they were serving and gaining much popularity along with their pizzas and pastas. Today, with over 90 locations operating in the United Kingdom, Bella Italia continues to impress and satisfy customers with their authentic Italian pasta dishes, innovative calzones, new grills, delicious burgers and classic pizza favorites.
Below are the latest Bella Italia menu prices.
Food
Price

Bread & Olives

Mixed Olives
£2.65
Mini Garlic Bastoni
£3.95
Mini Garlic Bastoni (To Share)
£5.95
Pane Bella
£4.95

Baked Pizza Bread

Perfect For Sharing!

Chili
£5.95
Mozzarella and Garlic
£5.95

Sharing Platters

Antipasto Misto
£6.25
Antipasto Misto (To Share)
£11.45
Baked Italian Cheese & Dipping Breads
£9.95
Chicken Wings Italiano Platter (New)
£11.45

Starters

Zuppa del Giorno
£3.95
Bruschetta
£4.95
Pizza Spirale
£4.75
Funghi Arrosto
£5.45
Insalata Rosso (New)
£4.25
Gamberi
£6.45
Filo Prawns (New)
£6.25
Mozzarella Pomodoro
£4.85
Polpette
£5.65
Calamari
£5.95
Arancini Funghi
£6.25
Chicken Wings Italiano (New)
£5.95

Pizza

Additional toppings for each £1.25 each

Create Your Own Pizza
£8.95
Margherita
£7.45
Pizza Cotto
£7.95
Pepperoni Piccante
£8.45
Quattro Stagioni
£9.25
Quattro Stagioni Legumi
£8.45
Pollo Piccante
£9.95
Chicken and Pancetta BBQ (New)
£10.95
Carne Mista
£10.25
Pizza Marco Polo
£10.75
Polpette
£8.75

Calzone

Calzone Legume
£10.65
Cane
£11.45
Pollo e Spinaci
£10.95
Diavola
£11.65
Agnello Calzone (New)
£11.95

Pizza Vita

Olive
£8.65
Pollo
£9.25
Speck
£9.45

Pasta

Tagliatelle Pomodoro
£7.95
Carbonara
£8.75
Bolognese
£8.95
Polpette Americano
£9.95
Gamberoni
£10.95
Pasta Marco Polo
£10.75
Agnello Tagliatelle
£10.25
Pollo Limone Siciliana
£9.95
Norma
£8.25

Al Forno

Cannelloni Ricotta
£8.95
Sausage Ragu al Forno (New)
£9.75
Lasagna al Forno
£9.45
Pollo Formaggi al Forno (New)
£9.95

Grills

Rump Steak (5oz.)
£10.95
Sirloin Steak (8oz.)
£16.45
Butterflied Chicken Breast
£11.95
Italian Style Ribs (New)
£16.95
Bella Surf n Turf
£18.95
Bella Mega Grill (New)
£17.95

Burgers

Burger Americano
£9.95
Pollo Ciabatta
£9.95
Pollo Italiano
£10.75
Portobello Mushroom
£8.75
Add another burger
£2.95

Additional Toppings

Crisp Bacon
£1.25
Mozzarella
£1.25
Goat's Cheese
£1.25
Chillies
£1.25

Sides

Chunky Chips
£3.25
Basil Mash
£3.25
Corn on the Cob
£3.25
Mediterranean Roasted Vegetables
£3.25
Mixed Salad
£3.25
Fried Courgettes
£3.95
Rocket & Shaved Granello Cheese Salad
£3.95
Onion Rings (New)
£4.25

Bella Favourites

Pollo Cacciatore
£11.95
Pollo Milanese
£12.25
Gamberoni Risotto
£12.65
Spezzatino di Manzo
£12.75
Filetto di Spigola
£12.95

Salads

Pollo e Verdure
£9.95
Salmone
£10.75
Caesar Pollo
£9.95
Formaggio di Capra
£8.95

Breakfast Menu

Served every day until 12pm

Starting From
£4.25

Lunch Menu

Monday to Friday 11am to 5pm

Ask server for set menu and prices
varies

Kids Meal

3 courses & a drink
£5.25

Desserts

Pannacotta (New)
£4.75
Cioccolato Diavola
£5.25
Cheesecake
£4.95
Cookie Dough Lava Cake
£5.75
Tiramisu
£5.25
Torta Limone
£4.95

Create Your Own Gelati

Gelati
£3.95

For a little sweet treat!

Add a Topping
£0.50 each
Add a Shot of Liqueur
£1.95

Ice Cream Sundaes

Godfather
£6.25
Godfather (To Share)
£7.95
Godfather Banana
£6.25
Godfather Banana (To Share)
£7.95
Godfather Fragola
£6.25
Godfather Fragola (To Share)
£7.95

Mini Desserts

Ciambelline
£1.95 each
Ciambelline (With a Hot Drink)
£3.95
Ciambelline (With a Liqueur Coffee)
£5.95
Torta Cioccolato
£1.95 each
Torta Cioccolato (With a Hot Drink)
£3.95
Torta Cioccolato (With a Liqueur Coffee)
£5.95
Torta Limone
£1.95 each
Torta Limone (With a Hot Drink)
£3.95
Torta Limone (With a Liqueur Coffee)
£5.95

Soft Drinks

Fresh Orange Juice
£2.55
Fruit Juices
£2.45
Big Tom Spiced Tomato Juice
£2.45
Appletiser Sparkling Apple
£2.45
Grapetiser Sparkling Grape Juice
£2.45
Belvoir Sparkling Cordials
£2.45
San Pellegrino Sparkling Lemon or Blood Orange
£2.45
Coca-Cola, Diet Coke, Schweppes Lemonade
£2.35
Mineral Water (Small)
£2.45
Mineral Water (Large)
£3.95

Hot Drinks

Americano
£2.25
Cappuccino
£2.45
Caffe Latte
£2.45
Espresso (Small)
£1.95
Espresso (Large)
£2.20
Macchiato
£1.95
Tea
£2.20
Hot Chocolate
£2.45
Mochaccino
£2.55

Liqueur Coffee

Gaelic, French, Italian, Galliano, Baileys
£4.95 each

Milkshakes

Adults from
£3.95
Kids
£1.95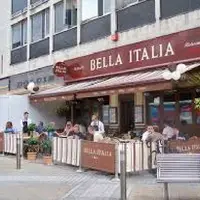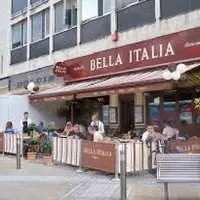 Over the recent years, Bella Italia has proven itself as being more than just an Italian restaurant. While they continuously pride themselves on offering great tasting food that leaves every customer with a full belly and a big smile on their face all for an amazing value for money, Bella Italia has shared a part of its success to charity. Since 2012, Bella Italia has been supporting The Children's Society by donating some of the profit from selected dishes on the menu to the charity and have partnered with Comic Relief, the British charity founded in 1985 that aims to bring about positive and lasting change in the lives of poor and disadvantaged people. All this only goes to show that Bella Italia is a place full of good Italian food and full of heart.
For more information about Bella Italia, visit their official website.