Now that we're well into spring, we're always looking for ways to help celebrate this beautiful season (without being stuck indoors over a hot stove!). Truth is, there are plenty of delicious spring dinner ideas out there, that don't take much time at all. Plus, they incorporate tasty spring vegetables such as rhubarb, asparagus, spring onions, and artichokes, which are only in season for these few months out of the year. Let's take a look at 5 super quick spring dinner ideas that you can bring to your table all spring long.
Crunchy Chili Lime Shrimp
Light, filling, and full of zesty flavor, this crunch chili lime shrimp recipe by Taste of Home comes together in just 30 minutes. This recipe uses one of our favorite spring vegetables in the form of avocado, as well as other fresh ingredients such as garlic, cilantro, and lime.
Ingredients
2 pounds uncooked shrimp (26-30 per pound), peeled and deveined

4 garlic cloves, minced

1 teaspoon paprika

1 teaspoon ground ancho chili pepper

1 teaspoon ground cumin

1/2 teaspoon salt

1/4 teaspoon pepper

1 medium lime

1 cup crushed tortilla chips

1/4 cup chopped fresh cilantro

1/4 cup olive oil

1 cup cherry tomatoes, halved

1 medium ripe avocado, peeled and cubed
Directions
Preheat the oven to 425°. Place the first 7 ingredients in a greased 15x10x1-in. pan. Finely grate the zest from the lime. Cut lime crosswise in half; squeeze the juice. Add zest and juice to the shrimp mixture; toss to coat.
In a small bowl, combine crushed chips, cilantro, and oil; sprinkle over the shrimp mixture. Bake until shrimp turn pink, 12-15 minutes. Top with tomatoes and avocado. If desired, serve with additional lime wedges and cilantro.
Spaghetti al Limone With Asparagus
There's nothing better than some fresh asparagus as an accompaniment to any meal, with spaghetti being no exception. This recipe from BonAppetit.com gives us serious spring vibes with its citrusy olive oil sauce and is a much lighter alternative to your traditional spaghetti and meatballs.
Ingredients
1 lb. spaghetti

⅔ cup extra-virgin olive oil

1 large bunch asparagus, trimmed, thinly sliced on a deep diagonal

4 garlic cloves, smashed

4 3″-long strips lemon zest

½ tsp. crushed red pepper flakes

8 large basil leaves

2 lemons, halved

2oz. Parmesan, finely grated (about 1 cup), plus more for serving
Directions
Cook pasta in a large pot of boiling salted water, stirring occasionally, until al dente. Drain pasta, reserving 1½ cups pasta cooking liquid.
Meanwhile, heat oil in a large Dutch oven or other heavy pot over medium-high until shimmering. Add asparagus, season with salt, and cook, stirring often, until just beginning to take on color, about 1 minute. Add garlic, lemon zest, and red pepper flakes and cook, stirring, until fragrant, about 30 seconds. Remove from heat and let sit until pasta is done.
Add pasta and basil to the pot with asparagus mixture and return to medium-high heat. Squeeze juice from both lemons into the pot and add 2 oz. Parmesan and 1 cup reserved pasta cooking liquid. Cook, tossing vigorously and adding more pasta cooking liquid if needed until sauce is creamy and emulsified and pasta is coated for about 1 minute. Taste and season with more salt if needed. Remove and discard garlic.
Divide pasta among bowls, placing a lemon strip in each, and top with more Parmesan.
Spring Salad Recipe With Apricot Vinaigrette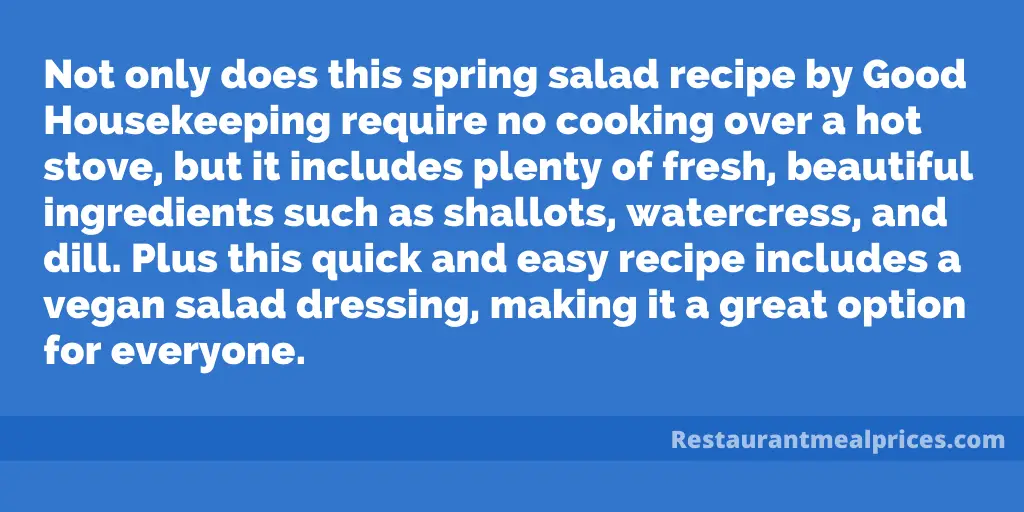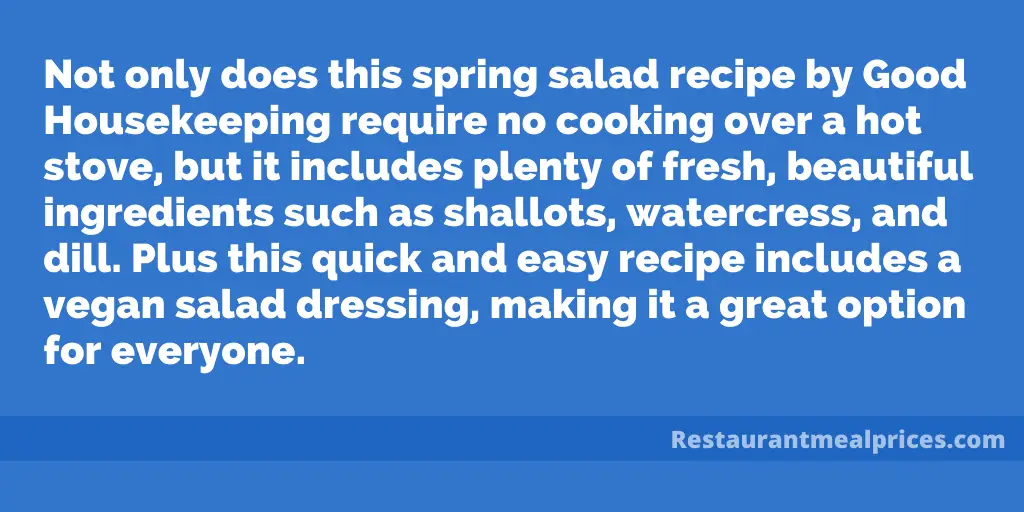 Not only does this spring salad recipe by Good Housekeeping require no cooking over a hot stove, but it includes plenty of fresh, beautiful ingredients such as shallots, watercress, and dill. Plus this quick and easy recipe includes a vegan salad dressing, making it a great option for everyone.
Ingredients
1/4 c. dried apricots, finely chopped 

1/4 c. white wine vinegar

1 shallot, finely chopped

1 tsp. Dijon mustard

2 tbsp. olive oil

1 head butter lettuce, cleaned

2 bunches Upland watercress, cleaned

1 oz. feta, crumbled

1/4 c. dill, chopped

2 scallions, thinly sliced

1 Persian cucumber, thinly sliced
Directions
Place apricots in a small bowl. Bring white wine vinegar to a simmer, then pour over apricots. Let stand for 10 minutes.
In a small bowl, combine shallot and Dijon. Using a slotted spoon, transfer the apricot to the mustard mixture. Add in 2 tsp vinegar, then mix in olive oil. Discard the remaining vinegar. 
Toss together the remaining ingredients, then toss with vinaigrette.
French Spring Soup
Depending on where you live, spring doesn't mean warm weather, all the time, and there are many instances where we still get the urge for a warm bowl of soup. This french spring soup by AllRecipes.com is a quick and easy way to warm you up on those colder spring days, while still including those fresh, spring ingredients that we all love.
Ingredients
¼ cup butter

1 pound leeks, chopped

1 onion, chopped

2 quarts water

3 large potatoes, chopped

2 large carrots, chopped

1 bunch fresh asparagus, trimmed and cut into 1-inch pieces

⅓ cup uncooked long-grain white rice

4 teaspoons salt

½ pound fresh spinach

1 cup heavy cream
Directions
Melt the butter in a large pot over medium heat. Stir in the leeks and onion, and cook until tender.
Pour water into the pot. Mix in potatoes, carrots, asparagus, and rice. Season with salt. Bring to a boil, reduce heat, and simmer for 30 minutes, until vegetables and rice are tender.
Stir spinach and heavy cream into the soup mixture, and continue cooking about 5 minutes before serving.
Spring Panzanella with Asparagus
Last but not least, we have this gorgeous spring Panzanella with asparagus by FoodandWine.com. This is great for a lightly more hearty spring appetizer, or as a full-on meal, with crisp asparagus, ricotta, and thinly sliced radish.
Ingredients
4 large eggs

Four thin slices of peasant bread, torn into 1-inch pieces

1/4 cup plus 2 tablespoons extra-virgin olive oil, plus more for brushing

2 pounds fat asparagus, peeled

1/4 cup red wine vinegar

Salt

Freshly ground pepper

2 cups packed young mustard greens or chicory

1/2 small red onion, thinly sliced

1/4 pound ricotta Salata, thinly sliced and crumbled

1 watermelon radish or 2 large red radishes, very thinly sliced
Directions
Preheat the oven to 350°. Put the eggs in a saucepan of water and bring them to a simmer over moderately high heat. Simmer for 6 minutes. Drain the saucepan and fill it with cold water. Crack the eggs all over and let them stand in the water for 1 minute. Peel and thickly slice the eggs; the yolks will be barely cooked but not runny.
Spread the bread pieces on a baking sheet and brush them lightly with olive oil. Bake for about 12 minutes, until crisp.
Meanwhile, in a large pot of boiling salted water, cook the asparagus until just tender, about 3 minutes. Drain, cool, and cut the asparagus in half lengthwise.
In a small bowl, combine the 1/4 cup plus 2 tablespoons of oil with the vinegar; season with salt and pepper. In a large bowl, toss the asparagus, toasted bread, greens, onion, and cheese. Drizzle with the dressing and toss. Garnish with the eggs and radish and serve.
Looking to see where you can order your next healthy and delicious meal? If you're looking for more recipe inspiration or you want to see where you can enjoy a top-quality meal at your favorite restaurant, check out our list of all restaurants to compare food menus.