Even though we've nearly gotten used to the summer heat, it's already time to move onto fall – and we couldn't be more here for it! The arrival of autumn not only means fall colors, fall decor, and fall fashion but warm, comforting fall dishes. So whether or not you welcome the arrival of changing leaves and cooler weather, we're here to get you excited about the food and cooking trends that come along with it. In this article, we put together 3 food trends that we can expect to see in our food space this fall, so you can start to embrace that autumn nip in the air.
Immunity foods
If the past couple of years have taught us anything, it's that we need to take care of ourselves. And one of the best ways to do so is by incorporating foods that boost the immune system into our diets. 
Digital Nutrition Editor Lisa Valente tells us more about immunity boosting foods on EatingWell:

"During a normal cold and flu season, people look for foods and drinks to help bolster their immune system—and, thanks to COVID-19, this isn't a normal year," says digital nutrition editor Lisa Valente, M.S., R.D. "I expect foods with garlic, ginger, and elderberry to continue to be hot. Feel free to cozy up with a big bowl of chicken soup and aim to eat some extra vitamin C and D, but know that getting lots of sleep, staying hydrated, and eating a well-balanced diet are important to keep you healthy (along with washing hands!)."
Seasonal veggies and fruits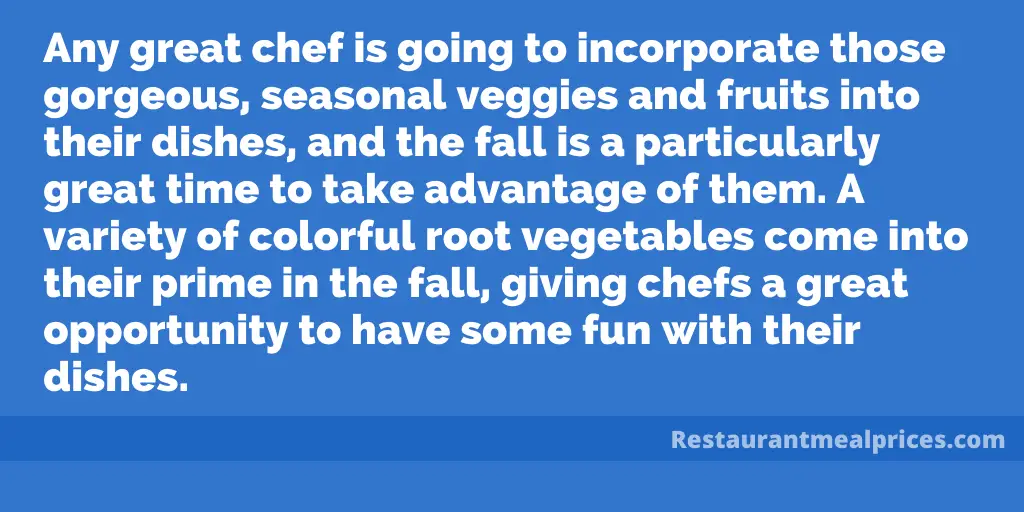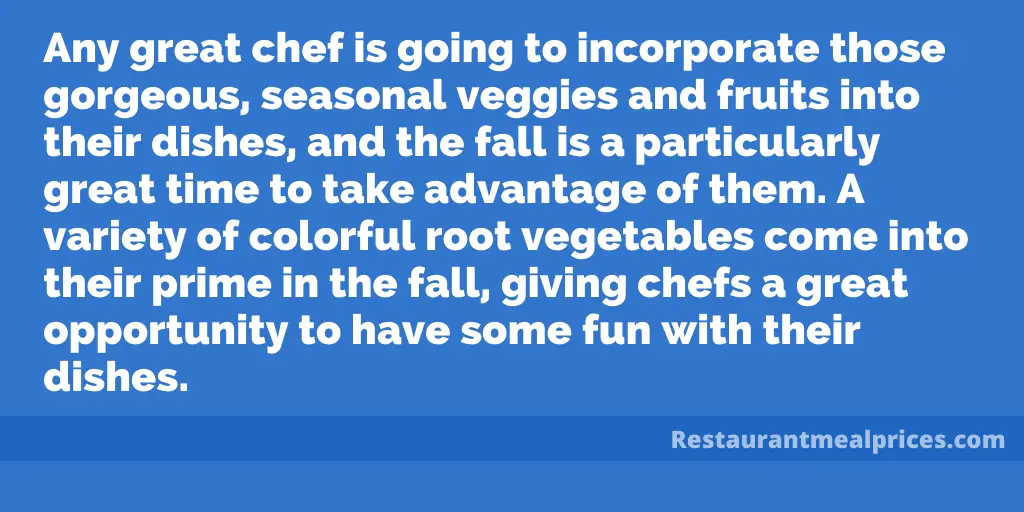 Any great chef is going to incorporate those gorgeous, seasonal veggies and fruits into their dishes, and the fall is a particularly great time to take advantage of them. A variety of colorful root vegetables come into their prime in the fall, giving chefs a great opportunity to have some fun with their dishes.
Gourmet Food Store explains why any top restaurant will incorporate seasonal fruits and veggies into their dishes:

"A great foodie or cook is not just an eater – he/she is educated, informed consumer of food. And everybody knows that in-season produce is the best kind of product – a tomato in the summer is as ripe and sweet as it is dull and hard in the winter. A butternut squash is bursting with orange glory in the fall, and with the cooler season comes all manner of root vegetables to incorporate into our dishes – turnips, fennel, radishes, squashes, cauliflower, and kale."
Alternative grains
Getting tired of the typical white, brown, or wild rice to accompany your meals? Alternative grains are a great way to change up a meal and incorporate rich fall flavors into an otherwise ordinary dish.
Food Service Director explains how to use alternative grains as an accompaniment to fall dishes:

"As summer greens and bright pasta salads take a bow, grain salads make their way to the spotlight. But where quinoa and wild rice have stolen the show before, new grains are taking over. MenuMonitor highlights rye berries—whole rye kernels that have a rich, earthy, nutty flavor that can pair well with veggies such as mushrooms, roasted squash, broccoli, and more. This "new" grain is actually an ancient grain and can be used in virtually any application where other grains like farro, barley, and quinoa are used. For a seasonal twist, operators can serve a sweet rye berry salad, with cashews, persimmons, cooked beans, rye berries, currants, and a sharp yet tasty vinaigrette."
Looking to see what your favorite restaurants have in store for fall? Have a look at all restaurants to compare food menus.