Sonic Drive-In, also known as Sonic, is a chain of fast food restaurants in the United States. It is known for its drive-in service, in which customers can place orders from their cars and have them delivered by servers on roller skates. Sonic was founded in 1953 in Shawnee, Oklahoma, and has since expanded to over 3,600 locations in 46 states.
Sonic serves a variety of fast food items, including burgers, hot dogs, chicken sandwiches, breakfast, deserts, and shakes.
Interact with the table and chart below to see details including price and nutritional facts for Sonic.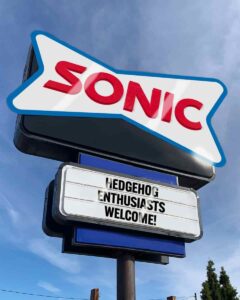 Sonic Menu with Prices and Nutritional Facts
Filter on the top or bottom of the table to see items you are interested in. The table view you have filtered to will also extend to the charts below.
Depending on the local market, select items might vary. This decision is made at the local level based on customer preference.
Sonic Breakfast Menu
See our Sonic menu for breakfast below:
Sonic Main Menu
See our Sonic menu for burgers and main food.
Sonic Kids Menu
See our Sonic menu for kids below:
Sonic Shakes Menu
See our Sonic menu for shakes and desert as well as ice cream:
Sonic Drinks Menu
See our Sonic menu for drinks and slushies below:
Sonic Frequently Asked Question
Is Sonic's menu all day?
You can get the full menu at Sonic as soon as the restaurant is open.
When is Sonic Happy Hour?
Sonic happy hour is typically between 2 to 4 pm local time where Sonic offers discounts on menu items.
When does Sonic start serving lunch?
Sonic's menu is all day, meaning you can get started on lunch items whenever the restaurant is open.
When does Sonic close?
Most locations close at 10 or 11 pm local time.
Does Sonic show menu item allergens?
Sonic's menu does not define what allergens are in each food product. They have a generic disclaimer that food products may contain allergens.
See Related Blog Articles for Sonic
We all know that breakfast is the most important meal of the day (at least, that's what doctors tell us, anyway). There's truly nothing better …
Read More
There is nothing better than waking up on the weekend and taking the whole family out for a delicious breakfast. Load up the car and head over to Golden Corral for an all you can eat breakfast or brunch buffet that has something for everyone. Golden Corral is a family restaurant that not only has standard American favorites on the menu but also tasty seasonal options as well. This long-time family restaurant has over 500 locations where you can get a great meal for a great price. The best part of visiting Golden Corral for breakfast is that you not only get your fill of delicious, homestyle food but it also won't break the bank when you bring a big group.
It's no secret that in the last few years, Eggs Benedict has become one of the most popular breakfast/Sunday brunch foods of all time. I know it is certainly my go-to order at any possible opportunity. But what about when it comes to making it yourself? Eggs Florentine and Eggs Benedict can be difficult to perfect, but with a little practice, you'll be serving them up for Sunday brunch in no time.