Mission BBQ is a chain of restaurants that primarily serves barbecue food. The restaurants are known for their patriotic theme and for playing American military anthems. They are headquartered in Maryland and have locations in several states across the United States. The menu at Mission BBQ includes a variety of barbecue dishes, such as pulled pork, brisket, and ribs, as well as sandwiches, salads, and sides. The restaurants also offer catering services for events.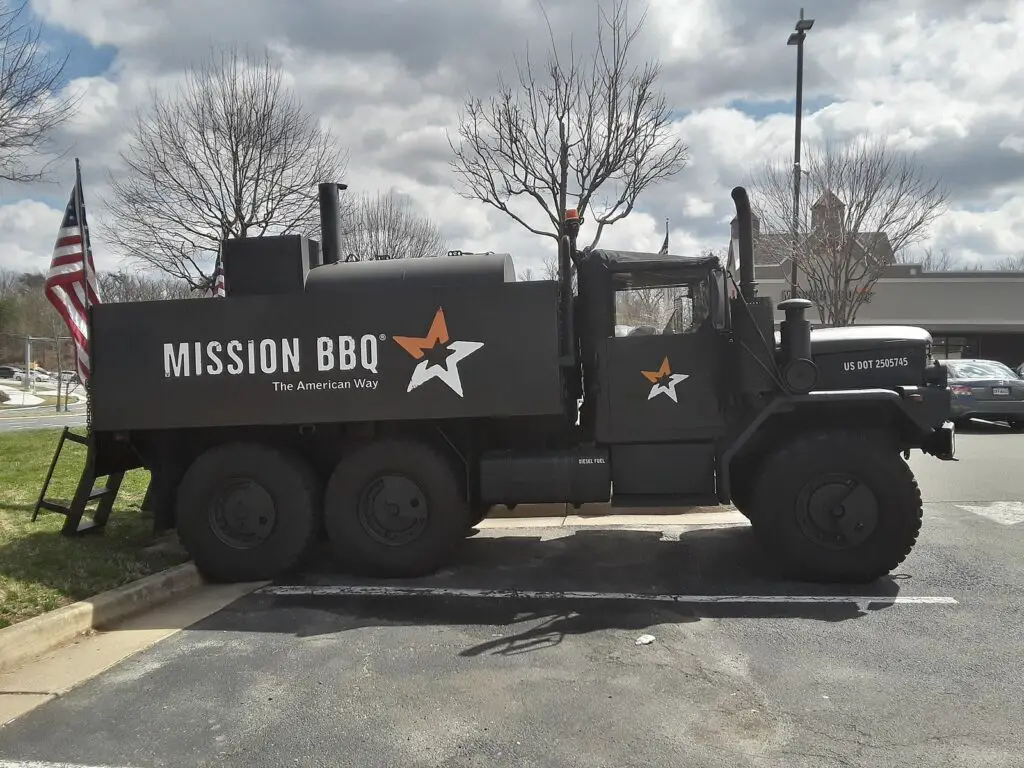 Mission BBQ is known for its support of American military members and veterans. The company regularly holds events to raise money for various military-focused charities, and it also provides discounts to active military members and veterans. Additionally, Mission BBQ has a program called "Sandwich Salutes" where they give free sandwiches to active military members and veterans on certain days of the year. The company's founders are both military veterans, and their support of the military is a core part of their business.
Mission BBQ Menu Prices with Nutritional Facts
Filter on the top or bottom of the table that shows Mission BBQ Menu with Prices to see items you are interested in. The table view you have filtered to will also extend to the charts below.
Depending on the local market, select items might vary. This decision is made at the local level based on customer preference.
Sides
Sliders, Sandwiches, and Burgers
Main
Desert
Mission BBQ Calories, Serving Size, and Protein Value Chart
If you are looking to maximize the value of your money, the below chart provides a breakdown of how many calories, grams of food (serving size) and protein you get for each dollar spent.
The tables can be interacted with by selecting or deselecting what is visible. To get a better view of protein de-select the other items in the legend.
To filter the table items use scroll back up to the table and use the search or column filter.
Sides
Sliders, Sandwiches, and Burgers
Main Menu
Desert
Mission BBQ Nutrition Facts Chart
The below chart shows Mission BBQ menu items and the % daily value nutrient content for easy comparison.
To filter the chart items scroll back up to the table and use the search or column filter.
Sides
Sliders, Sandwiches and Burgers
Main Menu
Desert
Mission BBQ Frequently Asked Question
How to order Mission BBQ online
Mission BBQ has an online ordering tool that will help you place your online order.
When is Mission BBQ Open?
Monday to Saturday 11 am to 9 pm, Sunday 11:30 am to 8 pm

Who started Mission BBQ?
Mission BBQ was founded by Bill Kraus and Steve Newton, two friends who are also military veterans. Kraus served in the U.S. Navy, while Newton served in the U.S. Army. The two men were inspired to start Mission BBQ after attending a barbecue competition and realizing that there was a lack of restaurants that focused on honoring American military members and veterans. They opened the first Mission BBQ restaurant in Glen Burnie Maryland in 2011, and the company has since expanded to several states across the country. Kraus and Newton are still involved in the company and continue to support military causes through their business.
What is Mission BBQ mission statement?

Mission BBQ does not have a publicly available mission statement. However, based on the company's focus on honoring American military members and veterans, as well as its patriotic theme and commitment to serving high-quality barbecue, it is likely that the company's mission involves supporting the military community and providing delicious food to its customers.
See Related Blog Articles for Mission BBQ
Chicken is one of those things that tastes best when cooked on a grill. While using a grill may sound a little dull, limiting, or less versatile than kitchen cooking, there are some great recipes to give the chicken a great BBQed taste that is beyond just the basic grill flavor. You can make a great grilled BBQ chicken yourself at home or try an awesome version of it at Ruby Tuesdays or Texas Roadhouse. No matter where you decide to eat it, the taste of an outdoor BBQ flavor and some great recipe variations will have you wanting to have grilled BBQ chicken all year round.
America just love barbecue. That's why many barbecue restaurants have prospered, and many more, particularly the specialty BBQ joints, are joining the market. However, not …
Read More
The love affair between barbecue, or BBQ, and America continues to burn hotter and stronger. You no longer have to go far and wide to …
Read More